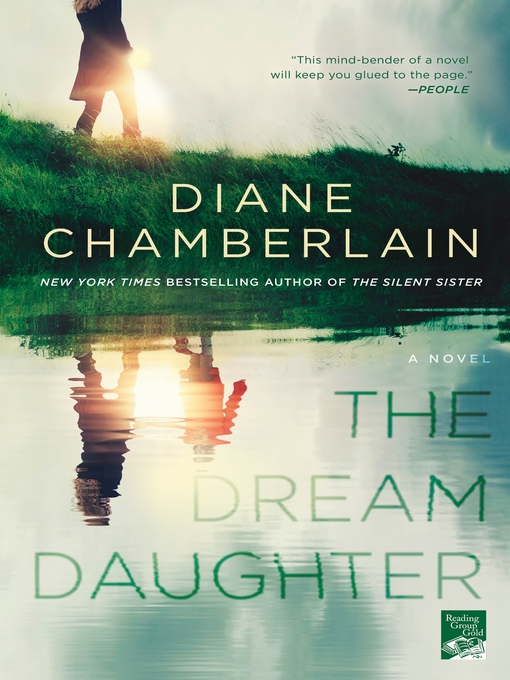 The dream daughter
Format:

OverDrive Read

2018.

Adobe EPUB ebook

Kindle Book

Availability:

Unavailable

0 of 8 copies
21 people on waitlist
Summary
New York Times bestselling author Diane Chamberlain delivers a thrilling, mind-bending novel about one mother's journey to save her child.
When Carly Sears, a young woman widowed by the Vietnam war, receives the news that her unborn baby girl has a heart defect, she is devastated. It is 1970, and she is told that nothing can be done to help her child. But her brother-in-law, a physicist with a mysterious past, tells her that perhaps there is a way to save her baby. What he suggests is something that will shatter every preconceived notion that Carly has. Something that will require a kind of strength and courage she never knew existed. Something that will mean an unimaginable leap of faith on Carly's part.
And all for the love of her unborn child.
The Dream Daughter is a rich, genre-spanning, breathtaking novel about one mother's quest to save her child, unite her family, and believe in the unbelievable. Diane Chamberlain pushes the boundaries of faith and science to deliver a novel that you will never forget.
Praise for The Dream Daughter:

"Chamberlain writes with supernatural gifts ...fate, destiny, chance and hope combine for a heady and breathless wonder of a read." --Pam Jenoff, New York Times bestselling author of The Orphan's Tale
"Can a story be both mind-bending and heartfelt? In Diane Chamberlain's hands, it can. The Dream Daughter will hold readers in anxious suspense until the last satisfying page." --Therese Fowler, New York Times bestselling author of Z
Published Reviews
Booklist Review:
"Chamberlain (The Stolen Marriage, 2017) steps up her game with her latest, a departure from her usual plot and structure that still maintains the southern style that makes her so well loved among readers. Carly Sears is grieving the loss of her husband in the Vietnam War when she discovers she is pregnant. Joy quickly turns to distress when she finds out that her unborn daughter, the only thing she has left of her husband, has a heart problem. The medicine of 1970 isn't advanced enough to fix it, forcing her to face the inevitable death of her daughter before she is even born. Carly's brother-in-law, Hunter, comes to her with a plan to save the baby, one that seems utterly unbelievable and challenges what she knows to be true, yet may be her only hope. Chamberlain stretches her sense of familial relationships and toe-curling suspense in new directions, weaving in elements of trust, history, and time as she explores the things we do for love. With a little tension and a lot of heart, The Dream Daughter will delight Chamberlain's fans and hook new readers.--Tracy Babiasz Copyright 2018 Booklist"
From Booklist, Copyright (c) American Library Association. Used with permission.
Publisher's Weekly Review:
"Chamberlain's exciting and heartfelt novel (after The Stolen Marriage) follows one woman who risks everything to travel through time and save the life of her unborn child. In 1970, after the death of her husband in the Vietnam War, pregnant Carly Sears moves in with her sister, Patti, and brother-in-law, Hunter, at their beach home in Nags Head, N.C. There, Carly finds that tragedy has followed her: she discovers that her unborn child has a fatal heart defect. It's at this point that Hunter reveals to Carly that he is a time traveler from the future and offers Carly a solution: she can time travel to 2001, where her child can receive life-saving fetal surgery. Carly finally believes Hunter's claims about time travel when his predictions about the tragic events at Kent State come true days later. After time traveling to 2001, Carly and her unborn child undergo an experimental surgery, remaining in New York City near the hospital prior to and after her daughter Joanna's birth. But Carly's plan to return to 1970 with Joanna is derailed when her daughter becomes ill and must remain hospitalized. Chamberlain expertly blends the time-travel elements with the wonderful story of a mother's love and the depths of sacrifice she makes for her child. This is a page-turning crowd-pleaser. 150,000-copy announced first printing. Agent: Susan Ginsburg, Writers House. (Oct.) © Copyright PWxyz, LLC. All rights reserved."
(c) Copyright PWxyz, LLC. All rights reserved
Additional Information
Subjects
Mothers and daughters -- Fiction.
Electronic books.
Domestic fiction.

Publisher

[Place of publication not identified] :St. Martin's Press2018.



Edition
First edition.
Contributors
OverDrive, Inc.

Language

English



System Details

Mode of access: World Wide Web.




Format: Adobe EPUB eBook




Format: Kindle Book




Format: OverDrive Read




Requires Adobe Digital Editions or Amazon Kindle



Description

1 online resource



ISBN
9781250087324
9781250087324

Other
Classic View