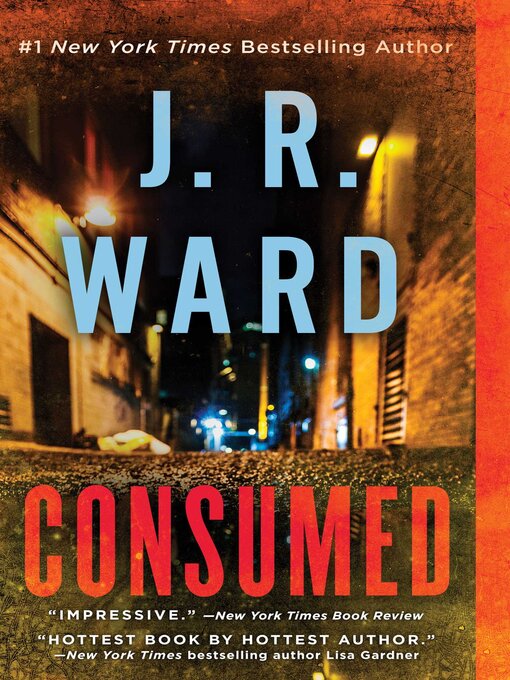 Consumed
Format:

OverDrive Read

2018.

Adobe EPUB ebook

Kindle Book

Availability:

Available from OverDrive

2 of 6 copies
Summary
From the #1 New York Times bestselling author of the popular Black Dagger Brotherhood series comes a brand-new novel about arson investigator, Ann Ashburn, who is consumed by her troubled past, her family's scorched legacy, and her current case: chasing a deadly killer.

Anne Ashburn is a woman consumed...

By her bitter family legacy, by her scorched career as a firefighter, by her obsession with department bad-boy Danny McGuire, and by a new case that pits her against a fiery killer.

Strong-willed Anne was fearless and loved the thrill of fighting fires, pushing herself to be the best. But when one risky decision at a warehouse fire changes her life forever, Anne must reinvent not only her job, but her whole self.

Shattered and demoralized, Anne finds her new career as an arson investigator a pale substitute for the adrenaline-fueled life she left behind. She doesn't believe she will ever feel that same all-consuming passion for her job again--until she encounters a string of suspicious fires setting her beloved city ablaze.

Danny McGuire is a premiere fireman, best in the county, but in the midst of a personal meltdown. Danny is taking risks like never before and seems to have a death wish until he teams up with Anne to find the fire starter. But Danny may be more than a distraction, and as Anne narrows in on her target, the arsonist begins to target her.

From the creator of the bestselling Black Dagger Brotherhood, get ready for a new band of brothers. And a firestorm.
Published Reviews
Booklist Review:
"Anne Ashburn is a rebel and a hothead, and an integral part of Ladder 499 in her hometown. When a rash decision goes wrong, fellow firefighter Danny Maguire comes to her rescue with an ax. No longer able to fight fires, Anne takes a job as an arson investigator and looks into the fire that caused her grave injury. It matches that of several other warehouse fires, all vaguely connected to shady Boston developer Charles Ripkin. The last guy who confronted Ripkin washed up on shore after a boating accident, but Anne is determined to find the truth. Danny adds guilt for maiming Anne to his collection of inner demons, but he has enough sense to realize the connection between him and Anne is worth exploring. Throw in some family drama and a rescued pit bull named Soot, and you've got Ward's (Devil's Cut, 2017) latest. It's a departure from her beloved Black Dagger Brotherhood series, but fans of the hypermasculine vampire warriors will appreciate the tough, damaged exterior and raw sexuality of both Danny and Anne.--Susan Maguire Copyright 2018 Booklist"
From Booklist, Copyright (c) American Library Association. Used with permission.
Publisher's Weekly Review:
"The prolific Ward is best known for the bestselling Black Dagger Brotherhood paranormal romances, so that might be why this first-responder thriller is marketed as romance, but its true heritage is gritty TV dramas. Characters have sex, but there's nothing like a romantic story arc. Anne Ashburn is the only female firefighter in her New Brunswick, Mass., station. She's the daughter and sister of firefighters, but she despises her family and won't admit her continuing attraction to Daniel "Dannyboy" Maguire, the station's bad boy and her recent one-night stand. Sexual angst becomes moot when a catastrophic fire ends Anne's career and sends Danny into a PTSD spiral. Refashioning herself as an arson investigator, Anne discovers that the fire has suspicious links to others. Meanwhile, her former colleagues won't let her leave Danny in the past. There's a lot of explicit injury, trash talk ("Amy, don't be codependent. It makes your ass look big"), bad behavior excused because it's done by the good guys, and sneering at "the Instagram set" and other caricatures of weak, whiny liberal elites. For readers who consider "Do your department a favor and just put a bullet in your head" to be pithy advice for a suicidal lover, Ward's facility with topical one-liners will make this a hit, but readers seeking actual romance would do well to avoid it. Agent: Meg Ruley, Jane Rotrosen Agency. (Oct.) © Copyright PWxyz, LLC. All rights reserved."
(c) Copyright PWxyz, LLC. All rights reserved
Additional Information