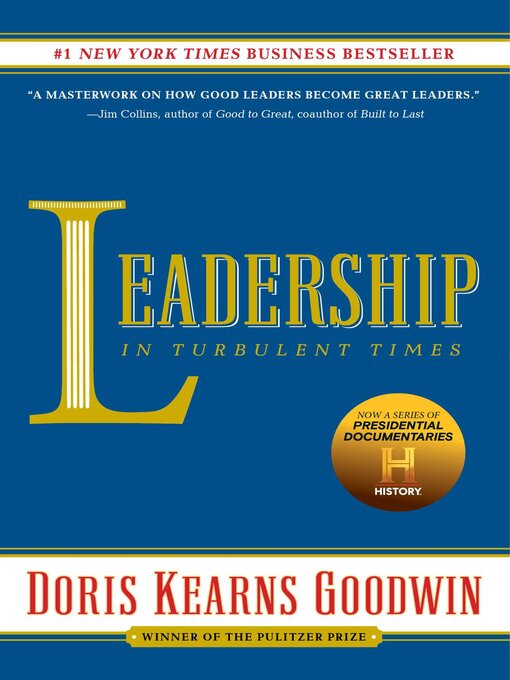 Leadership in turbulent times
Format:

OverDrive Read

2018.

Adobe EPUB ebook

Kindle Book

Availability:

Unavailable

0 of 10 copies
20 people on waitlist
Summary
NEW YORK TIMES BESTSELLER

"After five decades of magisterial output, Doris Kearns Goodwin leads the league of presidential historians. Insight is her imprint."-- USA TODAY

"A book like Leadership should help us raise our expectations of our national leaders, our country and ourselves."-- The Washington Post

"We can only hope that a few of Goodwin's many readers will find in her subjects' examples a margin of inspiration and a resolve to steer the country to a better place."-- The New York Times Book Review

In this culmination of five decades of acclaimed studies in presidential history, Pulitzer Prize-winning author Doris Kearns Goodwin offers an illuminating exploration of the early development, growth, and exercise of leadership.

Are leaders born or made? Where does ambition come from? How does adversity affect the growth of leadership? Does the leader make the times or do the times make the leader?

In Leadership , Goodwin draws upon the four presidents she has studied most closely--Abraham Lincoln, Theodore Roosevelt, Franklin D. Roosevelt, and Lyndon B. Johnson (in civil rights)--to show how they recognized leadership qualities within themselves and were recognized as leaders by others. By looking back to their first entries into public life, we encounter them at a time when their paths were filled with confusion, fear, and hope.

Leadership tells the story of how they all collided with dramatic reversals that disrupted their lives and threatened to shatter forever their ambitions. Nonetheless, they all emerged fitted to confront the contours and dilemmas of their times.

No common pattern describes the trajectory of leadership. Although set apart in background, abilities, and temperament, these men shared a fierce ambition and a deep-seated resilience that enabled them to surmount uncommon hardships. At their best, all four were guided by a sense of moral purpose. At moments of great challenge, they were able to summon their talents to enlarge the opportunities and lives of others.

This seminal work provides an accessible and essential road map for aspiring and established leaders in every field. In today's polarized world, these stories of authentic leadership in times of apprehension and fracture take on a singular urgency.
Contents
Part 1. Ambition and the recognition of leadership
Abraham: "Every man is said to have his peculiar ambition"
Theodore: "I rose like a rocket"
Franklin: "No, call me Franklin"
Lyndon: "A steam engine in pants"
Part 2. Adversity and growth
Abraham Lincoln: "I must die or be better"
Theodore Roosevelt: "The light has gone out of my life"
Franklin Roosevelt: "Above all, try something"
Lyndon Johnson: "The most miserable period of my life"
Part 3. How they led: man and the times
Transformational leadership: Lincoln and the Emancipation Proclamation
Crisis management: Theodore Roosevelt and the Coal Strike
Turnaround leadership: Franklin Roosevelt and the Hundred Days
Visionary leadership: Lyndon Johnson and Civil Rights
Epilogue: Of death and legacy.
Published Reviews
Booklist Review:
"In our own turbulent times, presidential leadership its qualities, requirements, and outcomes has become an important concern. While presidential historian Goodwin (The Bully Pulpit, 2013) does not address the present situation in this beautifully written meditation on the topic, her assessment of four respected presidents' abilities as leaders cannot help but contribute to current debates. Goodwin considers Lincoln, both Roosevelts, and Lyndon Johnson, all subjects of her previous work, in a three-part inquiry that begins with discussion of each president's formative experiences and early public life, moves to a life-altering crisis for each man and its impact on his trajectory, and, finally, focuses on an episode during that man's time in office that illustrates his particular approach to leadership under difficult conditions. Goodwin offers no single template for presidential leadership, concluding that the successes of these men reflected unique convergences of the individual, his context, and the crisis at hand. She does, however, identify common and essential characteristics among her legendary subjects: responsiveness to human needs, willingness to evolve, and a wish to be remembered for their achievements. Pulitzer- and Carnegie Medal-winning historian Goodwin draws on 50 years of scholarship in this strong and resonant addition to the literature of the presidency. HIGH-DEMAND BACKSTORY: Best-selling Goodwin's numerous in-person and media appearances will fuel steady interest in this expert, extremely relevant study.--Sara Jorgensen Copyright 2018 Booklist"
From Booklist, Copyright (c) American Library Association. Used with permission.
Publisher's Weekly Review:
"Goodwin (Team of Rivals) further burnishes her credentials as a popular historian with this thoughtful revisiting of the lives of four presidents to whom she has previously dedicated individual books-Abraham Lincoln, Theodore Roosevelt, Franklin D. Roosevelt, and Lyndon Johnson-with the aim of obtaining answers to eternal questions about leadership, including what life experiences contribute to it and whether "the times make the leader" or vice versa. She toggles back and forth between her subjects in sections that trace their upbringings and ambitions, the adversities that tested them (such as personal tragedies and crippling illness), and their approach to the major challenges that confronted them as presidents. She notes commonalities-each of the four was determined to outwork political opponents-as well as differences, for example contrasting Lincoln's impoverished childhood with the privileged upbringing both Roosevelts had. The meat of the book is four chapters, one for each subject, about important episodes in their presidencies, with headings naming elements of their leadership styles ("Acknowledge when failed policies demand a change in direction"; "Don't hit unless you have to, but when you hit, hit hard"). Goodwin does not shy from criticism, especially of Johnson, whom she worked for in the White House and helped with his memoirs; she writes that he stumbled badly on Vietnam. But overall the tone is inspirational, setting forth examples of how to do leadership right. (Sept.) © Copyright PWxyz, LLC. All rights reserved."
(c) Copyright PWxyz, LLC. All rights reserved
Additional Information