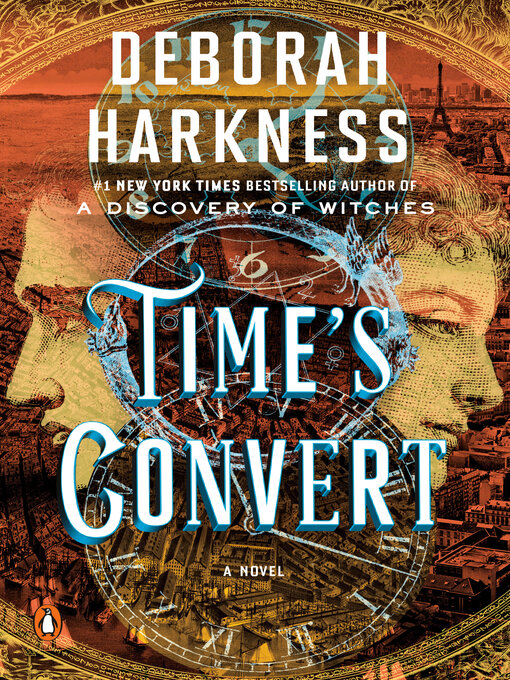 Time's convert a novel
Format:

OverDrive Read

2018.

Adobe EPUB ebook

Kindle Book

Availability:

Unavailable

0 of 12 copies
52 people on waitlist
Summary
From the #1 New York Times bestselling author of A Discovery of Witches --now a hit TV series airing Sundays on AMC and BBC America, and streaming on Sundance Now and Shudder--comes a novel about what it takes to become a vampire.

On the battlefields of the American Revolution, Matthew de Clermont meets Marcus MacNeil, a young surgeon from Massachusetts, during a moment of political awakening when it seems that the world is on the brink of a brighter future. When Matthew offers him a chance at immortality and a new life free from the restraints of his puritanical upbringing, Marcus seizes the opportunity to become a vampire. But his transformation is not an easy one and the ancient traditions and responsibilities of the de Clermont family clash with Marcus's deeply held beliefs in liberty, equality, and brotherhood.

Fast-forward to contemporary Paris, where Phoebe Taylor--the young employee at Sotheby's whom Marcus has fallen for--is about to embark on her own journey to immortality. Though the modernized version of the process at first seems uncomplicated, the couple discovers that the challenges facing a human who wishes to be a vampire are no less formidable than they were in the eighteenth century. The shadows that Marcus believed he'd escaped centuries ago may return to haunt them both--forever.

A passionate love story and a fascinating exploration of the power of tradition and the possibilities not just for change but for revolution, Time's Convert channels the supernatural world-building and slow-burning romance that made the All Souls Trilogy instant bestsellers to illuminate a new and vital moment in history, and a love affair that will bridge centuries.
Published Reviews
Booklist Review:
"After the smashing success of her All Souls trilogy, best-selling Harkness revisits the fantastical universe she conjured up so artfully in A Discovery of Witches (2011), Shadow of Night (2012), and The Book of Life (2014). This time around, she focuses on a previously introduced minor character who demonstrates that it's not always easy to make the leap from humanhood to vampiredom. When young surgeon Marcus MacNeill, nearing certain death, meets Matthew de Clermont during the American Revolution, he jumps at the chance at immortality proffered by Matthew. However, the transition proves to be more difficult than expected, as his background and his innate sense of self continually vie with new expectations and challenges. Effortlessly sweeping across time and continents, Harkness replaces the captivating Matthew and Diana dynamic with a passionate new love story when Marcus meets Phoebe Taylor in contemporary London. Determined that her destiny lies with Marcus, Phoebe agrees to become a vampire without fully understanding the sacrifices and adjustments required. Evoking elements of the Harry Potter, Outlander, and Twilight universes, this paranormal combination of time travel, adventure, and romance will appeal to similar audiences. HIGH-DEMAND BACKSTORY: Reader passion for Harkness flows on, ensuring a high tide of requests for this vampire drama.--Margaret Flanagan Copyright 2018 Booklist"
From Booklist, Copyright (c) American Library Association. Used with permission.
Publisher's Weekly Review:
"In Harkness's rich but meandering new novel, the first in a new series set in the world of her All Souls trilogy, vampire Marcus Whitmore, son of Matthew de Clermont, is set to marry 23-year-old human Phoebe Taylor, who will be made a vampire herself. Marcus's required 90-day separation from Phoebe during the process inspires him to seek comfort at the home that his father shares with his wife, the witch Diana Bishop. Diana, through her magic, senses that Marcus hasn't come to terms with his past as a field doctor during the Revolutionary War and the events leading up to his rebirth as a vampire in 1781, and attempts to draw him out. Meanwhile, Diana and Matthew's delightful brightborn (half-vampire, half-witch) twins Philip and Becca are already manifesting an alarming aptitude for magic, and Philip has summoned a new familiar, a griffin named Apollo. Harkness's busy, meticulously researched narrative moves back and forth between present-day Paris and the days of the Revolutionary War, and her easy familiarity with her fully realized characters will make readers feel at home. Phoebe's transition from warmblood to vampire is particularly fascinating, as is the fraught history of vampires and witches. The large cast can be daunting, and those not already familiar with the All Souls trilogy may be lost, but returning readers will find this a delightful excursion. (Sept.) © Copyright PWxyz, LLC. All rights reserved."
Additional Information