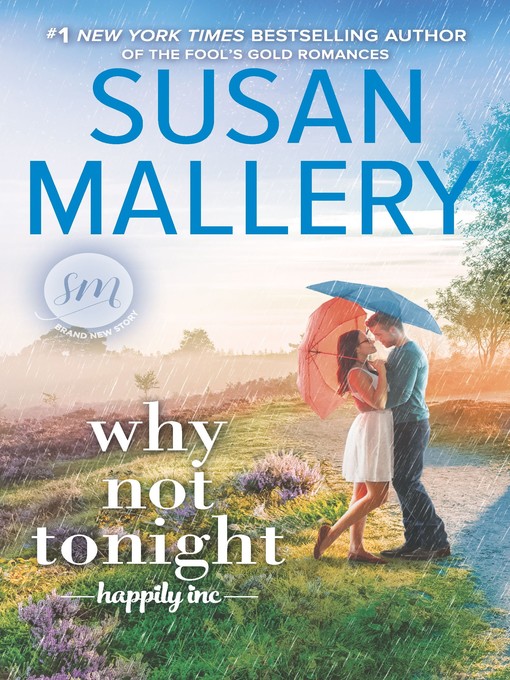 Why not tonight Happily Inc Series, Book 3
Format:

OverDrive Read

2018.

Adobe EPUB ebook

Kindle Book

Availability:

Unavailable

0 of 10 copies
11 people on waitlist
Summary
Susan Mallery welcomes you to Happily Inc, where true love isn't just for fairy tales...

Natalie Kaleta will do anything for the artists at her gallery, including risk life, limb and the effect of humidity on her naturally curly hair. Braving a downpour to check on reclusive Ronan Mitchell, Natalie gets stranded by a mudslide at his mountain home, where the brooding glass artist reveals his playful side, sending her inconvenient crush from under-the-radar to over-the-top.

After a secret tore apart his family and made him question his sense of self, Ronan fled his hometown for Happily Inc, but the sunny small town can't fix his damaged heart. He won't give in to his attraction for beautiful, perpetually cheerful Natalie. She's untouched by darkness--or so he thinks.

Natalie knows that when a heart goes through the flame, it comes out stronger. Life may not be a fairy tale, but sometimes dreams do come true. Why not this one? Why not tonight?
Published Reviews
Booklist Review:
"Artist and part-time gallery office worker Natalie takes her dying car to an artist's remote house to check on him during a fierce storm. Shortly after arriving, a tree flattens her car, and she is stuck with the reclusive, Heathcliff-like Ronan Mitchell and his glass creations. Ronan, who carries the hurt of a dark family secret, can't deny his attraction for Natalie, and after the roads are clear, he pursues her while encouraging her artistic efforts. Having been left at the altar, Natalie has trouble trusting her feelings, despite the encouragement of her close friends, who tie Mallery's series about the small town of Happily Inc together. Both Natalie's growth as an artist and the path of her relationship with Ronan are wonderful and make for extremely satisfying romantic reading. Readers may also enjoy Nora Roberts' Bride Quartet.--Amy Alessio Copyright 2018 Booklist"
From Booklist, Copyright (c) American Library Association. Used with permission.
Publisher's Weekly Review:
"In Mallery's delightful third Happily Inc. contemporary (after Second Chance Girl), an artist tries to help a glassblower rediscover his passion for art and life. At the behest of her boss and in the midst of a dangerous storm, gallery office manager and mixed-media artist Natalie Kaleta makes the long drive up to introverted glassblower Ronan Mitchell's mountain home. When an accident traps her there for the duration of the storm, Ronan and Natalie end up tiptoeing around a strong mutual attraction. However, both of them have their own pasts to contend with, and neither feels ready for a serious relationship. Orphaned young and desperate for a family of her own, Natalie is considering having a baby and becoming a single mother. An abusive father and the revelation of a painful family secret have left Ronan scarred and set on self-isolation. Together, they decide to keep their relationship casual and fun, but soon they fall in love. Natalie is a charming, funny, and beautifully human heroine, and her chemistry with Ronan is genuine. A wedding destination hot spot in California is the perfect romantic setting for this tender story. Agent: Annelise Robey, Jane Rotrosen Agency. (Sept.) © Copyright PWxyz, LLC. All rights reserved."
(c) Copyright PWxyz, LLC. All rights reserved
Additional Information