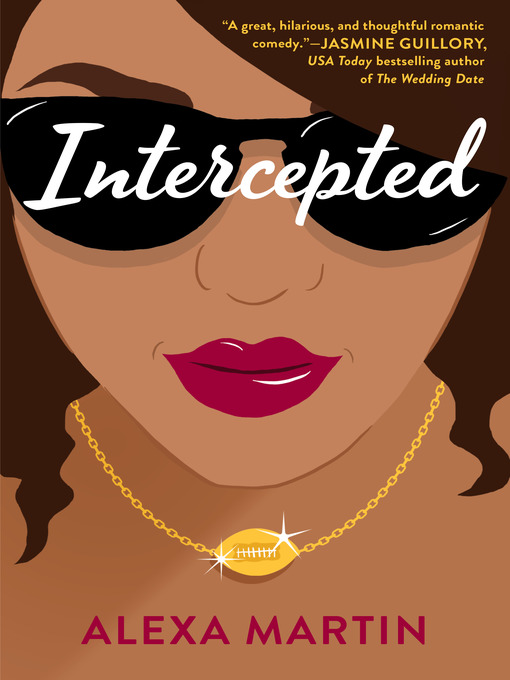 Intercepted
Format:

Kindle Book

2018

2018

Adobe EPUB ebook

OverDrive Read

Availability:

Available from OverDrive

3 of 4 copies
Summary
One of Amazon's "Best Books to Read in Romance" for September 2018An iBooks "Best of September" PickMarlee thought she scored the man of her dreams only to be scorched by a bad breakup. But there's a new player on the horizon, and he's in a league of his own...Marlee Harper is the perfect girlfriend. She's definitely had enough practice by dating her NFL-star boyfriend for the last ten years. But when she discovers he has been tackling other women on the sly, she vows to never date an athlete again. There's just one problem: Gavin Pope, the new hotshot quarterback and a fling from the past, has Marlee in his sights. Gavin fights to show Marlee he's nothing like her ex. Unfortunately, not everyone is ready to let her escape her past. The team's wives, who never led the welcome wagon, are not happy with Marlee's return. They have only one thing on their minds: taking her down. But when the gossip makes Marlee public enemy number one, she worries about more than just her reputation. Between their own fumbles and the wicked wives, it will take a Hail Mary for Marlee and Gavin's relationship to survive the season.

Published Reviews
Booklist Review:
"*Starred Review* The new superstar quarterback for the Colorado Mustangs is none other than Gavin Pope, the man of Marlee Harper's most intimate dreams ever since they shared a hot night together four years earlier in Chicago. His arrival in Denver has disrupted Marlee's normal routine of attending lunch meetings with the players' wives, who can barely keep their disdain for her in check, and catering to her spoiled NFL boyfriend, who she discovers has been playing her for a fool. Seeing his opening, Gavin relentlessly pursues Marlee by sending her flowers, making friends with her dad, and somehow always being there when she needs him most. As Gavin tries in vain to sweep her off her feet, Marlee calls for a time-out to prove that she can make it on her own before she commits once again to the life of a player's partner. Fresh voices and strong multicultural characters from every rung of the social ladder make Martin's debut novel a must-read for fans of contemporary romance with a sporty twist. This witty, sexy, and refreshingly realistic take on what it's like to date a professional athlete is a reflection of Martin's real-life experience as an NFL wife.--Kristina Giovanni Copyright 2018 Booklist"
From Booklist, Copyright (c) American Library Association. Used with permission.
Publisher's Weekly Review:
"The ups and downs of love in the NFL are well portrayed with a heavy dose of humor and snark in Martin's sports romance. At age 27, Marlee's been not-quite-engaged to Mustangs wide receiver Chris for 10 years. The catty football wives, aka the Lady Mustangs, do little to hide their distaste for her being a mere girlfriend. When she catches Chris cheating and dumps him, the last thing she wants is a rebound romance with Gavin, the Mustangs' new quarterback, while she gets used to living on her own for the first time and settles into a new marketing job. Independence is hard to keep as Gavin continues to pursue her, and the more serious they become, the more unwanted attention she gets from the media, disapproving Lady Mustangs, and a jealous friend of Gavin's. Marlee's frequently self-deprecating first-person account, including catchy hashtags ("All aboard, ladies and gentlemen. #HotMessExpress"), will be perfect for readers looking for a fun contemporary. Agent: Jessica Watterson, Sandra Dijkstra Literary. (Sept.) © Copyright PWxyz, LLC. All rights reserved."
(c) Copyright PWxyz, LLC. All rights reserved
Additional Information