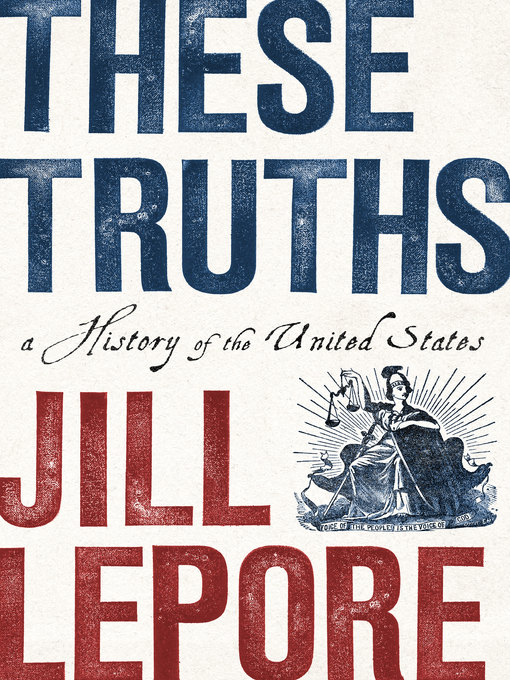 These truths a history of the United States
Format:

OverDrive Read

2018.

Adobe EPUB ebook

Kindle Book

Availability:

Unavailable

0 of 11 copies
34 people on waitlist
Summary
Written in elegiac prose, Lepore's groundbreaking investigation places truth itself--a devotion to facts, proof, and evidence--at the center of the nation's history. The American experiment rests on three ideas--"these truths," Jefferson called them--political equality, natural rights, and the sovereignty of the people. And it rests, too, on a fearless dedication to inquiry, Lepore argues, because self-government depends on it. But has the nation, and democracy itself, delivered on that promise?These Truths tells this uniquely American story, beginning in 1492, asking whether the course of events over more than five centuries has proven the nation's truths, or belied them. To answer that question, Lepore traces the intertwined histories of American politics, law, journalism, and technology, from the colonial town meeting to the nineteenth-century party machine, from talk radio to twenty-first-century Internet polls, from Magna Carta to the Patriot Act, from the printing press to Facebook News.Along the way, Lepore's sovereign chronicle is filled with arresting sketches of both well-known and lesser-known Americans, from a parade of presidents and a rogues' gallery of political mischief makers to the intrepid leaders of protest movements, including Frederick Douglass, the famed abolitionist orator; William Jennings Bryan, the three-time presidential candidate and ultimately tragic populist; Pauli Murray, the visionary civil rights strategist; and Phyllis Schlafly, the uncredited architect of modern conservatism.Americans are descended from slaves and slave owners, from conquerors and the conquered, from immigrants and from people who have fought to end immigration. "A nation born in contradiction will fight forever over the meaning of its history," Lepore writes, but engaging in that struggle by studying the past is part of the work of citizenship. "The past is an inheritance, a gift and a burden," These Truths observes. "It can't be shirked. There's nothing for it but to get to know it."
Contents
The nature of the past
The rulers and the ruled
Of wars and revolutions
The constitution of a nation
A democracy of numbers
The soul and the machine
Of ships and shipwrecks
The face of battle
Of citizens, persons, and people
Efficiency and the masses
A constitution of the air
The brutality of modernity
A world of knowledge
Rights and wrongs
Battle lines
America, disrupted
The question addressed.
Published Reviews
Booklist Review:
"*Starred Review* Harvard professor, New Yorker staff writer, and best-selling author Lepore (Joe Gould's Teeth, 2016) has written an ambitious and provocative attempt to interpret American history as an effort to fulfill and maintain certain fundamental principles. These truths, as enunciated by Thomas Jefferson in the Declaration of Independence, include political equality, natural (or creator-given) rights, and the ultimate sovereignty of the people. Though chronologically structured, this is more of a civics lesson than a narrative history. Throughout this journey from Columbus to the present, Lepore consistently stresses the often-anguishing contradictions between the ideals and realities of American life. A nation born in liberty accepted the enslavement of millions. The hope that technological progress would enhance freedom was accompanied by terrible economic exploitation in eighteenth-century mines and factories. But this is not a one-sided carping over national sins. Using a series of beautifully written vignettes, Lepore captures the nobility of the individuals and various movements that fought to narrow the gap between principles and everyday life. Of course, generally speaking, people don't live their lives as if they are part of a moral struggle or social experiment. Still, in the age of Trump, in which many long-accepted verities seem to be crumbling, Lepore's far-reaching interpretative history demands serious consideration. HIGH-DEMAND BACKSTORY: Lepore is a historian with wide appeal, and this comprehensive work will answer readers' questions about who we are as a nation.--Jay Freeman Copyright 2018 Booklist"
From Booklist, Copyright (c) American Library Association. Used with permission.
Publisher's Weekly Review:
"The principles of the Declaration of Independence get betrayed, fought over, and sometimes fulfilled in this probing political history of the Unites States. Harvard historian and New Yorker writer Lepore (Book of Ages) explores how ideals of liberty, equality, and happiness have fueled conflicts from the colonial era, when American slave owners protested taxation without representation as a form of slavery, to the struggles of African-Americans, women, immigrants, and workers for freedom, votes, and civil rights. Her viewpoint is progressive-she spotlights neglected heroes like George Washington's runaway slaves and People's Party orator Mary Lease-but she puts forth evenhanded assessments of latter-day partisan wrangles, castigating both the alt-right and the "sanctimonious accusations of racism, sexism, homophobia and transphobia" of the campus left. Lepore sometimes strains for poetic, even psychedelic, imagery-her impression of the Civil War, with "giant armies wielding unstoppable machines, as if monsters with scales of steel had been let loose on the land to maul and maraud, and to eat even the innocent," feels like a Transformers movie-and she leaves out much historical detail to concentrate on politics, constitutional struggles, and evolving ideologies. The payoff: she unifies a complex and conflicted history into a coherent, focused, engrossing narrative with insights that resonate for modern readers. Photos. (Sept.) © Copyright PWxyz, LLC. All rights reserved."
(c) Copyright PWxyz, LLC. All rights reserved
Additional Information