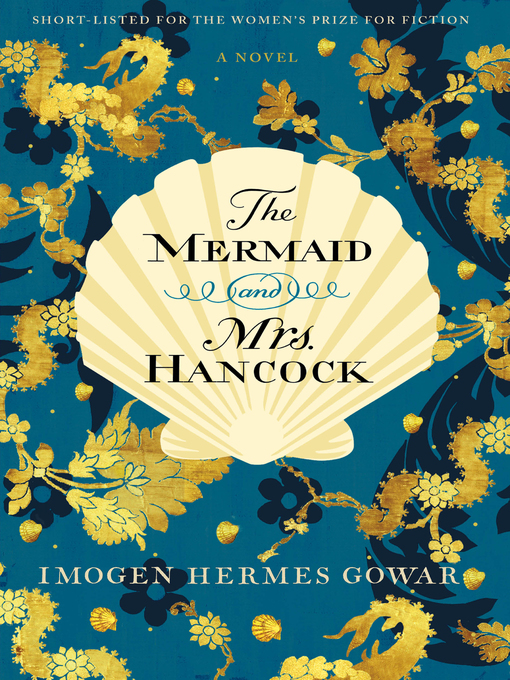 The mermaid and Mrs Hancock a history in three volumes
Format:

OverDrive Read

2018.

Adobe EPUB ebook

Kindle Book

Availability:

Unavailable

0 of 6 copies
9 people on waitlist
Summary
Shortlisted for the Baileys Women's Prize for Fiction * A Refinery 29 Favorite Book of the Year * A Booklist Top 10 First Novels of the Year * A People Best Book of the Fall
"Wonderful... completely transporting." --Madeline Miller, New York Times bestselling author of Circe and The Song of Achilles
In 1780s London, a prosperous merchant finds his quiet life upended when he unexpectedly receives a most unusual creature--and meets a most extraordinary woman--in this much-lauded, atmospheric debut that examines our capacity for wonder, obsession, and desire with all the magnetism, originality, and literary magic of The Essex Serpent.
One September evening in 1785, Jonah Hancock hears an urgent knocking on his front door near the docks of London. The captain of one of Jonah's trading vessels is waiting eagerly on the front step, bearing shocking news. On a voyage to the Far East, he sold the Jonah's ship for something rare and far more precious: a mermaid. Jonah is stunned--the object the captain presents him is brown and wizened, as small as an infant, with vicious teeth and claws, and a torso that ends in the tail of a fish. It is also dead.
As gossip spreads through the docks, coffee shops, parlors and brothels, all of London is curious to see this marvel in Jonah Hancock's possession. Thrust from his ordinary existence, somber Jonah finds himself moving from the city's seedy underbelly to the finest drawing rooms of high society. At an opulent party, he makes the acquaintance of the coquettish Angelica Neal, the most desirable woman he has ever laid eyes on--and a shrewd courtesan of great accomplishment. This meeting sparks a perilous liaison that steers both their lives onto a dangerous new course as they come to realize that priceless things often come at the greatest cost.
Imogen Hermes Gowar, Britain's most-heralded new literary talent, makes her debut with this spellbinding novel of a merchant, a mermaid, and a madam--an unforgettable confection that explores obsession, wonder, and the deepest desires of the heart with bawdy wit, intrigue, and a touch of magic.
Contents
Volume I
Volume II
Volume III
Epilogue.
Published Reviews
Booklist Review:
"*Starred Review* Jonah Hancock, a widowed, middle-aged merchant, is aghast when he discovers that one of the sea captains in his employ, Captain Jones, has sold the Calliope and purchased a small, shriveled mermaid. Though, in 1785 London, the dead creature is a lucrative commodity. Dubious, but anxious to recoup his costs, Mr. Hancock decides to display it, which eventually introduces him to a brothel keeper and her courtesans. Among them is the gorgeous Angelica Neal, who seeks a new protector. Bawdy high jinks ensue the title predicts the protagonists' unlikely match along with serious ramifications. The characters wrestle with their ambitions versus being content with what they have. Leisurely told and leavened with a knowing wit, Gowar's debut, a UK best-seller much anticipated stateside, brims with colorful period vernacular and delicious phrasings: one woman is built like an armchair, more upholstered than clothed; another has a mouth like low tide. Concerned with the issue of women's freedom, Gowar offers a panoramic view of Georgian society, from its coffeehouses and street life to class distinctions and multicultural populace. Recommended for fans of Jessie Burton's The Miniaturist (2014), this is a sumptuous historical feast.--Sarah Johnson Copyright 2018 Booklist"
From Booklist, Copyright (c) American Library Association. Used with permission.
Publisher's Weekly Review:
"When a sedate, middle-aged London merchant falls in love with a beautiful prostitute, anything can happen-and does-in Gowar's delightful debut set in the late 18th century. The mermaid of the title is a dubious specimen delivered to Jonah Hancock by the master of one of his ships that ply the high seas. After the creature causes a sensation in London, Angelica Neal, a gorgeous, narcissistic courtesan, is enlisted by her former mentor, Mrs. Chapell, the proprietress of a high-class brothel, to "entertain" Hancock so he'll agree to bring his exhibit to Mrs. Chapell's celebrated institution. Smitten and lovelorn, Hancock is rebuffed by Angelica, who is in the midst of another love affair and jokingly dares Hancock to bring her another mermaid. It's only after she's abandoned and left destitute by her feckless love that Angelica realizes there might be something to Hancock after all, especially since he does deliver the required second mermaid. That purported sea creature brings an element of mystery to a novel alive with wit and humor. Gowar has a marvelous gift for the felicitous phrase and for Dickensian characters (Mrs. Chappell "is built like an armchair, more upholstered than clothed") and excels in astute social commentary, especially in descriptions of the lavish household goods, clothing, and food that money can buy-in contrast with the mean lives of the poor in Deptford, where Hancock's shipping office is located. Angelica's gradual perception of the shallowness of her hermetic world is counterpointed by the blossoming of Hancock's niece, a shy 14-year-old, who comes into her own as his housekeeper. This is, indeed, a kind of fairy tale, one whose splendid combination of myth and reality testifies to Gowar's imagination and talent. (Sept.) © Copyright PWxyz, LLC. All rights reserved."
(c) Copyright PWxyz, LLC. All rights reserved
Additional Information