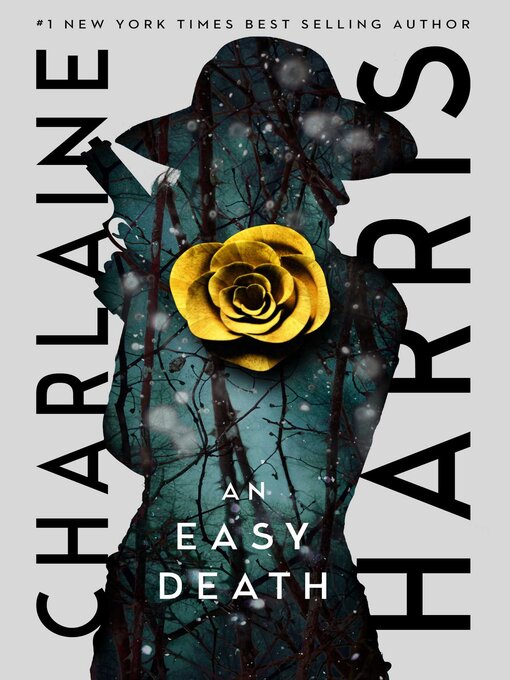 An easy death
Format:

OverDrive Read

2018.

Adobe EPUB ebook

Kindle Book

Availability:

Unavailable

0 of 5 copies
4 people on waitlist
Summary
"Immersive, involving, suspenseful, and intriguing, with a main character you'll love." --Lee Child, #1 internationally bestselling author of the Jack Reacher novels

"When a master of her craft offers to tell you a story, let her. The results are dazzling." --Seanan McGuire, New York Times bestselling author of the Alex, Hugo, Nebula, and Locus Award-winning Wayward Children series.

The beloved #1 New York Times bestselling author of the Sookie Stackhouse series, the inspiration for HBO's True Blood, and the Midnight Crossroad trilogy adapted for NBC's Midnight, Texas , has written a taut new thriller--the first in the Gunnie Rose series--centered on a young gunslinging mercenary, Lizbeth Rose.

Set in a fractured United States, in the southwestern country now known as Texoma. A world where magic is acknowledged but mistrusted, especially by a young gunslinger named Lizbeth Rose. Battered by a run across the border to Mexico Lizbeth Rose takes a job offer from a pair of Russian wizards to be their local guide and gunnie. For the wizards, Gunnie Rose has already acquired a fearsome reputation and they're at a desperate crossroad, even if they won't admit it. They're searching through the small border towns near Mexico, trying to locate a low-level magic practitioner, Oleg Karkarov. The wizards believe Oleg is a direct descendant of Grigori Rasputin, and that Oleg's blood can save the young tsar's life.

As the trio journey through an altered America, shattered into several countries by the assassination of Franklin Roosevelt and the Great Depression, they're set on by enemies. It's clear that a powerful force does not want them to succeed in their mission. Lizbeth Rose is a gunnie who has never failed a client, but her oath will test all of her skills and resolve to get them all out alive.
Published Reviews
Booklist Review:
"Harris has a remarkable talent for world building. In the Sookie Stackhouse series, she turned a tiny town into a vampire colony. Then came the Midnight Crossroad trilogy, with its collection of otherworldly critters. Here, the world she's building is a phantasmagoric U.S., shattered by war and the assassination of FDR. Mexico has retaken Texas, Canada has claimed the Northwest, Russia has California. Through this brutal landscape, with its street killings and public hangings, moves 19-year-old Lizbeth Rose, who discovered early on she was good with guns and so became a gunnie, a shootist selling her skills to people seeking protection. This time she is hired by a Russian pair searching for a descendant of Rasputin whose blood could save their czar's life. Like Stephen King, Harris can't keep out a tinge of the supernatural, so we watch a spell that causes a victim's blood to leave his body. Harris fans will recognize her matter-of-fact style and deadpan humor a bar is called Elbows Up but may be startled by the dark undercurrents and the flashes of violence. In all, this looks like another winning series from a sure-bet author.--Don Copyright 2018 Booklist"
From Booklist, Copyright (c) American Library Association. Used with permission.
Publisher's Weekly Review:
"In a bleak alternate history of what's left of a broken-up United States after Franklin Roosevelt is assassinated-where poverty is rampant and magic is real but not widely accepted-Harris (the Midnight, Texas series) tells the harrowing story of a young bodyguard, Lizbeth "Gunnie" Rose, whose job is to keep others alive. After her team and closest friends are killed in a mission gone wrong, Rose is forced to move on for the sake of survival, even if it means taking a gig protecting those she's spent her life hating: two Russian wizards, or grigoris, who have come to town looking for another wizard. She tells them he's dead, but doesn't mention that she killed him-or why. It's not until she's too deep into the search for his brother that she finds out her own life is in danger: these wizards are more hunted than they realized, but she may be the one the hunters really want. In this fast-paced thriller fueled by magic and gunslinging, no one can be trusted. Harris's vividly detailed story will leave readers enthralled with the fascinating setting and a heroine who's sure to be a new fan favorite. (Oct.) © Copyright PWxyz, LLC. All rights reserved."
(c) Copyright PWxyz, LLC. All rights reserved
Additional Information