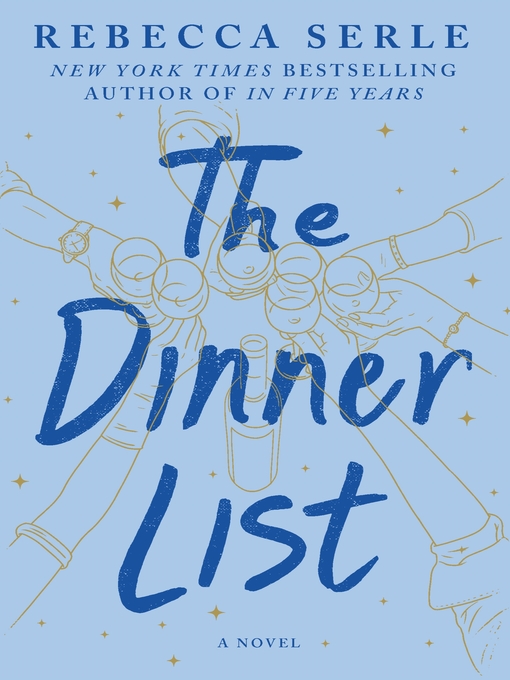 The dinner list
Format:

OverDrive Read

2018.

Adobe EPUB ebook

Kindle Book

Availability:

Unavailable

0 of 10 copies
31 people on waitlist
Summary
A Bustle Book CLub Selection

"I have five words for Rebecca Serle's The Dinner List : wistful, delicious, romantic, magical, love."
--Gabrielle Zevin, New York Times Bestselling Author of The Storied Life of A.J. Fikry and Young Jane Young
"We've been waiting for an hour." That's what Audrey says. She states it with a little bit of an edge, her words just bordering on cursive. That's the thing I think first. Not: Audrey Hepburn is at my birthday dinner, but Audrey Hepburn is annoyed."
At one point or another, we've all been asked to name five people, living or dead, with whom we'd like to have dinner. Why do we choose the people we do? And what if that dinner was to actually happen? These are the questions Rebecca Serle contends with in her utterly captivating novel, THE DINNER LIST, a story imbued with the same delightful magical realism as One Day , and the life-changing romance of Me Before You .
When Sabrina arrives at her thirtieth birthday dinner she finds at the table not just her best friend, but also three significant people from her past, and well, Audrey Hepburn. As the appetizers are served, wine poured, and dinner table conversation begins, it becomes clear that there's a reason these six people have been gathered together.
Delicious but never indulgent, sweet with just the right amount of bitter, THE DINNER LIST is a romance for our times. Bon appetit.
Published Reviews
Booklist Review:
"In her junior year at USC, Sabrina's best friend and roommate, Jessica, challenged her to come up with a list of five people, living or dead, with whom she would like to share a meal. Years later, Sabrina, now living in New York and working in publishing, walks into a restaurant and finds her five ideal dinner guests seated at a table. One is Jessica. Another is Professor Conrad, who taught Sabrina philosophy. Another is Robert, her father, who abandoned Sabrina and her mother when Sabrina was five years old and is, by the way, deceased. Another is Audrey Hepburn. The fifth guest is Tobias, the commitment-averse photographer with whom Sabrina has been smitten since college. Chapters detailing their on-again, off-again relationship, intense but also fractious and ultimately devastating, alternate with chapters in which the dinner guests eat their meal, converse, work out why they are there, and help Sabrina move on with her life. Themes of love, loss, and forgiveness weave through this intriguing mix of the real and the fanciful.--Mary Ellen Quinn Copyright 2018 Booklist"
From Booklist, Copyright (c) American Library Association. Used with permission.
Additional Information