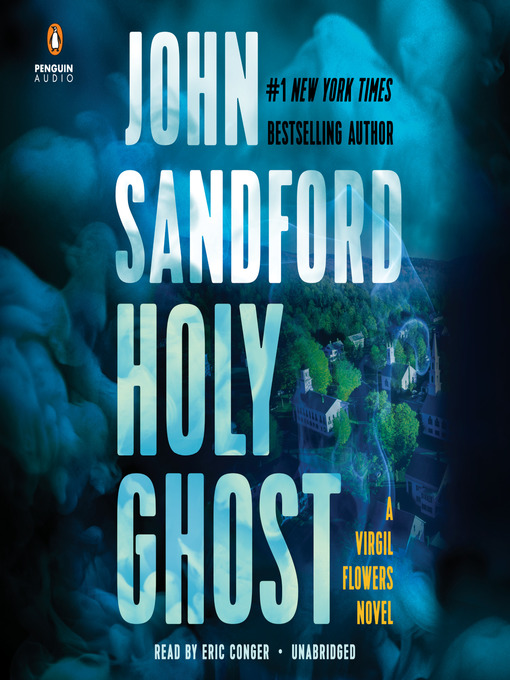 Holy ghost
Format:

OverDrive MP3 Audiobook

2018

2018

OverDrive Listen

Availability:

Available from OverDrive

7 of 10 copies
Summary
Pinion, Minnesota: a metropolis of all of seven hundred souls for which the word 'moribund' might have been invented. Nothing ever happened there and nothing ever would, until the mayor of sorts, and a buddy come up with a scheme to put Pinion on the map. What could go wrong? When a dead body shows up, they find out, and that's only the beginning of their troubles.

Published Reviews
Booklist Review:
"*Starred Review* The prolific Sandford has produced 28 Lucas Davenport thrillers since 1989, many of which were best-sellers, as well as the Virgil Flowers novels, of which this is the eleventh (after Deep Freeze, 2017). And, holy smoke, Holy Ghost is a hot one! Something is cooking in Pinion, Minnesota. Not just the bad cheeseburgers and fries at Mom's Cafe, the only restaurant in the small town of 700 souls, or the sad chicken pot pies available at Skinner & Holland Eats and Souvenirs. But what is really on fire is the town's once-crumbling economy. A floating apparition of the Virgin Mary has appeared in the local Catholic church, attracting thousands of pilgrims. When the miracle is eclipsed by random sniper shootings and murders, Flowers is at wit's end trying to figure out what's going on. He gets lots of help from his usual posse, as well as some of the locals, who are so well described that the reader could easily pick them out of a lineup. The dialogue is sometimes biting and always witty, and the entire book is at once wicked and sublime. This would be perfect for fans anxiously awaiting the next Carl Hiaasen. They will be delighted to learn the distinctions between Cheeto and Cheez-It residues. But no palm trees; just lots of good corn acreage. HIGH-DEMAND BACKSTORY: Sandford is a bona fide A-lister, and every new novel, whether starring Lucas Davenport or Virgil Flowers, is sure to generate public-library demand.--Jane Murphy Copyright 2018 Booklist"
From Booklist, Copyright (c) American Library Association. Used with permission.
Publisher's Weekly Review:
"In bestseller Sandford's wickedly enjoyable 11th outing for Minnesota Bureau of Criminal Apprehension agent Virgil Flowers (after 2017's Deep Freeze), Wardell Holland, the maverick mayor of Wheatfield (pop. 650), and his 17-year-old sidekick, John Jacob Skinner, decide the town needs an economic boost, so they contrive for the Virgin Mary to appear at St. Mary's Catholic Church, with one of Skinner's many sexual conquests, Jennie Fischer, in the Mary role. The Marian Apparition succeeds in bringing flocks of tourists to Wheatfield. Then sniper-like shootings that wound two citizens threaten the bonanza. Flowers's subsequent investigation turns up suspects ranging from a few would-be Nazis to a farmer/gun range owner and Jennie's porn-loving boyfriend. When the shootings turn deadly, Flowers gets help, which he badly needs as he comes to realize that he must outwit a clever killer who proves one of his maxims: "If it's criminal, it's either stupid or crazy." Sandford's trademark sly humor shines throughout. Agent: Esther Newberg, ICM. (Oct.) © Copyright PWxyz, LLC. All rights reserved."
(c) Copyright PWxyz, LLC. All rights reserved
Additional Information