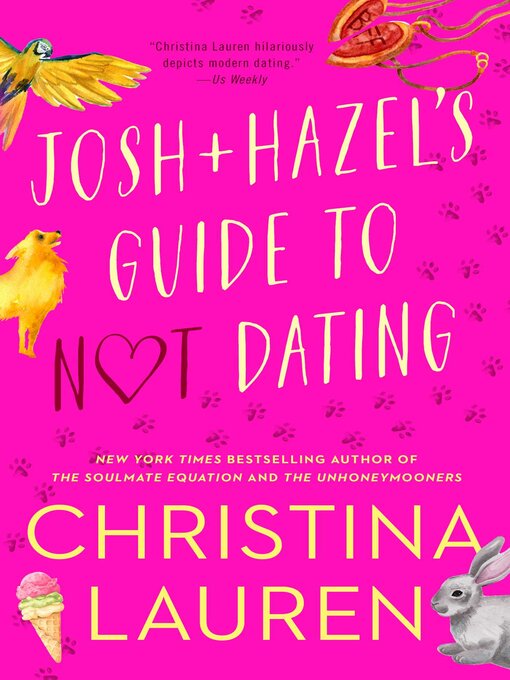 Josh and Hazel's guide to not dating
Format:

OverDrive Read

2018.

Adobe EPUB ebook

Kindle Book

Availability:

Unavailable

0 of 10 copies
5 people on waitlist
Summary
Most men can't handle Hazel. With the energy of a toddler and the mouth of a sailor, they're often too timid to recognize her heart of gold. New York Times and #1 international bestselling author Christina Lauren ( Roomies , Beautiful Bastard ) tells the story of two people who are definitely not dating, no matter how often they end up in bed together.

Hazel Camille Bradford knows she's a lot to take--and frankly, most men aren't up to the challenge. If her army of pets and thrill for the absurd don't send them running, her lack of filter means she'll say exactly the wrong thing in a delicate moment. Their loss. She's a good soul in search of honest fun.

Josh Im has known Hazel since college, where her zany playfulness proved completely incompatible with his mellow restraint. From the first night they met--when she gracelessly threw up on his shoes--to when she sent him an unintelligible email while in a post-surgical haze, Josh has always thought of Hazel more as a spectacle than a peer. But now, ten years later, after a cheating girlfriend has turned his life upside down, going out with Hazel is a breath of fresh air.

Not that Josh and Hazel date. At least, not each other. Because setting each other up on progressively terrible double blind dates means there's nothing between them...right?
Published Reviews
Booklist Review:
"Hazel Bradford knows that she's awkward, tends to take her shirt off when she drinks too much, and has zero tact. Case in point: she first meets Josh Im at a college party when she vomits on his shoes. In college, Hazel worshiped him from afar, even sending him an embarrassing email while drugged up on painkillers after dental surgery. Ten years later, they meet at her best friend Emily's dinner party, where Hazel learns that Josh and Emily are brother and sister. It is there that Hazel makes it her life's mission to be Josh's best friend. Lauren (Love and Other Words, 2018) has penned a hilariously zany and heartfelt novel. From double blind dates gone all kinds of wrong to Hazel and Josh missing what is happening right before each others' eyes, this book will have readers laughing at Hazel's crass, inappropriate comments coupled with Josh's secret enjoyment of her just as she is. There's a twist in the usual romcom plot, and the story is sure to please readers looking for a fun-filled novel to escape everyday life with.--Erin Holt Copyright 2018 Booklist"
From Booklist, Copyright (c) American Library Association. Used with permission.
Publisher's Weekly Review:
"In Lauren's hilarious standalone, hot mess Hazel Bradford and blueprint-perfect Josh Im are definitely, indisputably not dating. Hazel, extremely eccentric and lacking any filter, has more in common with the third graders she teaches than the exquisite genius Josh, a successful physical therapist. After a series of embarrassing encounters in college, Hazel is certain that she has proven to Josh that she's completely undatable, but, when they meet again seven years later, she hopes they can be friends. When it turns out Josh's girlfriend has been cheating on him, Hazel and Josh begin setting each other up on disastrous blind double-dates as an excuse to spend time together. Hazel is wild and unapologetic, and her yearning for love and family is perfectly blended with her refusal to settle for anyone who doesn't appreciate her quirks. Though the novel is predictable at times and full of convenient mishaps that throw the pair together, Lauren (Roomies) finds the perfect balance between charming moments and sultry episodes. Agent: Holly Root, Root Literary. (Sept.) © Copyright PWxyz, LLC. All rights reserved."
(c) Copyright PWxyz, LLC. All rights reserved
Additional Information