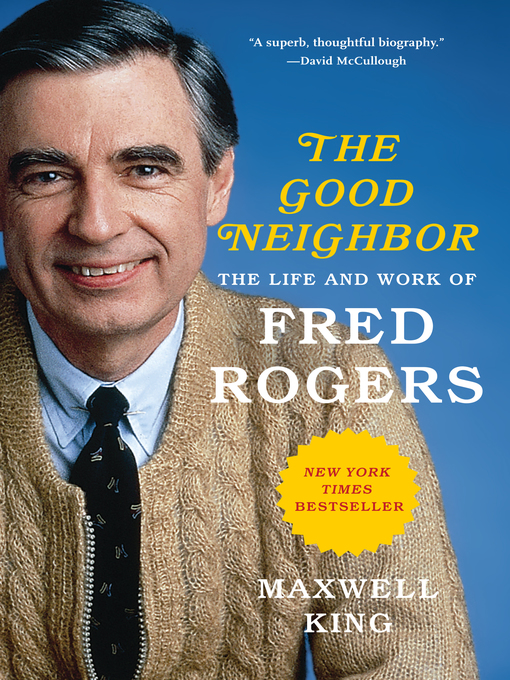 The good neighbor the life and work of Fred Rogers
Format:

OverDrive Read

2018.

Adobe EPUB ebook

Kindle Book

Availability:

Unavailable

0 of 10 copies
49 people on waitlist
Summary
Fred Rogers (1928-2003) was an enormously influential figure in the history of television and in the lives of tens of millions of children. As the creator and star of Mister Rogers' Neighborhood , he was a champion of compassion, equality, and kindness. Rogers was fiercely devoted to children and to taking their fears, concerns, and questions about the world seriously.

The Good Neighbor, the first full-length biography of Fred Rogers, tells the story of this utterly unique and enduring American icon. Drawing on original interviews, oral histories, and archival documents, Maxwell King traces Rogers's personal, professional, and artistic life through decades of work, including a surprising decision to walk away from the show to make television for adults, only to return to the neighborhood with increasingly sophisticated episodes, written in collaboration with experts on childhood development. An engaging story, rich in detail, The Good N eighbor is the definitive portrait of a beloved figure, cherished by multiple generations.
Contents
Machine generated contents note: PART I
1. Freddy
2. Breathing Room
3. College Days
4. Love and Music
PART II
5. Basic Training
6. The Children's Corner
7. On-Air Ministry
8. Dr. Margaret McFarland
9. Toronto and the CBC
PART III
10. The Birth of Mister Rogers' Neighborhood
11. The Pastore Hearing
12. Language and Meaning
13. Mister Rogers, Boss and Teacher
14. Puppet World
PART IV
15. On Hiatus
16. He's Back!
17. Behind the Scenes in the Neighborhood
18. Fred Rogers, Musician
19. Mister Rogers's Family Values
20. Fearless Authenticity
21. Swimming
PART V
22. The Legacy
23. The End of the Neighborhood
24. America's Favorite Neighbor
25. Mister Rogers Lives On.
Published Reviews
Booklist Review:
"Sometimes, learning too much about a person can make his magic disappear. But in King's nearly 400-page biography of Fred Rogers, which thoroughly details everything from a bullied childhood (classmates called him Fat Freddy) to reflections on the psychological power of puppetry, the inimitable Mr. Rogers becomes somehow even more enchanting. In addition to elegantly narrating the facts of Rogers' life a wealthy upbringing, his spiritual conviction and love of music, a lifelong commitment to early childhood education, commercial support paired with refusal to commercialize his namesake show King's book brims with anecdotes of intimate exchanges that highlight Rogers' kindness and grace. Hours spent at the airport with a friend whose plane was delayed. A brief, calming conversation in an elevator with a television producer frantic over studio hiccups. A casual stroll with a little boy shocked to see his television idol on his very own block. Deep and simple that's what matters, Rogers used to say. King, Pittsburgh Foundation president and a former newspaper editor, counsels that, in our current political climate, we would do well to remember this credo today.--Maggie Taft Copyright 2018 Booklist"
From Booklist, Copyright (c) American Library Association. Used with permission.
Publisher's Weekly Review:
"The creator and host of the 1968-2001 children's television show Mister Rogers' Neighborhood was a paragon of friendliness, according to this adulatory biography. King, a former Philadelphia Inquirer editor who knew Fred Rogers before his death, paints him as a genius with an uncanny rapport with children-sprouted from boyhood struggles with wealthy, smothering parents, bullies, and asthma-and a determination to alleviate their angst. Rogers became famous for his show, which blended puppets, songs, conversational lessons on everything from cleaning up messes to weathering divorce, and reassurances that kids are fine the way they are, all based on the latest child-development theories. In King's glowing portrait, Rogers, who was also a Presbyterian minister, was a protector of family values-he refused to advertise merchandise to kids-as well as an exemplar of "caring, kindness and modesty," who was dubbed "the most Christ-like human being I have ever encountered" by a fellow clergyman. Rogers has been criticized for promoting a culture of televisual passivity and coddling-he once retaped a scene in which a pot of popcorn overflowed because he thought the spillage might frighten young viewers-but King's hagiography skirts those issues. Readers looking for an incisive examination of Rogers's impact will not find one here. (Sept.) © Copyright PWxyz, LLC. All rights reserved."
(c) Copyright PWxyz, LLC. All rights reserved
Additional Information