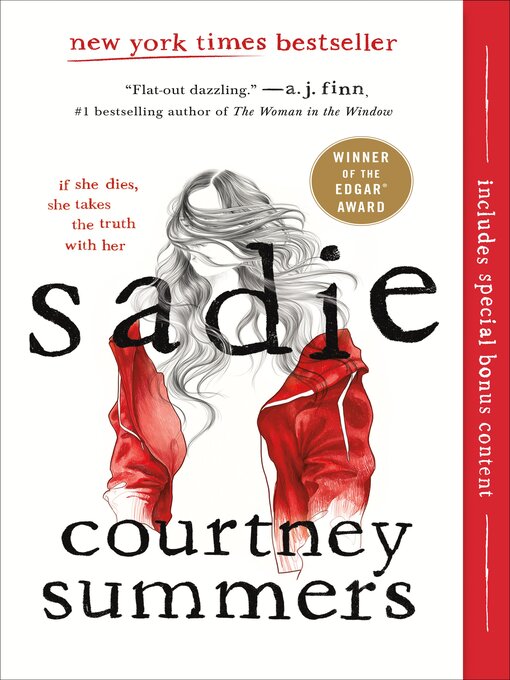 Sadie
Format:

OverDrive Read

2018.

Adobe EPUB ebook

Kindle Book

Availability:

Unavailable

0 of 5 copies
21 people on waitlist
Summary
A New York Times bestseller!
A Booklist Top 10 YA Book for Adult Readers
One of the Best YA Novels of 2018 by Publishers Weekly
One of B&N Teen Blog's Best YA Books of 2018
Bustle's Best Young Adult Books of 2018
Good Morning America 's Best Books of 2018
In NPR's Guide to 2018's Greatest Reads
In Paste's 30 Best Young Adult Novels of 2018
Nominated for YALSA's 2019 Quick Pick for Reluctant Readers

4 Starred Reviews from Kirkus, School Library Journal, Booklist, Publishers Weekly !
"Sadie : a novel for readers of any age, and a character as indelible as a scar. Flat-out dazzling." -- A. J. Finn, #1 New York Times bestselling author of The Woman in the Window
" Sadie is an electrifying, high-stakes road trip. Clear your schedule. You're not going anywhere until you've reached the end." --Stephanie Perkins, New York Times bestselling author of There's Someone Inside Your House and Anna and the French Kiss

"A haunting, gut-wrenching, and relentlessly compelling read." --Veronica Roth, #1 New York Times bestselling author of Carve the Mark and the Divergent series
A missing girl on a journey of revenge. A Serial --like podcast following the clues she's left behind. And an ending you won't be able to stop talking about.
Sadie hasn't had an easy life. Growing up on her own, she's been raising her sister Mattie in an isolated small town, trying her best to provide a normal life and keep their heads above water.
But when Mattie is found dead, Sadie's entire world crumbles. After a somewhat botched police investigation, Sadie is determined to bring her sister's killer to justice and hits the road following a few meager clues to find him.
When West McCray--a radio personality working on a segment about small, forgotten towns in America--overhears Sadie's story at a local gas station, he becomes obsessed with finding the missing girl. He starts his own podcast as he tracks Sadie's journey, trying to figure out what happened, hoping to find her before it's too late.
Courtney Summers has written the breakout book of her career. Sadie is propulsive and harrowing and will keep you riveted until the last page.
Published Reviews
Booklist Review:
"When Sadie's sister, Mattie, is found dead in a field, it's the last straw. Sadie's life has been hard she lives in a dead-end town, her drug-addicted mother abandoned her and her sister, she's constantly mocked for her stutter, and her childhood was plagued with a string of abusive men but she can't stand to watch her sister's case slip through the cracks of a disinterested police force. With nothing left to lose, she takes matters into her own hands, packing light and tracing a scanty trail of breadcrumbs toward the man she knows is responsible for Mattie's death. But Sadie's disappearance doesn't go unnoticed. Soon a true-crime podcast is on the case, and its host, New York journalist West McCray, interviews Sadie's friends and neighbors in an attempt to both tell Sadie's story and trace her whereabouts before there's another dead girl. Alternating between transcripts of the podcast and Sadie's first-person account of her investigation, Summers' novel is filled with her trademark biting commentary on sexual assault and the mistreatment of girls and women at the hands of predatory men. Occasionally, in Sadie's narrative, memories of her own trauma bubble up and offer candid insight into her larger motivations. Of course, West misses those parts of Sadie's story, since he's working with very limited information. By the time the novel ends, neither West nor the reader can land on a solid, tidy explanation of what happened to Sadie. Though Sadie's story is occasionally a bit overwrought, her hunt for Mattie's killer is captivating, and Summers excels at slowly unspooling both Sadie's and West's investigations at a measured, tantalizing pace. Though Summers' novel isn't true crime, per se, it's impossible to not see its connections to the recent surge in the popularity of the genre, which is having quite the moment, thanks to podcasts like Serial and TV shows like Making a Murderer and The Jinx, to name only a few. West, an affluent, educated man, gets called out for his fascination with Sadie's case toward the end of the book, when Sadie's mother reappears: You think you can take our pain, turn it into something for yourself. . . . I've been used by men my whole life, and you want the truth, I don't think you're going to be any different. This dovetails with the notion that true crime comes from a place of prurient interest in the gory details of crime. Although that's certainly a facet of the genre, it doesn't seem to be the whole story here: Sadie and her family, along with West, are dismayed by the lack of attention and care their case gets from local law enforcement. Sadie embarks on her mission because, in her eyes, justice hasn't been served for Mattie, and West, in turn, follows a parallel trail to find justice for Sadie. The distrust of the official narrative of the justice system seems to be just as big a part of true crime as fascination with the gory details. The fact that elements of true crime, particularly the subgenre that seeks to investigate unanswered questions in official accounts, have made their way into YA should not be a surprise. There's a small but healthy contingent of YA true crime already out there: Alexis Coe's Alice and Freda Forever (2014) recounts a Victorian-era murder case involving two teenage girls embroiled in a lesbian love affair; Sarah Miller's The Borden Murders (2016) closely examines the infamous Lizzie Borden case; and Dashka Slater's award-winning The 57 Bus (2017) spotlights a gruesome hate crime. Simon & Schuster has a whole imprint, Simon True, dedicated to teen-oriented true crime, and the imprint is on its third title, with a fourth due out later this year. Fiction that takes its narrative cues from true crime makes the number even bigger: Alan Wolfe's multivoiced Who Killed Christopher Goodman? (2017) explores the minute, sometimes-accidental interactions that led to a senseless murder; Bryan Bliss' We'll Fly Away (2018) is explicitly marketed as a read-alike for fans of Serial, as it explores a seemingly cut-and-dried murder case. Even a novel with a ripped-from-the-headlines plot seems true-crime adjacent, as in Eileen Cook's With Malice (2016), which is a thinly veiled retelling of the Amanda Knox case, right down to the main character's nickname, Chilly Jilly. The recent spate of novels about police shootings could also fit in here, particularly Kekla Magoon's How It Went Down (2014), in which a chorus of diverse voices offers often-conflicting accounts of events surrounding a police shooting. Though there might not be huge stack of actual true crime written for teens, the genre's influence is clearly present and very likely far from over. Sadie, along with these other titles, offers a wider context in which to view crime and criminals. And, to the extent that true crime satisfies an impulse to question the authority of official criminal-justice narratives, in many ways, YA seems like the ideal place for such stories. What could be more appealing to a teen, after all, than questioning authority?--Hunter, Sarah Copyright 2018 Booklist"
From Booklist, Copyright (c) American Library Association. Used with permission.
Publisher's Weekly Review:
""I can't take another dead girl." That's why May Beth Foster asks radio reporter West McCray to help find 19-year-old Sadie, May Beth's trailer park neighbor and honorary granddaughter. Sadie took off from her home in Cold Creek, Colo., when Mattie, the 13-year-old sister she practically raised, was murdered. (Their mother, an addict whose boyfriends came and went, is absent.) Despite a stutter that's gotten her teased and bullied, Sadie is brave unto recklessness, and she won't rest until she finds the man she thinks killed her sister. West, initially reluctant to get involved, lets May Beth's grief and his boss's urging to start a podcast goad him into starting the search for Sadie. The resulting true-crime podcast alternates with Sadie's first-person narration from the road, West's knowledge usually lagging behind what readers know from traveling with the driven, grieving Sadie. Initially distracting, the podcast becomes an effective way to build out backstory and let myriad characters have their say. The result is a taut, suspenseful book about abuse and power that feels personal, as if Summers (All the Rage), like May Beth and West, can't take one more dead or abused girl. Readers may well feel similarly. Ages 13-up. Agent: Amy Tipton, FinePrint. (Sept.) © Copyright PWxyz, LLC. All rights reserved."
(c) Copyright PWxyz, LLC. All rights reserved
Additional Information