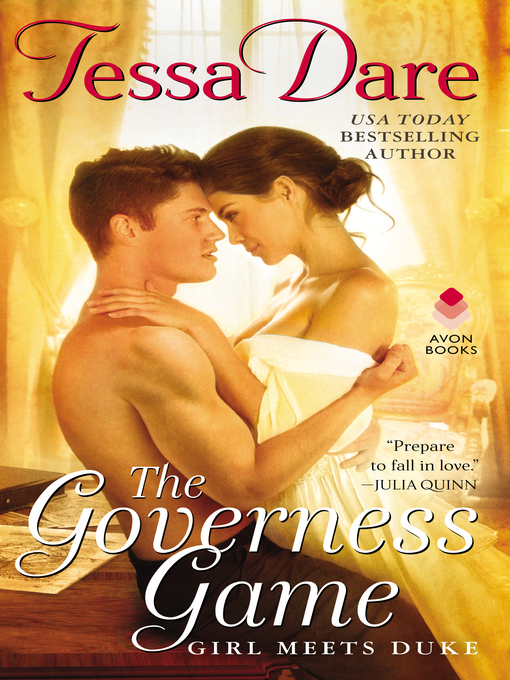 The governess game Girl Meets Duke Series, Book 2
Format:

OverDrive Read

2018.

Adobe EPUB ebook

Kindle Book

Availability:

Unavailable

0 of 7 copies
Summary
He's been a bad, bad rake--and it takes a governess to teach him a lesson
The accidental governess
After her livelihood slips through her fingers, Alexandra Mountbatten takes on an impossible post: transforming a pair of wild orphans into proper young ladies. However, the girls don't need discipline. They need a loving home. Try telling that to their guardian, Chase Reynaud: duke's heir in the streets and devil in the sheets. The ladies of London have tried--and failed--to make him settle down. Somehow, Alexandra must reach his heart . . . without risking her own.
The infamous rake
Like any self-respecting libertine, Chase lives by one rule: no attachments. When a stubborn little governess tries to reform him, he decides to give her an education--in pleasure. That should prove he can't be tamed. But Alexandra is more than he bargained for: clever, perceptive, passionate. She refuses to see him as a lost cause. Soon the walls around Chase's heart are crumbling . . . and he's in danger of falling, hard.
Published Reviews
Booklist Review:
"*Starred Review* Chase Reynaud can't believe his two young wards have set a brand-new record for getting rid of a governess: 17½ hours! Fortunately, it seems a new candidate for the position has just walked in the door, and from what Chase can discern, she seems like a real pip. When Alexandra Alex Mountbatten lets herself into the next London townhouse on her list in order to go about her duties setting the clocks, she can't believe the gentleman waiting for her is none other than her Bookshop Rake. Months ago, Alex bumped into a tall, dark, and handsome stranger at Hatchards, and ever since, she had been dreaming of meeting him again. Unfortunately, Chase seems to have absolutely no memory whatsoever of Alex, and what is even worse, he thinks Alex is just going to drop everything and become his new governess! From the very first page of this whimsical and wryly inventive masterpiece, the latest in her fetching Girl Meets Duke series, following The Duchess Deal (2017), RITA Award-winning Dare reels readers in and then keeps them firmly hooked with her distinctive blend of exuberant characters, lively dialogue, buoyant wit, and bone-melting sensuality.--John Charles Copyright 2018 Booklist"
From Booklist, Copyright (c) American Library Association. Used with permission.
Publisher's Weekly Review:
"In Dare's sizzling second Girl Meets Duke Regency (after The Duchess Deal), a young woman discovers that her romantic fantasies about a handsome rake are vastly different from the reality of him. After bumping into the effortlessly charming man of her dreams in a bookstore, Alexandra Mountbatten meets him again when calling at his London home, offering to set his clocks. Chase Reynaud mistakenly believes that Alex has come to apply for the position of governess to his two precocious wards, Daisy and Rosamund-and she needs a job, so she plays along. The witty banter of the misunderstanding is the perfect prelude for their future encounters. Chase professes himself a confirmed rake who refuses to marry as self-punishment for his past actions, but Alex sees through Chase's callous façade to the kind and generous man inside. Even as she tries to convince him that he deserves happiness, she knows that he must marry someone of suitable rank, which excludes her. Alex is an intelligent, independent heroine who is the perfect match for Chase, whose hardened heart softens as Alex reveals how much she cares for him. Sensuality and witty repartee fill the pages of this fast-paced story, which is made complete by the expertly developed characters and hints at future installments. Agent: Steve Axelrod, Axelrod Agency. (Sept.) © Copyright PWxyz, LLC. All rights reserved."
(c) Copyright PWxyz, LLC. All rights reserved
Additional Information