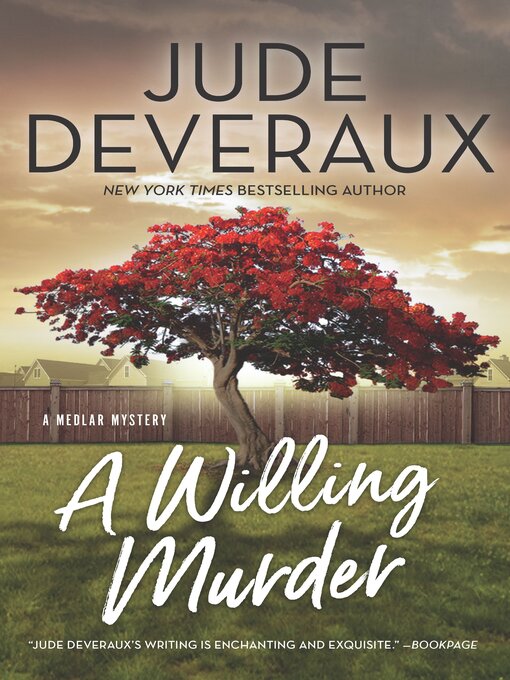 A Willing murder A Medlar Mystery
Format:

OverDrive Read

2018.

Adobe EPUB ebook

Kindle Book

Availability:

Unavailable

0 of 8 copies
1 person on waitlist
Summary
New York Times bestselling romance author Jude Deveraux makes her debut in the world of mystery with a story of old secrets, deadly grudges and an improbable group of friends who are determined to uncover the truth regardless of the consequences...

Sara Medlar is a household name in romance, with millions of books sold. But lately, retirement has been boring her and she's found herself back in her hometown of Lachlan, Florida, remodeling the grand old mansion she'd admired as a child. It's much too big for her alone, but she'd die before letting anyone in town know that.

Then Sara's niece Kate is offered a job in Lachlan--a start in what could be a very successful career in real estate. She accepts immediately, but with so little saved up, she'll have to approach her estranged yet incredibly famous aunt for a place to stay while she gets herself settled. But when she arrives at Sara's home, she finds she's not the only long-term houseguest. Jackson Wyatt already has his own room, and though it's impossible to deny his good looks and charm--he's clearly got her aunt wrapped around his finger--she's also never met anyone who irritates her quite like Jack does.

However, when two skeletons are accidentally uncovered in the quiet town, this unlikely trio is suddenly thrust together by a common goal: to solve a mystery everyone else seems eager to keep under wraps. United by a sense of justice and the desire to right old wrongs, Sara, Kate and Jack will have to dig into Lachlan's murky past to unravel the small town's dark secrets and work to bring the awful truth to light.
Published Reviews
Booklist Review:
"Upon learning she has an aunt famous, reclusive romance writer Sara Medlar Kate Medlar becomes a real-estate agent in insular Lachlan, Florida, so she can learn more about her father, who died when she was a child. Sara enthusiastically welcomes her, inviting Kate to stay in her large home along with construction-company owner Jack Wyatt, on crutches recovering from a car accident that killed his half-brother. At one of Jack's sites, the three accidentally uncover the skeletons of Cheryl Morris and her mother, who supposedly left town 20 years before. Sara, Kate, and Jack, who at 11 worshipped the then-teenage Cheryl, investigate, determined to find justice for the two, uncovering decades-old secrets and stirring up a killer determined to protect those secrets. Complicating matters, the suave Alastair Stewart is romantically interested in Kate, annoying Jack. The three well-drawn main characters, plot twists, verbal sparring, and the romance elements distinguish this gentle suspense novel, the first venture into crime fiction by romance-megastar Deveraux. There's enough romance here, though, to interest those who enjoy reading Phyllis Whitney and Barbara Michaels.--Sue O'Brien Copyright 2018 Booklist"
From Booklist, Copyright (c) American Library Association. Used with permission.
Publisher's Weekly Review:
"Bestselling romance author Deveraux (Ever After) sets her overwrought debut mystery, an apparent series launch, in familiar territory. Successful romance writer Sara Medlar has returned in style to the Florida equivalent of Peyton Place, her hometown of Lachlan, which teems with rivalries, jealousies, and long-held grudges. Finding retirement dull, Sara welcomes her long-estranged niece, Kate Medlar, to live with her in her newly renovated mansion. Sara and Kate, along with local contractor Jack Wyatt, the self-made grandson of Sara's first love, soon get caught up in a murder investigation when two skeletons are discovered on land Jack purchased to develop. One of the murder victims is long-missing Cheryl Morris, a beautiful girl from the wrong side of the tracks. The necklace Jack gave her years before not only identifies her body but stirs up ugly rumors from the past. Kate, Sara, and Jack's attempt to solve the murders reveals Lachlan's dark underbelly. Mary Higgins Clark fans will best appreciate this one. Agent: Robert Gottlieb, Trident Media. (Sept.) © Copyright PWxyz, LLC. All rights reserved."
(c) Copyright PWxyz, LLC. All rights reserved
Additional Information