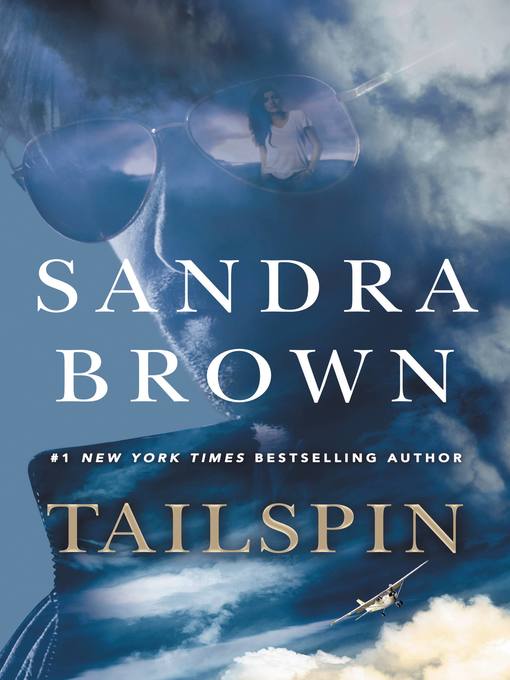 Tailspin
Format:

OverDrive Read

2018.

Adobe EPUB ebook

Kindle Book

Availability:

Available from OverDrive

1 of 18 copies
1 person on waitlist
Summary
Don't miss the spine tingling suspense and tantalizing romance in this thriller about a daring pilot caught in a race against time from #1 New York Times bestselling author Sandra Brown.

Rye Mallett, a fearless "freight dog" pilot charged with flying cargo to far-flung locations, is often rough-spoken and all business, but soft on regulations when they get in the way of meeting a deadline. But he does have a rock-solid reputation: he will fly in the foulest weather, day or night, and deliver the goods safely to their destination. So when Rye is asked to fly into a completely fogbound northern Georgia town and deliver a mysterious black box to a Dr. Lambert, he doesn't ask questions.
As Rye's plane nears the isolated landing strip, more trouble than inclement weather awaits him. He is greeted first by a sabotage attempt on his plane that causes him to crash land, and then by Dr. Brynn O'Neal, who claims she was sent for the box in Dr. Lambert's stead. Despite Rye's "no-involvement" policy when it comes to other people's problems, he finds himself irresistibly drawn to the intrigue surrounding his cargo . . . and to the mysterious and alluring Brynn.
Soon Rye and Brynn are in a treacherous forty-eight-hour race to deliver the box before time runs out. With everyone from law enforcement officials to hired thugs hot on their heels, they must learn to trust each other so they can protect their valuable cargo from those who would kill for it.
Contents
Cover; Title; Copyright; Table of Contents; Chapter 1; Chapter 2; Chapter 3; Chapter 4; Chapter 5; Chapter 6; Chapter 7; Chapter 8; Chapter 9; Chapter 10; Chapter 11; Chapter 12; Chapter 13; Chapter 14; Chapter 15; Chapter 16; Chapter 17; Violet; Chapter 18; Chapter 19; Chapter 20; Chapter 21; Chapter 22; Chapter 23; Violet; Chapter 24; Chapter 25; Chapter 26; Chapter 27; Chapter 28; Chapter 29; Chapter 30; Violet; Chapter 31; Chapter 32; Chapter 33; Chapter 34; Violet; Chapter 35; Chapter 36; Chapter 37; Violet; Epilogue; Acknowledgments; Discover More Sandra Brown; Novels by Sandra Brown
Published Reviews
Booklist Review:
"Brown's (Sting, 2016) latest tale of romantic suspense takes place over 48 hours, but it seems to cover a much longer period of time. Brown packs a lot of action into those two days, and her timekeeping structure reminds the reader of just how slowly the minutes are passing. The two main characters, pilot Rye Mallett and Dr. Brynn O'Neal, meet under less-than-ideal conditions when Rye is forced to crash-land while trying to deliver a mysterious locked box. Brynn then attempts to claim the box without identifying herself. Rye tries hard to find out what this box contains, while Brynn works just as hard to deny him that information. As the hours tick by, the doctor and the pilot get closer as they share a common goal: stay ahead of the thugs and the law officials who are chasing them. Brown sure does steer Tailspin in circles, making her readers' heads spin.--Lois Ray Copyright 2018 Booklist"
From Booklist, Copyright (c) American Library Association. Used with permission.
Publisher's Weekly Review:
"Early in this suspenseful romantic thriller from bestseller Brown (Seeing Red), "freight dog" pilot Rye Mallett agrees to fly a small plane in foggy weather into a remote area of northern Georgia to deliver a black box to Nathaniel Lambert, a doctor who will be driving up from Atlanta to meet him. As Rye approaches the airport, a laser beam flashes through the plane's windshield and temporarily blinds him. Luckily, he's not seriously injured when he crash lands on the ground. Rye regains his sight, climbs out of the wrecked plane, and spots a figure in the fog. Thinking it's the saboteur who blinded him, he charges at the person, who turns out to be an attractive female doctor, Brynn O'Neal. After they exchange a few blows, Brynn says Lambert sent her in his place. Despite their mutual suspicion, Rye and Brynn join forces to guard the box, the contents of which some people are willing to kill for. The attraction between them grows along with their peril. Brown's many fans will be pleased. Agent: Maria Carvainis, Maria Carvainis Agency. (Aug.) © Copyright PWxyz, LLC. All rights reserved."
(c) Copyright PWxyz, LLC. All rights reserved
Additional Information