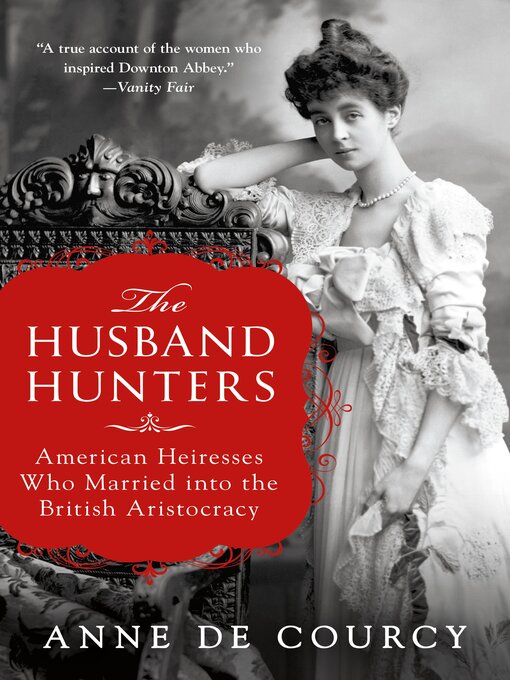 The husband hunters social climbing in London and New York
Format:

Kindle Book

2018

2018

Adobe EPUB ebook

OverDrive Read

Availability:

Available from OverDrive

1 of 1 copy
1 person on waitlist
Summary
Towards the end of the nineteenth century and for the first few years of the twentieth, a strange invasion took place in Britain. The citadel of power, privilege and breeding in which the titled, land-owning governing class had barricaded itself for so long was breached. The incomers were a group of young women who, fifty years earlier, would have been looked on as the alien denizens of another world - the New World, to be precise. From 1874 - the year that Jennie Jerome, the first known 'Dollar Princess', married Randolph Churchill - to 1905, dozens of young American heiresses married into the British peerage, bringing with them all the fabulous wealth, glamour and sophistication of the Gilded Age. Anne de Courcy sets the stories of these young women and their families in the context of their times. Based on extensive first-hand research, drawing on diaries, memoirs and letters, this richly entertaining group biography reveals what they thought of their new lives in England - and what England thought of them.

Contents
Where They Came From
The 'Buccaneers'
Jennie
The First Duke Captured
Living in the Country
Mrs Paran Stevens
Alva
Newport
The 'Marrying Wilsons'
The Call of Europe
Virginia
Maud
Royal Connections
The Bradley-Martins
Fitting In
or Not
Tennie Claflin: The Odd One Out
The River of Gold
It Was All Too Much.
Published Reviews
Booklist Review:
"De Courcy (The Fishing Fleet: Husband Hunting on the Raj?, 2014) irresistibly documents the exhaustive efforts undertaken by wealthy nineteenth-century American mothers to secure titled British husbands for their hapless daughters. American debutantes, raised in unimaginable luxury to be independent in thought and action, found themselves at the mercy of mothers bent on improving family social standing (fathers were generally absent from these proceedings). Securing an earl or a duke as a son-in-law might include threats of bribery, disownment, or even home imprisonment. Happy, fairy-tale endings were few and far between, as American brides often found themselves isolated in crumbling country manors as their husbands gallivanted about, sometimes racking up huge debts. Stories abound about American mamas who sacrificed their offspring to ensure entrance into the inner circles of New York society and invitations to posh summer affairs at Newport. Vanderbilts, Astors, Churchills, Marlboroughs; diamonds, tiaras, yachts, mansions; all are documented in glorious detail and should satisfy those readers with insatiable thirst for all things peerage.--Kathleen McBroom Copyright 2018 Booklist"
From Booklist, Copyright (c) American Library Association. Used with permission.
Publisher's Weekly Review:
"Journalist De Courcy (The Fishing Fleet) delivers a fascinating but surface-skimming history of the wealthy young American women-novelist Edith Wharton called them the "buccaneers"-who married titled Brits in the 19th century. De Courcy maintains that status-seeking mothers of nouveau riche families masterminded these transatlantic nuptials to break into the social circle of the wealthiest American families, an elite group known as the Knickerbockers. Arranging their daughters' marriages to impoverished British aristocrats worked; the Knickerbockers, who respected titles, welcomed the brides, along with their families, into their ranks. The stories of women like Virginia Bonynge, Maud Burke, and Cornelia Bradley Martin are ones of wealth and power, not romance. (Jennie Jerome, one of the few exceptions, married for love.) De Courcy is best at describing upper-class life on both sides of the Atlantic, but the personalities of the young women never completely shine through. Instead of digging deep, De Courcy digresses with, for example, a profile of Tennessee Claflin (later Lady Cook), the scandalous clairvoyant turned feminist stockbroker and suffragette, who didn't start out an heiress. Yet there's enough glitz and glamour to enthrall those who couldn't get enough of the recent royal nuptials. Photos. Agent: Isobel Dixon, Blake Friedmann Literary Agency. (Aug.) © Copyright PWxyz, LLC. All rights reserved."
(c) Copyright PWxyz, LLC. All rights reserved
Additional Information