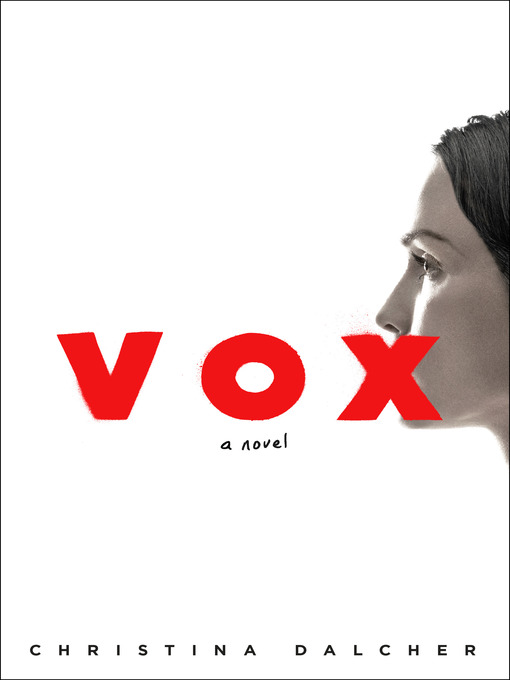 Vox
Format:

OverDrive Read

2018.

Adobe EPUB ebook

Kindle Book

Availability:

Unavailable

0 of 6 copies
2 people on waitlist
Summary
NATIONAL BESTSELLER
ONE OF ENTERTAINMENT WEEKLY 'S AND SHEREADS' BOOKS TO READ AFTER THE HANDMAID'S TALE
"[An] electrifying debut."-- O, The Oprah Magazine *
"The real-life parallels will make you shiver."-- Cosmopolitan

Set in a United States in which half the population has been silenced, Vox is the harrowing, unforgettable story of what one woman will do to protect herself and her daughter.

On the day the government decrees that women are no longer allowed more than one hundred words per day, Dr. Jean McClellan is in denial. This can't happen here. Not in America. Not to her.

Soon women are not permitted to hold jobs. Girls are not taught to read or write. Females no longer have a voice. Before, the average person spoke sixteen thousand words each day, but now women have only one hundred to make themselves heard.

For herself, her daughter, and every woman silenced, Jean will reclaim her voice.

This is just the beginning...not the end.

One of Good Morning America 's "Best Books to Bring to the Beach This Summer"
One of PopSugar, Refinery29, Entertainment Weekly , Bustle, Real Simple , i09, and Amazon's Best Books to Read in August 2018
Published Reviews
Booklist Review:
"Language and women's facility with it are the focal points of linguist Dalcher's chilling dystopian tale and first novel. Jean McClellan and her family live in a U.S. taken over by religious extremists who have forced the female population to wear electroshock bracelets that deliver painful charges to any woman who speaks over 100 words a day. Jean, a scientist whose research centered around a neurological condition that causes aphasia, is forced to watch in virtual silence as her three sons become indoctrinated and her six-year-old daughter tries to speak as little as possible. Jean's marriage grows strained as her husband goes along with the new regime. She is then offered a potential respite when government officials come to her for help after the president's brother is diagnosed with the very condition for which she had been seeking a cure before women were forbidden to work. With its focus on the vitality of communication and human interactions, Dalcher's tale is a fresh and terrifying contribution to the burgeoning subgenre about women-focused dystopias spearheaded by Margaret Atwood's The Handmaid's Tale.--Kristine Huntley Copyright 2018 Booklist"
From Booklist, Copyright (c) American Library Association. Used with permission.
Publisher's Weekly Review:
"In her provocative debut, linguist Dalcher imagines a near future in which speech and language-or the withholding thereof-are instruments of control. The election of a conservative president with a charismatic (and psychotic) religious advisor is merely the final straw in a decades-long trend toward repression and authoritarianism. For years, cognitive linguist Jean McClellan, a well-educated white woman, chose to immerse herself in academia rather than become politically active, even as signs of authoritarianism were proliferating. Now, however, a year after the election, women in the United States have been limited to speaking no more than 100 words per day or face painful consequences. When the President's brother suffers an accident that affects his brain's speech centers, Jean might be able to leverage her expertise to restore her status. Dalcher's narrative raises questions about the links between language and authority; most chilling is the specter of young girls being starved of language and, consequently, the capacity to think critically. The novel's muddled climax and implausible denouement fail to live up to its intriguing premise. Nevertheless, Dalcher's novel carries an undeniably powerful message. (Aug.) © Copyright PWxyz, LLC. All rights reserved."
(c) Copyright PWxyz, LLC. All rights reserved
Additional Information