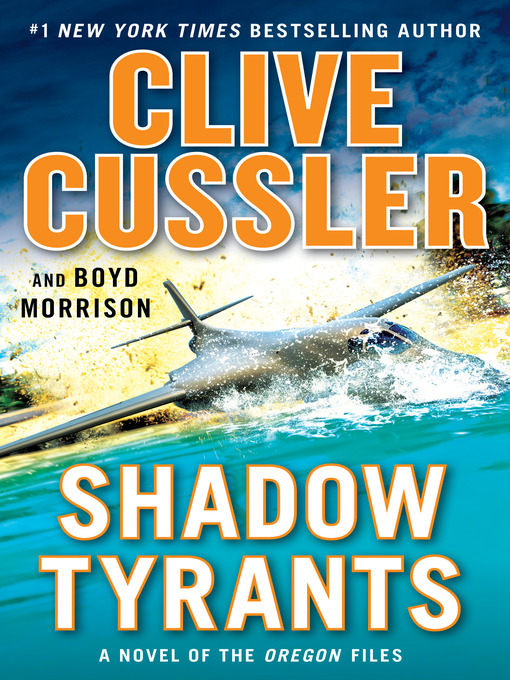 Shadow Tyrants
Format:

OverDrive Read

2018.

Adobe EPUB ebook

Kindle Book

Availability:

Unavailable

0 of 6 copies
2 people on waitlist
Summary
Only Juan Cabrillo and the crew of the Oregon stand between two warring moguls and global havoc in this thrilling suspense novel in Clive Cussler's #1 New York Times bestselling series.

Nearly two thousand years ago, an Eastern emperor charged a small group with safeguarding secrets powerful enough to change the history of mankind. They went down in legend as the Nine Unknown Men--and now two rival factions of their descendants are fighting a mighty battle. Both sides think they are saving the world, but their tactics could very well bring about the end of humankind. Soon, Juan Cabrillo and his team of expert operatives aboard the Oregon find themselves trapped between two power-hungry adversaries, both of whom are willing to use shocking means to accomplish their goals.

Cabrillo and the team must divide and conquer as they fight dual threats, which include a supercomputer at sea and satellites that can wipe out technology across the globe--including the high-tech weapons on board the Oregon. The crew must rely on their unique skills to stop the tyrants in their tracks and save the earth from a dynasty of terror.
Published Reviews
Booklist Review:
"The fourth Cussler/Morrison collaboration is the thirteenth in the Oregon Files series. A couple of decades ago, according to legend, a secret society known only as the Nine Unknown Men was formed to keep certain potentially world-altering knowledge from falling into the wrong hands. Now different factions descended from the Nine Unknown Men are fighting each other, and the fate of humanity hangs in the balance. Unless, of course, Juan Cabrillo and his team of adventurers can stop a war that has been brewing for more than 2,000 years. It's pretty formulaic stuff every Oregon Files story has the same ingredients and, as usual, the writing is functional at best. Cussler's sizable following, however, remains devoted and will be pleased by something new.--David Pitt Copyright 2018 Booklist"
From Booklist, Copyright (c) American Library Association. Used with permission.
Publisher's Weekly Review:
"Bestseller Cussler's solid if overly familiar 13th Oregon novel (after 2017's Typhoon Fury, also with Morrison) pits Juan Cabrillo, chairman of the Corporation, a private organization that undertakes difficult missions for the CIA, against a secret cabal, the Nine Unknown, whose members possess ancient knowledge of physical and social sciences that could be used to conquer the world. Eight of the nine have decided to implement a plan called Colossus to "save the world from lesser minds and make them de facto rulers of every nation on Earth." The group's lone dissenter, Romir Mallik, believes that Colossus-essentially an advanced artificial intelligence computer-will bring about the end of humanity, and attempts to destroy Colossus with a network of killer satellites. It's up to Cabrillo and the men and women of the Oregon, a state of the art super ship disguised as a derelict rust-bucket, to stop the villains and save the world. There's plenty of action, but the stale scenario and stock characters add up to a seen-it-before experience. Agent: Peter Lampack, Peter Lampack Agency. (Sept.) © Copyright PWxyz, LLC. All rights reserved."
(c) Copyright PWxyz, LLC. All rights reserved
Additional Information