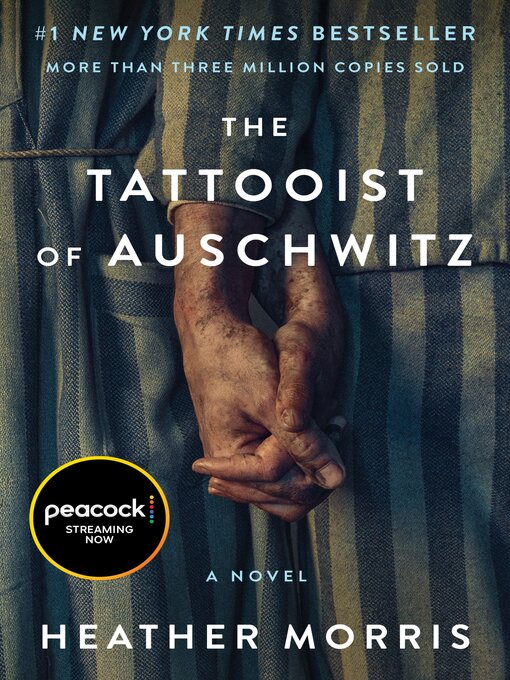 The tattooist of Auschwitz based on the heart-breaking true story of love and survival
Format:

OverDrive Read

2018.

Adobe EPUB ebook

Kindle Book

Availability:

Unavailable

0 of 56 copies
349 people on waitlist
Summary
The #1 International Bestseller & New York Times Bestseller
This beautiful, illuminating tale of hope and courage is based on interviews that were conducted with Holocaust survivor and Auschwitz-Birkenau tattooist Ludwig (Lale) Sokolov--an unforgettable love story in the midst of atrocity.
"The Tattooist of Auschwitz is an extraordinary document, a story about the extremes of human behavior existing side by side: calculated brutality alongside impulsive and selfless acts of love. I find it hard to imagine anyone who would not be drawn in, confronted and moved. I would recommend it unreservedly to anyone, whether they'd read a hundred Holocaust stories or none."--Graeme Simsion, internationally-bestselling author of The Rosie Project
In April 1942, Lale Sokolov, a Slovakian Jew, is forcibly transported to the concentration camps at Auschwitz-Birkenau. When his captors discover that he speaks several languages, he is put to work as a Tätowierer (the German word for tattooist), tasked with permanently marking his fellow prisoners.
Imprisoned for over two and a half years, Lale witnesses horrific atrocities and barbarism--but also incredible acts of bravery and compassion. Risking his own life, he uses his privileged position to exchange jewels and money from murdered Jews for food to keep his fellow prisoners alive.
One day in July 1942, Lale, prisoner 32407, comforts a trembling young woman waiting in line to have the number 34902 tattooed onto her arm. Her name is Gita, and in that first encounter, Lale vows to somehow survive the camp and marry her.
A vivid, harrowing, and ultimately hopeful re-creation of Lale Sokolov's experiences as the man who tattooed the arms of thousands of prisoners with what would become one of the most potent symbols of the Holocaust, The Tattooist of Auschwitz is also a testament to the endurance of love and humanity under the darkest possible conditions.
Published Reviews
Booklist Review:
"Australian author Morris' first novel is based heavily on the memories of Lale Sokolov, a Slovakian Jew who spent almost three years in the Auschwitz-Birkenau concentration camp. For most of that time, he tattooed numbers onto the arms of fellow prisoners, one of whom he would later marry. Like Lale, Gita was Slovakian, and with some maneuvering by him, she was assigned to a relatively safe job, working as a secretary in the administrative building. Morris tells their story in rapidly moving present tense, in which the horrors of the camps contrast with the growing love between them. Lale comes across as a sharp-witted businessman with a touch of the con artist, smuggling out jewels and currency in sausages and chocolate. Although one might suspect that there's far more to his past than is revealed here, much of Lale's story's complexity makes it onto the page. And even though it's clear that Lale will survive, Morris imbues the novel with remarkable suspense.--Margaret Quamme Copyright 2018 Booklist"
From Booklist, Copyright (c) American Library Association. Used with permission.
Publisher's Weekly Review:
"Based on a true story, Morris's debut fictionalizes the romance between two concentration camp prisoners during WWII. In 1942, Lale, a Slovakian Jew, is given the position of tattooist, tasked with numbering the arm of every new inmate who enters Auschwitz-Birkenau. He uses his position to procure black market items, which he trades away in return for favors. One day, he tattoos the arm of a young woman named Gita and promptly falls in love with her. They begin meeting on Sundays, the only day of rest in the camps. He vows to Gita that he will marry her when they are freed, a boast that Gita is dubious of but nevertheless clings to. Lale even becomes something of a guardian angel to Gita, providing her with penicillin when she contracts typhus. Separated at the end of the war by the fleeing SS, Lale and Gita set out to find one another again in postwar Europe. To many, this book will be most appreciated for its powerful evocation of the everyday horrors of life as a prisoner in a concentration camp, while others will be heartened by the novel's message of how true love can transcend even the most hellishly inhuman environments. This is a perfect novel for book clubs and readers of historical fiction. (Sept.) © Copyright PWxyz, LLC. All rights reserved."
(c) Copyright PWxyz, LLC. All rights reserved
Additional Information