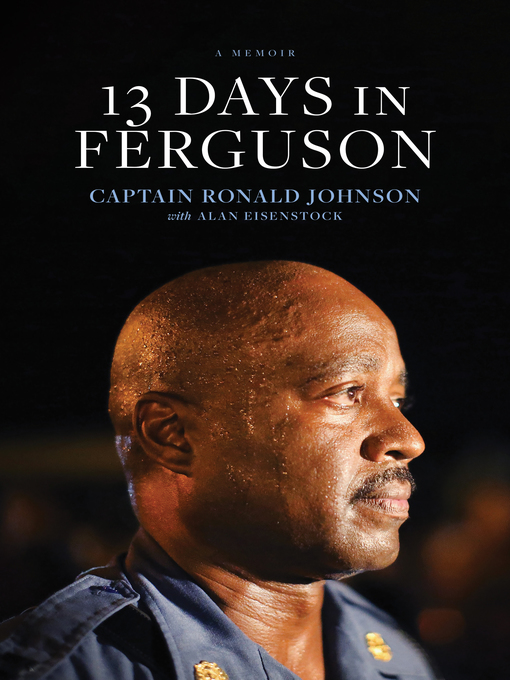 13 days in Ferguson
Format:

Kindle Book

2018

2018

Adobe EPUB ebook

OverDrive Read

Availability:

Available from OverDrive

1 of 1 copy
Summary
On August 14, 2014, five days after the fatal shooting of Michael Brown ignited race riots throughout the city of Ferguson, Missouri, the nation found an unlikely hero in Captain Ron Johnson of the Missouri Highway Patrol. Charged with the Herculean task of restoring peace between a hostile African American community and the local police, Johnson, a 30-year law enforcement veteran and an African American, did the unthinkable; he took off his bullet-proof vest and joined the protesters. The 13 days and nights that followed were the most trying of Johnson's life--professionally, emotionally, and spiritually. Officers in his own command called him a traitor. Lifelong friends stopped speaking to him. The media questioned and criticized his every decision. Alone at the center of the firestorm, with only his family and his faith to cling to, Johnson persevered in his belief that the only way to effectively bridge the divide between black and blue is to--literally--walk across it. In 13 Days in Ferguson, Johnson shares, for the first time, his view of what happened during the thirteen turbulent days he spent stabilizing the city of Ferguson, and the extraordinary impact those two historic weeks had on his faith, his approach to leadership, and on what he perceives to be the most viable solution to the issues of racism and prejudice in America.

Contents
Prologue: Confrontation
Michael Brown's body
"This is war"
"These people"
"Why am I different?"
Waiting for the storm
A different morning
"I need answers"
"Save our sons"
"No more than I can bear"
"I am you"
A bullet has no name
Man, Black man, trooper
"Where have you been?"
"Trouble doesn't last always"
Epilogue: After Ferguson.
Published Reviews
Publisher's Weekly Review:
"In this sonorous but narrowly focused memoir, the 2014 riots in Ferguson, Mo., following the police killing of Michael Brown rage while a black police official struggles to restore peace. Johnson, a Missouri Highway Patrol captain who grew up in Ferguson, was appointed commander of police units in Ferguson several days into the riot and tried to de-escalate the situation by cutting demonstrators slack, eschewing tear gas, and getting police to talk to protesters. By day he walked the streets listening to residents and urging calm, by night he coped with looting, arson, gunfire, and Molotov cocktails; his dovish approach earned plaudits from the media and activists, but resentment-and racial epithets-from cops who accused him of siding with rioters. Johnson foregrounds his own tribulations: he weeps and prays, holds fatherly heart-to-hearts with troubled youth, and makes pronouncements about people coming together. ("I feel a shift-an emotional, spiritual shift.... This shift comes from God," he reports after speaking at a church.) His narrative of the rioting, taken largely from his press briefings, however, glosses over both the aggressive tactics used by local police and the property damage wrought by protesters. The result is more about the author's soul-searching than the upheaval. (Aug.) © Copyright PWxyz, LLC. All rights reserved."
(c) Copyright PWxyz, LLC. All rights reserved
Additional Information