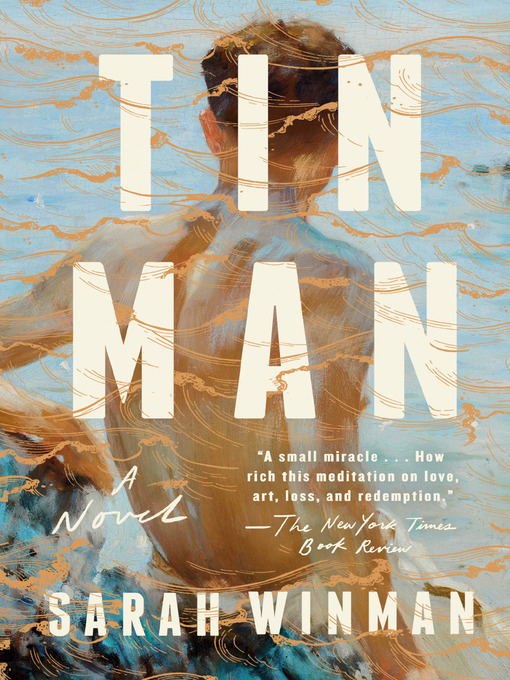 Tin man a novel
Format:

Kindle Book

2018

2018

Adobe EPUB ebook

OverDrive Read

Availability:

Unavailable

0 of 4 copies
Summary
"Shortlisted for the Costa Novel of the Year Award "This is an astoundingly beautiful book. It drips with tenderness. It breaks your heart and warms it all at once."--Matt Haig, author of How to Stop Time From internationally bestselling author Sarah Winman comes an unforgettable and heartbreaking novel celebrating love in all its forms, and the little moments that make up the life of one man. This is almost a love story. But it's not as simple as that. Ellis and Michael are twelve-year-old boys when they first become friends, and for a long time it is just the two of them, cycling the streets of Oxford, teaching themselves how to swim, discovering poetry, and dodging the fists of overbearing fathers. And then one day this closest of friendships grows into something more. But then we fast-forward a decade or so, to find that Ellis is married to Annie, and Michael is nowhere in sight. Which leads to the question: What happened in the years between? With beautiful prose and characters that are so real they jump off the page, Tin Man is a love letter to human kindness and friendship, and to loss and living"--

Published Reviews
Booklist Review:
"In the present day of Winman's third novel, 1996, Ellis Judd works nights at an Oxford car plant, where his taciturnity and his unparalleled finesse in removing dents precede him. At home, before bed, he visits with his wife, Annie's, ghost. Ellis grasps at memories of her, and of another love whose loss is, at first, less defined. In 1963, age 12, he meets newly orphaned Michael, who quickly becomes his inseparable best friend. Ellis loves to draw, but Michael knows how to talk about art, a passion he shares with Ellis' mother. As the boys become teens, their magnetism morphs subtly, then all at once. Without saying too much, there's a significant shift in perspective at the novel's halfway point. Readers learn how Ellis' relationships shaped him; like the storied hero whose name the novel shares, the part Ellis struggles to access has more to do with belief than actual lack. Strong characters, settings, and ambiance mark Winman's (When God Was a Rabbit, 2011) unique and uniquely affecting story of love's varieties, phases, and ability to bend time.--Bostrom, Annie Copyright 2018 Booklist"
From Booklist, Copyright (c) American Library Association. Used with permission.
Publisher's Weekly Review:
"Ellis Judd doesn't know he has a heart. He's been too busy protecting it, as Winman (When God Was a Rabbit) reveals in this achingly beautiful novel about love and friendship. The story unfolds in luminous prose as Ellis, five years a widower in 1996 Oxford, his grief still palpable, looks back on his life, reveling in his mother's love of art, which she shared with him and his closest friend, Michael. Ellis sacrificed his artistic ambitions when his abusive father made him follow in his footsteps to work at a car plant. His life implodes when his mother dies, and he finds comfort in his relationship with Michael, which evolves into something much deeper-but then Ellis falls in love and marries a free spirit named Annie. The three adults become an inseparable trio until Michael suddenly leaves Oxford for London. The tale's second half is told in a different but equally powerful voice through Michael's diary, which gives insight into his childhood up through the year he spends away, as well as the reason he returns to his two companions. In sharp portrayals of the three adults, the author shows how, despite all their challenges, they are able to love and support each other. Without sentimentality or melodrama, Winman stirringly depicts how people either interfere with or allow themselves and others to follow their hearts. (May) © Copyright PWxyz, LLC. All rights reserved."
(c) Copyright PWxyz, LLC. All rights reserved
Additional Information