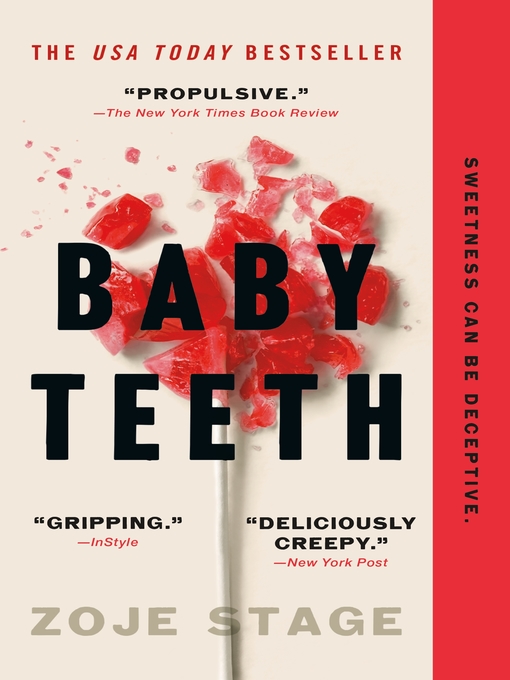 Baby teeth a novel
Format:

OverDrive Read

2018.

Adobe EPUB ebook

Kindle Book

Availability:

Unavailable

0 of 14 copies
45 people on waitlist
Summary
One of Entertainment Weekly 's Must-Read Books for July
People Magazine's Book of the Week
"Gripping" -- InStyle
"Propulsive." -- New York Times Book Review
One of Bustle's "Fifteen Books With Chilling Protagonists That Will Keep You Guessing"
"A wholly original and terrifically creepy story." --Refinery29
One of PopSugar's "25 Must-Read Books That Will Make July Fly By!"
A Barnes and Noble Blog Best Thriller for July!
One of the "Biggest Thrillers of the Summer" --SheReads
"Summer 2018 Must-Read" --Bookish
"Best Summer Reads for 2018" -- Publishers Weekly
"One of 11 Crime Novels You Should Read in July" --Crime Reads
"A twisty, delirious read" --EntertainmentWeekly.com
"New & Noteworthy" -- USA Today
"A deliciously creepy read." -- New York Post
A battle of wills between mother and daughter reveals the frailty and falsehood of familial bonds in award-winning playwright and filmmaker Zoje Stage's tense novel of psychological suspense, Baby Teeth.
Afflicted with a chronic debilitating condition, Suzette Jensen knew having children would wreak havoc on her already fragile body. Nevertheless, she brought Hanna into the world, pleased and proud to start a family with her husband Alex. Estranged from her own mother, Suzette is determined to raise her beautiful daughter with the love, care, and support she was denied.
But Hanna proves to be a difficult child. Now seven-years-old, she has yet to utter a word, despite being able to read and write. Defiant and anti-social, she refuses to behave in kindergarten classes, forcing Suzette to homeschool her. Resentful of her mother's rules and attentions, Hanna lashes out in anger, becoming more aggressive every day. The only time Hanna is truly happy is when she's with her father. To Alex, she's willful and precocious but otherwise the perfect little girl, doing what she's told.
Suzette knows her clever and manipulative daughter doesn't love her. She can see the hatred and jealousy in her eyes. And as Hanna's subtle acts of cruelty threaten to tear her and Alex apart, Suzette fears her very life may be in grave danger...
"Unnerving and unputdownable, Baby Teeth will get under your skin and keep you trapped in its chilling grip until the shocking conclusion."-- New York Times bestselling author Lisa Scottoline

" We Need to Talk About Kevin meets Gone Girl meets The Omen ...a twisty, delirious read that will constantly question your sympathies for the two characters as their bond continues to crumble."-- Entertainment Weekly

"A pulse-spiking thriller."-- PopSugar
Published Reviews
Booklist Review:
"Literature has a dark sorority of bad, creepy, and cruel girls, which now includes seven-year-old Hanna Hansen. Hanna is mute, and there is not a test known to modern medicine that can discern why. In the eyes of her father, she is a silent and sweet little angel. When he is not around, Hanna consciously makes her mother Suzette's life a living hell. They engage in a battle of wits that rivals Rosemary's Baby once the psychotic Hanna decides that her body has become inhabited by a medieval witch. Or, perhaps, she truly ispossessed. Doesn't matter. What follows is a totally engaging and unnerving read. Suzette fights back in a way that Eva, Kevin's mother in Lionel Shriver's We Need to Talk about Kevin (2003), did not, grappling with her own serious health issues as well as a husband in denial and a daughter who wants her dead. Debut novelist Stage has convincingly created one of the youngest villains ever, and readers who appreciate such creepy tykes as Shriver's Kevin and Doris Lessing's Ben (in The Fifth Child, 1988) will be unable to resist the urge to meet Hanna.--Murphy, Jane Copyright 2010 Booklist"
From Booklist, Copyright (c) American Library Association. Used with permission.
Publisher's Weekly Review:
"Stage's deviously fun debut takes child-rearing anxiety to demented new heights. Frustrated and fragile stay-at-home mom Suzette and seven-year-old Hanna alternately narrate a cascade of crises stemming from Hanna's near-total refusal to speak, her mistrust of her mom and adoration of her dad, and the parents' frantic attempts to find a solution to Hanna's increasingly dangerous tantrums. From Hanna's perspective, Suzette is the only thing standing in the way of the complete devotion of her father, Alex, and she plots ways to "step up her game against Mommy." For Suzette, her love-starved relationship with a distant mother and chronic Crohn's haunt every attempt to bond with a little girl who barks like a "feral animal" and only speaks as a 17th-century girl named Marie-Anne Dufosset, who was burned at the stake for suspected witchcraft. For the besieged Suzette, there's also a troubling ambivalence about whether she wants to save or kill her disturbed child. Stage expertly crafts this creepy, can't-put-it-down thriller into a fearless exploration of parenting and marriage that finds the cracks in unconditional love. 100,000-copy announced first printing. Agent: Sarah Bedginfield, Levine Greenberg Rostan Literary Agency. (July) © Copyright PWxyz, LLC. All rights reserved."
(c) Copyright PWxyz, LLC. All rights reserved
Additional Information
Subjects
Mothers and daughters -- Fiction.
Electronic books.
Suspense fiction.

Publisher

[Place of publication not identified] :St. Martin's Press2018.



Edition
First edition.
Contributors
OverDrive, Inc.

Language

English



System Details

Mode of access: World Wide Web.




Format: Adobe EPUB eBook




Format: Kindle Book




Format: OverDrive Read




Requires Adobe Digital Editions or Amazon Kindle



Description

1 online resource



ISBN
9781250170774
9781250170774

Other
Classic View