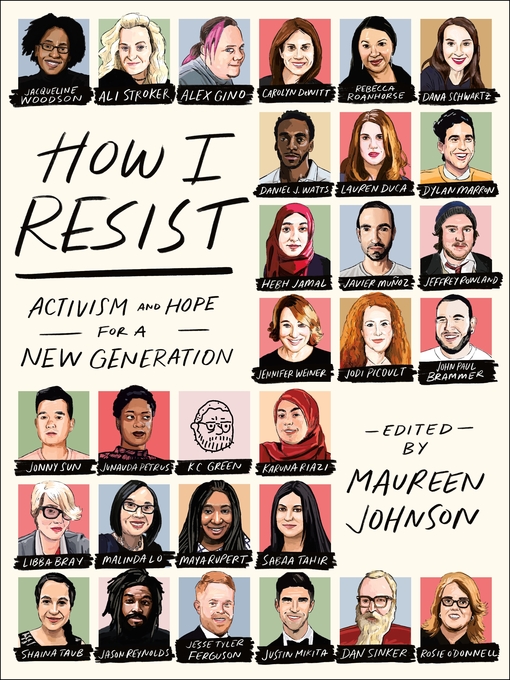 How I resist activism and hope for a new generation
Format:

Kindle Book

2018

2018

Adobe EPUB ebook

OverDrive Read

Availability:

Unavailable

0 of 1 copy
Summary
An all-star collection of essays about activism and hope, edited by bestselling YA author Maureen Johnson. Now, more than ever, young people are motivated to make a difference in a world they're bound to inherit. They're ready to stand up and be heard - but with much to shout about, where they do they begin? What can I do? How can I help? How I Resist is the response, and a way to start the conversation. To show readers that they are not helpless, and that anyone can be the change. A collection of essays, songs, illustrations, and interviews about activism and hope, How I Resist features an all-star group of contributors, including, John Paul Brammer, Libba Bray, Lauren Duca, Modern Family's Jesse Tyler Ferguson and his husband Justin Mikita, Alex Gino, Hebh Jamal, Malinda Lo, Dylan Marron, Hamilton star Javier Muñoz, Rosie O'Donnell, Junauda Petrus, Jodi Picoult, Jason Reynolds, Karuna Riazi, Maya Rupert, Dana Schwartz, Dan Sinker, Ali Stroker, Jonny Sun (aka @jonnysun), Sabaa Tahir, Shaina Taub, Daniel Watts, Jennifer Weiner, Jacqueline Woodson, and more, all edited and compiled by New York Times bestselling author Maureen Johnson. In How I Resist, readers will find hope and support through voices that are at turns personal, funny, irreverent, and instructive. Not just for a young adult audience, this incredibly impactful collection will appeal to readers of all ages who are feeling adrift and looking for guidance. How I Resist is the kind of book people will be discussing for years to come and a staple on bookshelves for generations.

Contents
Acknowledgements
What is resistance
Could we please give the plice departments to the grandmothers? / Junauda Petrus
Interview / Dylan Marron
Keep doing what you're doing / Malinda Lo
Why we all need to be activists right now / Lauren Duca
Thoughts on resistance / Rebecca Roanhorse
Interview / Jason Reynolds
5 things teens can do to enegage politics before turning 18 / Carolyn Dewitt
Essay / Hebh Jamal
Interview / Javier Munoz
The lucky ones / Jennifer Weiner
Letter to a sensitive brown queer / John Paul Brammer
The clap back / Daniel J. Watts
Interview / Ali Stroker
When / Shaina Taub
Part of the problem / KC Green
Making stuff that matters / Dan Sinker
I, wonder: imagining a black Wonder Woman / Maya Rupert
Rosie O' Donnell's five resistance steps / Rosie O' Donnell
Interview / Jacqueline Woodson
An announcment from Muffy Higginbottom, President of Delta Sigma Tau Sorority Resistance Committee / Libba Bray
Media-consciousness as part of resistance! / Jonny Sun
Essay / Jodi Picoult
Three easy steps to contact your reps / Kate Linnea Welsh
Essay / Alex Gino
Interview / Justin Mikita and Jesse Tyler Ferguson
Poem / Sabaa Tahir
The Jewish we / Dana Schwartz
Cartoon / Jeffrey Rowland
Refilling the well / Karuna Riazi
The bigness trap
The beginner's guide to books on resistance
Published Reviews
Booklist Review:
"As America struggles with vast political, cultural, and social divides, Federle and Johnson pull together a wide variety of authors, artists, and activists to try to make anecdotal sense of it all. As Federle bluntly writes in an intro, Yes, so, like hundreds of billions of woke Americans (number not confirmed), I'd been feeling restless and helpless and confused after Hillary's loss. So what can teens do? Readers will find that resistance can take many different shapes and forms and you don't even have to be old enough to vote. Jason Reynolds talks about how teens can unplug to prevent being inundated with information. Dana Schwartz touches on her own experiences growing up in a Jewish community. Interspersed within such essays are important poems, art, and music, from which readers can draw inspiration to make mistakes, start over, try something new, and keep a positive outlook on life no matter what harsh circumstances occur. This book will be a light in the darkness for some, and help guide them from despair.--Bratt, Jessica Anne Copyright 2018 Booklist"
From Booklist, Copyright (c) American Library Association. Used with permission.
Publisher's Weekly Review:
"Candor and passion radiate from the 30 voices raised in this trenchant and timely compendium of interviews, essays, reflections, illustrations, and poems. Representing a range of ethnicities, sexual orientations, professional achievements, and-most intriguingly-personalities, the contributors share their own experiences encountering, and countering, various forms of injustice, and encourage readers to speak out and act against the same. The collection encompasses the contemplative (novelist Rebecca Roanhorse writes, "Live authentic to who you are.... Because you being you is the most powerful kind of resistance of all") to the practical (Rock the Vote's president Carolyn DeWitt pinpoints five ways that teens can engage in politics before they turn 18). Profound frustration with the Trump administration stokes the emotional quotient of numerous entries, including that of Javier Muñoz, who played the title role in Hamilton on Broadway. Readers will also hear notes of hope about their generation's power to effect change, expressed eloquently, if conditionally, by author Jason Reynolds: "there's a generational groundswell of young people who together are impenetrable-if all of us are doing our jobs by giving them the necessary legs." This volume takes an assured step in that direction. Ages 12-up. Agent: Kate Testerman, KT Literary. (May) © Copyright PWxyz, LLC. All rights reserved."
(c) Copyright PWxyz, LLC. All rights reserved
Additional Information