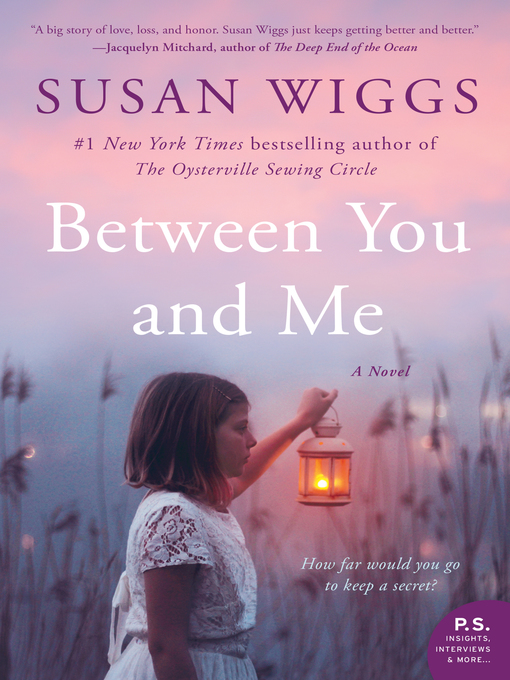 Between you and me a novel
Format:

OverDrive Read

2018.

Adobe EPUB ebook

Kindle Book

Availability:

Unavailable

0 of 7 copies
1 person on waitlist
Summary
#1 New York Times bestselling author Susan Wiggs delivers a riveting story that challenges our deepest-held beliefs...
Caught between two worlds, Caleb Stoltz is bound by a deathbed promise to raise his orphaned niece and nephew in Middle Grove, where life revolves around family, farm, faith--and long-held suspicions about outsiders. When disaster strikes, Caleb is thrust into an urban environment of high-tech medicine and the relentless rush of modern life.
Dr. Reese Powell is poised to join the medical dynasty of her wealthy, successful parents. Bold, assertive, and quick-thinking, she lives for the addictive rush of saving lives. When a shocking accident brings Caleb Stoltz into her life, Reese is forced to deal with a situation that challenges everything she thinks she knows--and ultimately emboldens her to question her most powerful beliefs.
Then one impulsive act brings about a clash of cultures in a tug-of-war that plays out in a courtroom, challenging the very nature of justice and reverberating through generations, straining the fragile threads of faith and family.
Published Reviews
Booklist Review:
"The moment Caleb Stoltz shows up in the emergency room of the Philadelphia hospital where she's working as a medical student, Reese Powell knows there is something different about him. Reese is instantly impressed by the fact that Caleb ignored the religious objections of others in his Amish community to rush his young nephew Jonah, who had been involved in a life-threatening farm accident, to the hospital. Now, watching Caleb offer the unconditional love and support Jonah needs as he deals with the changes in his life forces Reese to rethink some of the decisions she's making about her own future. A future Reese is beginning to think more and more may be linked to Caleb. From the book's gut-wrenching opening to its superbly satisfying conclusion, readers will once again find themselves under best-selling, RITA award-winning Wiggs' (Map of the Heart, 2017) literary spell as she gracefully spins easily relatable yet realistically complex characters and an evocatively written and emotionally charged plot into pure literary gold.--Charles, John Copyright 2018 Booklist"
From Booklist, Copyright (c) American Library Association. Used with permission.
Additional Information