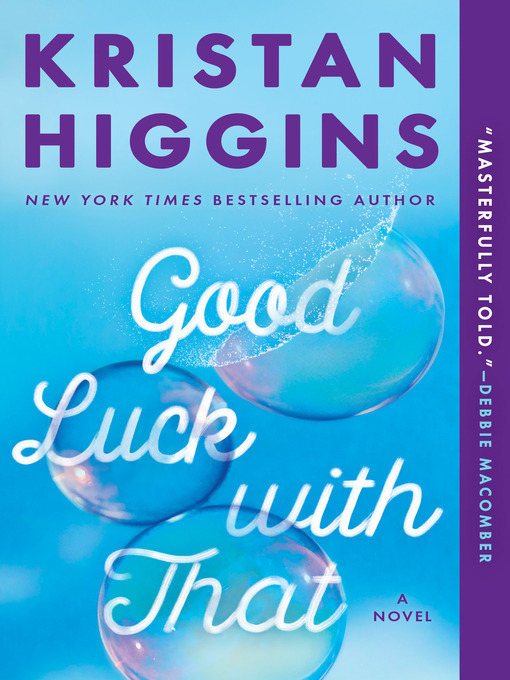 Good luck with that
Format:

OverDrive Read

2018.

Adobe EPUB ebook

Kindle Book

Availability:

Unavailable

0 of 9 copies
5 people on waitlist
Summary
One of Purewow's Best Beach Reads of Summer 2018

New York Times bestselling author Kristan Higgins is beloved for her heartfelt novels filled with humor and wisdom. Now, she tackles an issue every woman deals with: body image and self-acceptance.

Emerson, Georgia, and Marley have been best friends ever since they met at a weight-loss camp as teens. When Emerson tragically passes away, she leaves one final wish for her best friends: to conquer the fears they still carry as adults.

For each of them, that means something different. For Marley, it's coming to terms with the survivor's guilt she's carried around since her twin sister's death, which has left her blind to the real chance for romance in her life. For Georgia, it's about learning to stop trying to live up to her mother's and brother's ridiculous standards, and learning to accept the love her ex-husband has tried to give her.

But as Marley and Georgia grow stronger, the real meaning of Emerson's dying wish becomes truly clear: more than anything, she wanted her friends to love themselves.

A novel of compassion and insight, Good Luck With That tells the story of two women who learn to embrace themselves just the way they are.
Published Reviews
Booklist Review:
"Emerson, Georgia, and Marley met at weight-loss camp when they were teenagers. When Emerson dies, she leaves behind the to-do list that bonded the girls together as they worked to lose weight, including things like riding piggyback on a boy and eating dessert in public. Georgia, now thinner and experiencing unexplained stomach pains, and Marley, carrying extra weight, decide to take Emerson up on her last request and complete the list. Higgins (Now That You Mention It, 2017) uses a comfortable, conversational style to delicately tackle the much-talked-about issue of female body image with this compassionate story of two friends with varying struggles regarding their weight. The alternating perspectives between present-day Georgia and Marley, and via Emerson's journals, will take readers on a journey from Georgia's toxic-mother issues to Marley's self-acceptance to Emerson's all-encompassing body struggles. The list was only the beginning in this heartbreakingly gorgeous story of female friendship and what it takes to feel comfortable in one's own skin.--Erin Holt Copyright 2018 Booklist"
From Booklist, Copyright (c) American Library Association. Used with permission.
Publisher's Weekly Review:
"Higgins (Now That You Mention It) writes with uncommon grace and empathy about a fraught topic for many people: weight. Marley, Georgia, and Emerson meet as children at a camp for overweight teenagers. Fast forward to adulthood: Emerson dies young-and makes Marley and Georgia vow to relish every moment of life, starting with the "things we'll do when we're skinny" list they composed one summer at camp. Told in alternating first-person chapters, the story follows Marley and Georgia as they learn their value and their own beauty, while Emerson's interspersed journal entries address a dream version of herself. Higgins doesn't pull any punches as she starkly illustrates how the judgmental attitudes of even close friends and family-brilliantly illustrated by Georgia's cruel and overbearing brother and her brittle, skinnier-than-thou mother-can caustically eat away at self-worth. The author provides sharp psychological insight into her characters, such as when Georgia thinks, "Life was kind and full of chances. Sometimes we didn't take them. Sometimes we hid our truth and acted out of fear. Sometimes we turned away and closed the door." This novel is a winner. (Aug.) © Copyright PWxyz, LLC. All rights reserved."
Additional Information