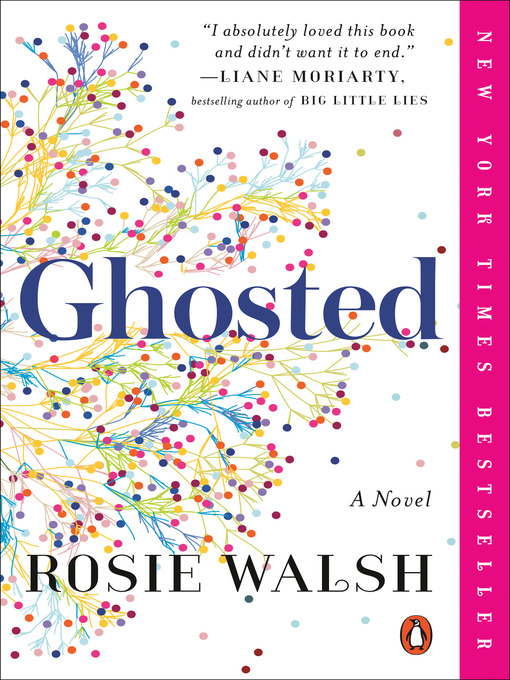 Ghosted a novel
Format:

OverDrive Read

2018.

Adobe EPUB ebook

Kindle Book

Availability:

Unavailable

0 of 15 copies
23 people on waitlist
Summary
Instant New York Times bestseller!

"I absolutely loved this book and didn't want it to end." --Liane Moriarty, #1 New York Times bestselling author of Big Little Lies

"This is an 'accidentally stayed up until 4 a.m. because it's impossible to put down' kind of novel." --USA Today

Seven perfect days. Then he disappeared. A love story with a secret at its heart.

When Sarah meets Eddie, they connect instantly and fall in love. To Sarah, it seems as though her life has finally begun. And it's mutual: It's as though Eddie has been waiting for her, too. Sarah has never been so certain of anything. So when Eddie leaves for a long-booked vacation and promises to call from the airport, she has no cause to doubt him. But he doesn't call.

Sarah's friends tell her to forget about him, but she can't. She knows something's happened--there must be an explanation.

Minutes, days, weeks go by as Sarah becomes increasingly worried. But then she discovers she's right. There is a reason for Eddie's disappearance, and it's the one thing they didn't share with each other: the truth.
Published Reviews
Booklist Review:
"*Starred Review* Sarah fell head over heels for Eddie the moment she saw him. A chance roadside meeting led to a drink at the pub, which led to a 12-hour date, which led to a week so full of memories she didn't think she'd be able to forget any of the details. They tore themselves apart long enough for Eddie to promise to call her after he returned from an already-planned trip, and Sarah knows he can't come home soon enough. When Eddie doesn't return any of Sarah's texts or calls two weeks after he was supposed to return from his vacation, she can't stop reliving that one perfect week over and over again. What was she missing? Had he really felt nothing for her? Or was he hiding something from her, and did it have anything to do with the secret that she'd been hiding from him? A perfectly paced domestic drama centered on two lovely, lonesome people, Ghosted is a brilliant debut novel that explores the power of fate. Writing like a British cousin of Liane Moriarty or Maria Semple, Walsh has a gift for blending complex characters, intricate backstories, and neck-snapping plot twists.--Turza, Stephanie Copyright 2018 Booklist"
From Booklist, Copyright (c) American Library Association. Used with permission.
Publisher's Weekly Review:
"Walsh's bittersweet debut tackles the perils of modern dating. When Sarah meets Eddie in London, she's sure she's met the love of her life. After a whirlwind week of romance, Eddie leaves for a trip and tells Sarah how excited he is to see her when he returns. Then he stops returning her texts and calls. Sarah's friends tell her she's fallen victim to that terribly modern method of break-up, ghosting. But when she discovers Eddie's friends haven't heard from him lately, either, she worries something horrible may have happened. Little does she know that reason for Eddie's radio silence might be worse than a cowardly breakup, and, indeed, the truth is gut-wrenching, truly surprising, and heartbreaking. Flashbacks to Sarah's magical week with Eddie provide ample justification for her refusal to just let it go, but she's also self-aware enough to know how desperate she looks as she keeps searching for Eddie. Though the ending comes abruptly, this tale of heartbreak will please readers who enjoy a good twist. (July) © Copyright PWxyz, LLC. All rights reserved."
Additional Information