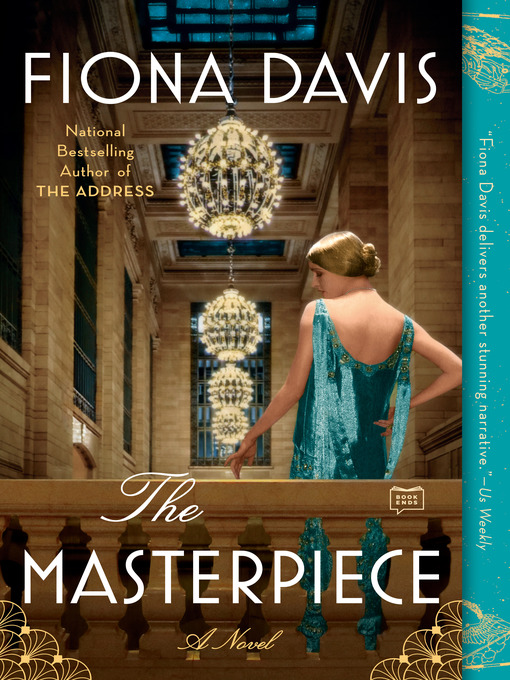 The masterpiece a novel
Format:

Kindle Book

2018

2018

Adobe EPUB ebook

OverDrive Read

Availability:

Available from OverDrive

1 of 7 copies
Summary
"In her latest captivating novel, nationally bestselling author Fiona Davis takes readers into the glamorous lost art school within Grand Central Terminal, where two very different women, fifty years apart, strive to make their mark on a world set against them. For the nearly nine million people who live in New York City, Grand Central Terminal is a crown jewel, a masterpiece of design. But for Clara Darden and Virginia Clay, it represents something quite different. For Clara, the terminal is the stepping stone to her future, which she is certain will shine as the brightly as the constellations on the main concourse ceiling. It is 1928, and twenty-five-year-old Clara is teaching at the lauded Grand Central School of Art. A talented illustrator, she has dreams of creating cover art for Vogue, but not even the prestige of the school can override the public's disdain for a "woman artist." Brash, fiery, confident, and single-minded--even while juggling the affections of two men, a wealthy would-be poet and a brilliant experimental painter--Clara is determined to achieve every creative success. But she and her bohemian friends have no idea that they'll soon be blindsided by the looming Great Depression, an insatiable monster with the power to destroy the entire art scene. And even poverty and hunger will do little to prepare Clara for the greater tragedy yet to come. Nearly fifty years later, in 1974, the terminal has declined almost as sharply as Virginia Clay's life. Full of grime and danger, from the smoke-blackened ceiling to the pickpockets and drug dealers who roam the floor, Grand Central is at the center of a fierce lawsuit: Is the once-grand building a landmark to be preserved, or a cancer to be demolished? For Virginia, it is simply her last resort. Recently divorced, she has just accepted a job in the information booth in order to support herself and her college-age daughter, Ruby. But when Virginia stumbles upon an abandoned art school within the terminal and discovers a striking watercolor hidden under the dust, her eyes are opened to the elegance beneath the decay. She embarks on a quest to find the artist of the unsigned masterpiece--an impassioned chase that draws Virginia not only into the battle to save Grand Central but deep into the mystery of Clara Darden, the famed 1920s illustrator who disappeared from history in 1931"--

Published Reviews
Booklist Review:
"As she did with the Barbizon Hotel in The Dollhouse (2016) and the Dakota in The Address (2017), Davis uses an iconic NYC building as the backdrop for the story of two women whose lives intersect across time. Here, the building is Grand Central Terminal. The terminal once housed the Grand Central School of Art (founded by John Singer Sargent, among others), and Clara Darden is an instructor there in 1928. She finds success as an illustrator, but her hopes to make a mark as a truly modern artist are thwarted by the Depression. In the 1970s, Virginia Clay, struggling after a recent divorce, lands a job at the information booth of the no-longer-so-grand terminal, which is threatened with demolition. She stumbles across the now-shuttered art school and discovers a mysterious watercolor, which starts her on a quest to identify the artist. She also helps to save the terminal from the wrecking ball. Davis is a maximalist when it comes to plot elements, and not everything convinces, but the use she makes of New York history is always interesting.--Quinn, Mary Ellen Copyright 2010 Booklist"
From Booklist, Copyright (c) American Library Association. Used with permission.
Publisher's Weekly Review:
"Davis's splendid third novel (following The Dollhouse and The Address) takes readers back in time to the New York of the 1970s and the late '20s, centering on Grand Central Station. In 1928 New York City, illustrator and artist Clara Darden teaches at the Grand Central School of Art. Confident and brash, Clara scrapes by until she secures employment drawing illustrations for Vogue. Clara's romantic involvement with budding poet Oliver Smith changes her life as they enjoy the parties of New York's elite and she gains notoriety for her art. Her life takes a turn, however, as her friendship with mercurial artist Levon Zakarian threatens her relationship with Oliver, and the stock market crash of 1929 devastates the country. Fast-forward to 1974 when divorcee Virginia Clay gets a job at Grand Central's information booth. While exploring the abandoned art school, Virginia finds a painting by Clara Darden that looks very similar to a painting she had seen in an auction catalogue, leading her to believe that Clara may be the artist known as Clyde, whose valuable painting will soon be auctioned by Sotheby's. Virginia searches for the artist who painted the Clyde as she seeks to unravel the circumstances behind Clara's disappearance in 1931. Davis entices with a fast-paced mystery and expertly reveals parallels between the two periods in New York and between Clara and Virginia, resulting in a true crowd-pleaser. (Aug.) © Copyright PWxyz, LLC. All rights reserved."
(c) Copyright PWxyz, LLC. All rights reserved
Additional Information