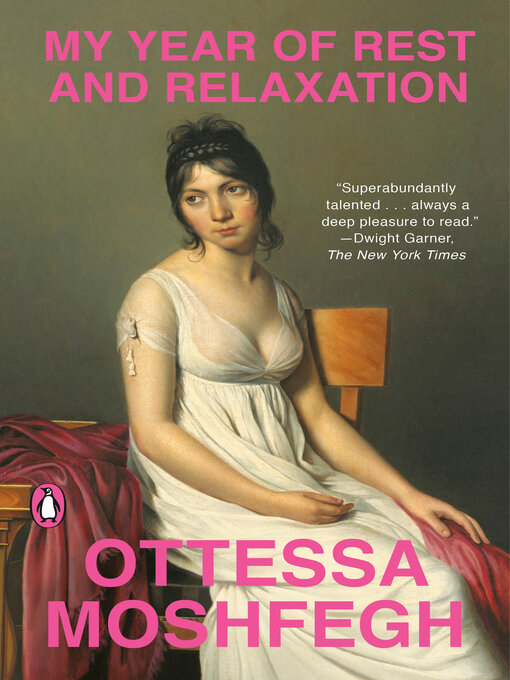 My year of rest and relaxation
Format:

OverDrive Read

2018.

Adobe EPUB ebook

Kindle Book

Availability:

Unavailable

0 of 18 copies
14 people on waitlist
Summary
From one of our boldest, most celebrated new literary voices, a novel about a young woman's efforts to duck the ills of the world by embarking on an extended hibernation with the help of one of the worst psychiatrists in the annals of literature and the battery of medicines she prescribes

Our narrator should be happy, shouldn't she? She's young, thin, pretty, a recent Columbia graduate, works an easy job at a hip art gallery, lives in an apartment on the Upper East Side of Manhattan paid for, like the rest of her needs, by her inheritance. But there is a dark and vacuous hole in her heart, and it isn't just the loss of her parents, or the way her Wall Street boyfriend treats her, or her sadomasochistic relationship with her best friend, Reva. It's the year 2000 in a city aglitter with wealth and possibility; what could be so terribly wrong?

My Year of Rest and Relaxation is a powerful answer to that question. Through the story of a year spent under the influence of a truly mad combination of drugs designed to heal our heroine from her alienation from this world, Moshfegh shows us how reasonable, even necessary, alienation can be. Both tender and blackly funny, merciless and compassionate, it is a showcase for the gifts of one of our major writers working at the height of her powers.
Published Reviews
Booklist Review:
"*Starred Review* The unnamed 24-year-old narrator of Moshfegh's (Homesick for Another World, 2017) intriguingly bizarre second novel decides to hibernate in 2000. For about a year, aided by a dizzying parade of pills, she'll treat the Manhattan apartment her inheritance bought her as her den. Her occasional boyfriend treats her horribly, her only friend, Reva, annoys her, and her job working in a Chelsea gallery is literally tiresome: she spends part of every workday napping in a supply closet. None of this is new, though; she has just finally made up her mind to embrace the slumber she so craves. As medications' effectiveness begin to wane, she invents symptoms and increasingly disturbing dreams to elicit ever-stronger medications from her dubiously qualified doctor, until she lands on Infermiterol. Just one pill took days of my life away. It was the perfect drug in that sense. Amidst her haze, which Moshfegh concocts with delirious clarity, the narrator recalls her dead parents her mother, especially, resembles a fairy-tale villain and doesn't disguise her inability to empathize with Reva, whose own mother is dying. Readers might have trouble getting her, but there is one thing they'll know that she doesn't, given the time and place. Propulsive, both disturbing and funny, and smart as hell.--Bostrom, Annie Copyright 2010 Booklist"
From Booklist, Copyright (c) American Library Association. Used with permission.
Additional Information