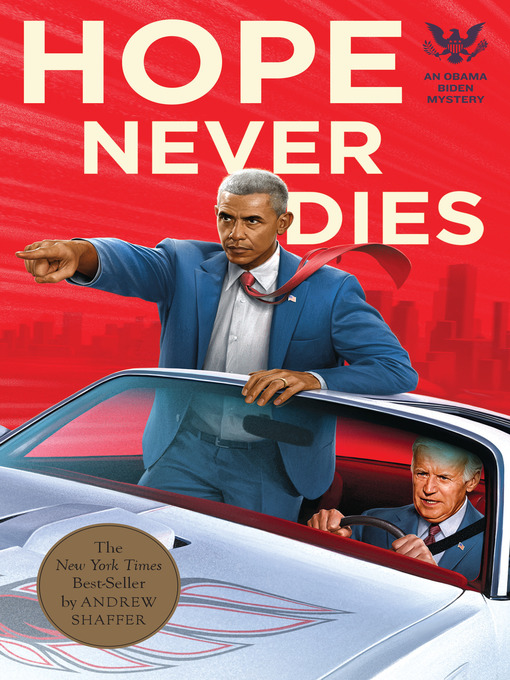 Hope never dies An Obama/Biden Mystery
Format:

OverDrive Read

2018.

Adobe EPUB ebook

Kindle Book

Availability:

Unavailable

0 of 5 copies
1 person on waitlist
Summary
The New York Times Best Seller

"[ Hope Never Dies is] an escapist fantasy that will likely appeal to liberals pining for the previous administration, longing for the Obama-Biden team to emerge from political retirement as action heroes."--Alexandra Alter, New York Times

Vice President Joe Biden and President Barack Obama team up in this high-stakes thriller that combines a mystery worthy of Watson and Holmes with the laugh-out-loud bromantic chemistry of Lethal Weapon' s Murtaugh and Riggs.

Vice President Joe Biden is fresh out of the Obama White House and feeling adrift when his favorite railroad conductor dies in a suspicious accident, leaving behind an ailing wife and a trail of clues. To unravel the mystery, "Amtrak Joe" re-teams with the only man he's ever fully trusted: the 44th president of the United States. Together they'll plumb the darkest corners of Delaware, traveling from cheap motels to biker bars and beyond, as they uncover the sinister forces advancing America's opioid epidemic.

Part noir thriller and part bromance, Hope Never Dies is essentially the first published work of Obama/Biden fiction--and a cathartic read for anyone distressed by the current state of affairs.
Published Reviews
Booklist Review:
"Here's something different: a mystery novel not a pastiche or a parody, an actual proper mystery starring and narrated by former vice president Joe Biden and his sidekick, Barack Obama. This is not a joke. The book has its light moments, but overall it's a straight mystery. A man dies under especially nasty circumstances; Biden, who knew the man, is suspicious. He doesn't believe the things people are saying about the dead man, and he's determined to find out what really happened. Aided by his former boss, the charismatic Obama, Biden wades into a conspiracy that threatens the stability of the country. Shaffer could have jumped on this opportunity to parody Biden and Obama, but, instead, he presents them as real people, pretty much the way we imagine them to be (allowing, of course, for literary license); and the mystery is genuinely suspenseful and satisfying, not merely a framework for a bunch of silliness. It should be noted, too, that the relationship between Biden and Obama is carefully and skillfully developed and has moments of genuine emotion. An ambitious and completely successful novel.--David Pitt Copyright 2018 Booklist"
From Booklist, Copyright (c) American Library Association. Used with permission.
Publisher's Weekly Review:
"The careers of Barack Obama and Joe Biden take an unusual turn after they leave the White House in this entertaining, offbeat whodunit from Shaffer (Fifty Shames of Earl Grey). Fuming at his Delaware lake house, Joe hasn't heard in months from his BFF, Barack, who has been busy hanging out with celebrities such as actor Bradley Cooper. One night, Barack and a Secret Service agent show up to share some sad news-the death of Finn Donnelly, an Amtrak conductor Joe was friends with, who was struck by an Acela Express that morning. The presence of a map of the Biden home in Finn's work desk led the Wilmington PD to suspect that he may have been stalking Joe, so they reached out to the Secret Service. Joe is further unsettled when a friend on the force, rumored to have been the inspiration for Dirty Harry, reveals that a bag of heroin was found on the body. Unwilling to believe that family man Finn was a junkie, Joe sets out to investigate what becomes a murder case, eventually aided by the hyper-cerebral Barack. Fans of Carl Hiaasen's comic crime novels will have fun. Agent: Brandy Bowles, United Talent Agency. (July) © Copyright PWxyz, LLC. All rights reserved."
(c) Copyright PWxyz, LLC. All rights reserved
Additional Information