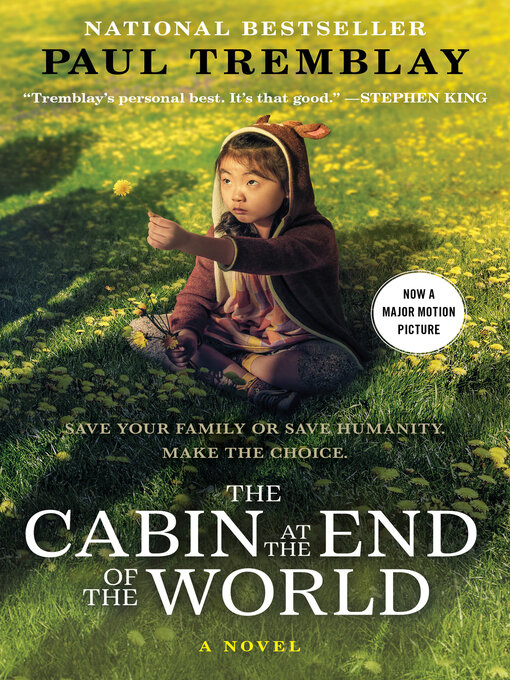 The cabin at the end of the world a novel
Format:

OverDrive Read

2018.

Adobe EPUB ebook

Kindle Book

Availability:

Unavailable

0 of 10 copies
3 people on waitlist
Summary
Give Dad the gift of suspense this Father's Day . . .
NATIONAL BESTSELLER!
BEST BOOK OF 2018 (Library Journal, NPR, Buzzfeed)
LOCUS RECOMMENDED READING LIST - 2018
JULY 2018 INDIE NEXT PICK!
SUMMER 2018 PUBLISHERS WEEKLY PICK!
"A tremendous book―thought-provoking and terrifying, with tension that winds up like a chain. The Cabin at the End of the World is Tremblay's personal best. It's that good." -- Stephen King
"A clinic in suspense, a story that opens with high-wire tension and never lets up from there." -- Michael Koryta
"I tore through it in record time. I just couldn't wait to see where Tremblay was going to take me next." -- Victor LaValle
The Bram Stoker Award-winning author of A Head Full of Ghosts adds an inventive twist to the home invasion horror story in a heart-palpitating novel of psychological suspense that recalls Stephen King's Misery, Ruth Ware's In a Dark, Dark Wood, and Jack Ketchum's cult hit The Girl Next Door.
Seven-year-old Wen and her parents, Eric and Andrew, are vacationing at a remote cabin on a quiet New Hampshire lake. Their closest neighbors are more than two miles in either direction along a rutted dirt road.
One afternoon, as Wen catches grasshoppers in the front yard, a stranger unexpectedly appears in the driveway. Leonard is the largest man Wen has ever seen but he is young, friendly, and he wins her over almost instantly. Leonard and Wen talk and play until Leonard abruptly apologizes and tells Wen, "None of what's going to happen is your fault". Three more strangers then arrive at the cabin carrying unidentifiable, menacing objects. As Wen sprints inside to warn her parents, Leonard calls out: "Your dads won't want to let us in, Wen. But they have to. We need your help to save the world."
Thus begins an unbearably tense, gripping tale of paranoia, sacrifice, apocalypse, and survival that escalates to a shattering conclusion, one in which the fate of a loving family and quite possibly all of humanity are entwined. The Cabin at the End of the World is a masterpiece of terror and suspense from the fantastically fertile imagination of Paul Tremblay.
"Read Paul Tremblay's new novel, The Cabin at the End of the World, and you might not sleep for a week. Longer. It will shape your nightmares for months - that's pretty much guaranteed." -- NPR
"Gripping, horrifying, and mesmerizing." -- GQ
"A tour-de-force of psychological and religious horror." -- BN.com
"A blinding tale of survival and sacrifice." -- Kirkus Reviews
"Tremblay has a real winner here." -- Tor.com
Published Reviews
Booklist Review:
"*Starred Review* Tremblay (Disappearance at Devil's Rock, 2016) is back with another thought-provoking, page-turning horror novel. Wen is almost eight years old, on vacation with her two dads, Andrew and Eric, on an isolated lake in New Hampshire. While catching grasshoppers on the front lawn, she encounters Leonard, a large man in a white button-down shirt, who asks for help convincing her dads to let him and his friends into their home. They have come to this secluded place with their menacing and crude weapons to stop the world from ending, and Wen and her dads are the key to humanity's survival. What follows is an extremely intense, anxiety-inducing thriller that puts the family in mortal danger while forcing them to tackle a universal dilemma is one life worth that of seven billion others? Alternating between unreliable narrators, Tremblay captures the intense emotional struggle, especially in flashbacks into the lives of the odds-defying family of Wen, Andrew, and Eric, while dread and terror permeate every sentence. This is a novel with the heart and tone of The Road, by Cormac McCarthy (2006), but will also appeal to fans of Ruth Ware, Josh Malerman, and Joe Hill.--Spratford, Becky Copyright 2018 Booklist"
From Booklist, Copyright (c) American Library Association. Used with permission.
Publisher's Weekly Review:
"The apocalypse begins with a home invasion in this tripwire-taut horror thriller. Eric and Andrew are vacationing with their seven-year-old daughter, Wen, at remote Gaudet Lake in New Hampshire when their cabin is invaded by a quartet of weapons-wielding strangers, each of whom has been driven there by a shared vision: that the world will end unless one member of this family sacrifices another. That sets the stage for an excruciatingly tense standoff between them and their prisoners as they try to outmaneuver one other. Tremblay (Disappearance at Devil's Rock) skillfully seeds his tale with uncertainties, including news reports of portentous world catastrophes, that suggest the invaders' vision is genuine, and he introduces enough doubt into the beliefs and behaviors of all the parties to keep them and the reader off-balance. His profoundly unsettling novel invites readers to ask themselves whether, when faced with the unbelievable, they would do the unthinkable to prevent it. (June) © Copyright PWxyz, LLC. All rights reserved."
(c) Copyright PWxyz, LLC. All rights reserved
Additional Information
Subjects
Electronic books.
Psychological fiction.
Suspense fiction.

Publisher

[Place of publication not identified] :HarperCollins2018.



Edition
First edition.
Contributors
OverDrive, Inc.

Language

English



System Details

Mode of access: World Wide Web.




Format: Adobe EPUB eBook




Format: Kindle Book




Format: OverDrive Read




Requires Adobe Digital Editions or Amazon Kindle



Description

1 online resource



ISBN
9780062679123
9780062679123

Other
Classic View