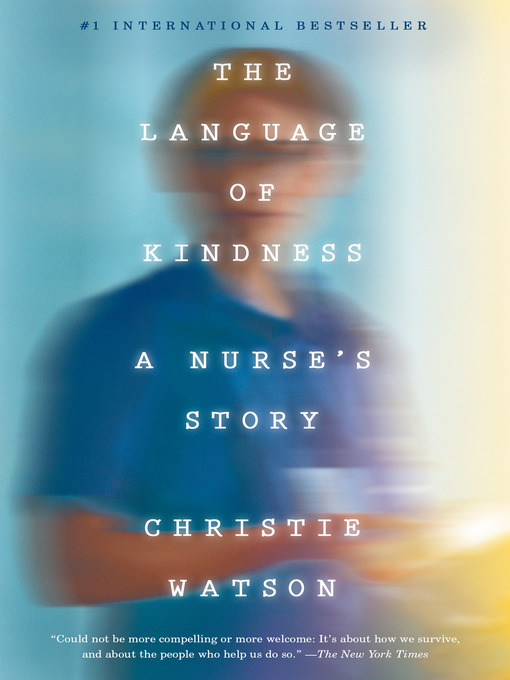 The language of kindness a nurse's story
Format:

Kindle Book

2018

2018

Adobe EPUB ebook

OverDrive Read

Availability:

Unavailable

0 of 1 copy
2 people on waitlist
Summary
"A memoir about the experiences of a nurse in London, focusing on the overlooked importance of kindness and compassion"--Provided by publisher.

Contents
Introduction: Worth risking life for
A tree of veins
Everything you can imagine is real
The origins of the world
At first the infant
The struggle for existence
Somewhere under my left ribs
To live is so startling
Small things, with great love
O the bones of the people
So we beat on
At close of day
There are always two deaths
And the flesh of the child grew warm.
Published Reviews
Booklist Review:
"The dedication page simply says for nurses. It makes sense, given that Watson (Where Women Are Kings, 2015) spent 20 years working as an RN before becoming a full-time writer. But this book contains wisdom for everyone. As she says, We are all nursed at some point in our lives. We are all nurses. Watson laces her story with humor as she recounts her career thoughts as a teen (she had a rethink after she discovered that much of the work of a marine biologist involved studying plankton off the coast of Wales) and about the not-so-glamorous aspects of healthcare (she describes waste products as a color somewhere between straw and out-of-date mustard). She admits that it can be tough to remain understanding and respectful when patients huff and curse or refuse the blood transfusions that could save their lives. But despite difficult conditions, good nurses (and Watson seems to be one of them) stay kind and compassionate. Though Watson's story takes place in Britain, its messages are universal.--Springen, Karen Copyright 2018 Booklist"
From Booklist, Copyright (c) American Library Association. Used with permission.
Publisher's Weekly Review:
"Novelist Watson (Where Women Are Kings) portrays the constant chaos and deep sense of purpose she experienced while training to be and working as a nurse in England in the 1990s in this rewarding memoir. "Each hospital is a country, unique and separate, with an infrastructure and philosophy different from the next one," yet she shows the "language of kindness" to be a universal one among nurses. In descriptions of working on the mental health ward for the first time, of first assisting at a birth, and of carefully extricating a premature infant "from his bed of wires" to cuddle with his mother, whom he stares at "for the longest time without blinking." There's not a linear personal story to this book. It zigzags through the different wards she works in and the types of nursing she does, touches on nursing theorists, and moves back and forth in time as she passes through different life phases. The result is less conventional memoir than appreciation of a profession. "Somewhere between science and art," nursing "is all about the smallest details, and understanding how they make the biggest difference," Watson observes. Her recollections of inhabiting this in-between space are revealing and will be especially resonant for people who work in health care. (May) © Copyright PWxyz, LLC. All rights reserved."
(c) Copyright PWxyz, LLC. All rights reserved
Additional Information