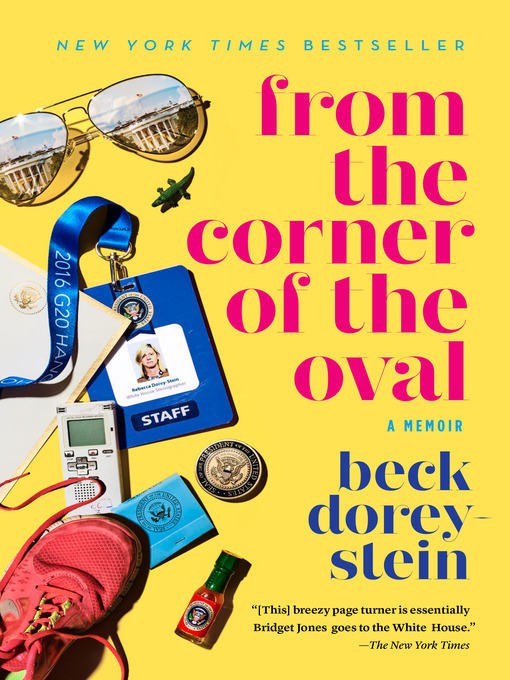 From the corner of the oval A Memoir.
Format:

OverDrive Read

2018.

Adobe EPUB ebook

Kindle Book

Availability:

Available from OverDrive

4 of 6 copies
Summary
The compulsively readable, behind-the-scenes memoir that takes readers inside the Obama White House, through the eyes of a young staffer learning the ropes, falling in love, and finding her place in the world.

Recommended for summer reading by theSkimm * Jane Green on NBC's Today show * Entertainment Weekly * Refinery29 * Bustle * PopSugar

"[This] breezy page turner is essentially Bridget Jones goes to the White House." -- Peter Baker, The New York Times

In 2012, Beck Dorey-Stein is working five part-time jobs and just scraping by when a posting on Craigslist lands her, improbably, in the Oval Office as one of Barack Obama's stenographers. The ultimate D.C. outsider, she joins the elite team who accompany the president wherever he goes, recorder and mic in hand. On whirlwind trips across time zones, Beck forges friendships with a dynamic group of fellow travelers--young men and women who, like her, leave their real lives behind to hop aboard Air Force One in service of the president.

As she learns to navigate White House protocols and more than once runs afoul of the hierarchy, Beck becomes romantically entangled with a consummate D.C. insider, and suddenly the political becomes all too personal.

Against the backdrop of glamour, drama, and intrigue, this is the story of a young woman making unlikely friendships, getting her heart broken, learning what truly matters, and, in the process, discovering her voice.

Praise for From the Corner of the Oval

"Obama administration memoirs are rolling in, but in a refreshing twist From the Corner of the Oval swaps policy for good old-fashioned workplace drama. . . . Readers won't find state secrets so much as they'll get a glimpse at what life was really like working for the most historical of administrations. There are countless flights on Air Force One, late nights at four-star hotel bars in far-flung locations, and a bravely honest retelling of her workplace affair." -- Entertainment Weekly

"Ms. Dorey-Stein . . . writes with wit and self-deprecating humor."-- The Wall Street Journal

"Addictively readable . . . Dorey-Stein's spunk and her sparkling, crackling prose had me cheering for her through each adventure. . . . She never loses her starry-eyed optimism, her pinch-me wonderment, her Working Girl pluck." -- The New York Times Book Review (Editors' Choice)
Contents
Guidelines for aspiring stenographers
Prologue : this place
Act I : 2012
Act II : 2013
Act III : 2014
Act IV : 2015
Act V : 2016
Epilogue : don't let the bastards get you down.
Published Reviews
Booklist Review:
"Exactly how much drama can happen under the nose of the leader of the free world is apparently the question Dorey-Stein attempts to answer in this memoir. Drunken escapades, affairs, betrayals, and cattiness may not have been what she was expecting when, at age 25, she took a stenographer job working for the Obama presidency, but it's what she got. She also witnessed history (the devastation of Sandy Hook and ISIS as well as the passing of the Affordable Care Act and gay marriage) while traveling the world on Air Force One and making lasting friendships with other ambitious, hardworking, and passionate people. A fly on the wall of almost every important event from 2012 to 2017, Dorey-Stein relates the highs and lows of the Obama presidency intermixed with those from her personal life in a compulsively readable style think history lesson meets soap opera. In this poignant, brutally honest, and often-funny work of self-reflection, Dorey-Stein pulls no punches and tells all she learned from and about the president who taught me to look up. --Alison Spanner Copyright 2018 Booklist"
From Booklist, Copyright (c) American Library Association. Used with permission.
Publisher's Weekly Review:
"In this hilarious memoir, Dorey-Stein gives an insider's glimpse into the White House from her perch as Barack Obama's stenographer. In 2012, 25-year-old Stein responded to a Craigslist advertisement to be a stenographer at a law firm; the "law firm" was the White House. On her first day on the job, she overpacked and needed to empty the contents of her bag to find her recorder while flying on Air Force One: "Oh, dear God, my travel-sized hair straightener in its little travel-sized hot pink silk bag looks like a vibrator! Jay Carney thought I was talking to him, on Air Force One, with a vibrator in my hand." When she forgets her underwear for another overnight, she notes, "Today, I'll be traveling commando with the commander in chief." Dorey-Stein traveled with the president's envoy across the world-to Cuba, Mexico, India, and Saudi Arabia-and to all corners of the U.S. As Dorey-Stein became accustomed to living aboard Air Force One, she began an affair with a man in the president's inner circle. What follows is pure tragicomedy, and Dorey-Stein writes with honesty and panache about her fun job and her eventual heartbreak. It's thrilling to get a front-row seat to the Obama White House, and she has stayed on with the Trump administration, where the "West Exec parking lot is no longer filled with Priuses and Chevys but with Porsches and Maseratis." Beltway gossip hounds will hope to hear more from Dorey-Stein. (July) © Copyright PWxyz, LLC. All rights reserved."
(c) Copyright PWxyz, LLC. All rights reserved
Additional Information
Subjects
Electronic books.

Publisher

[Place of publication not identified] :Random House Publishing Group2018.



Edition
First edition.
Contributors
OverDrive, Inc.

Language

English



System Details

Mode of access: World Wide Web.




Format: Adobe EPUB eBook




Format: Kindle Book




Format: OverDrive Read




Requires Adobe Digital Editions or Amazon Kindle



Description

1 online resource



ISBN
9780525509134
9780525509134

Other
Classic View