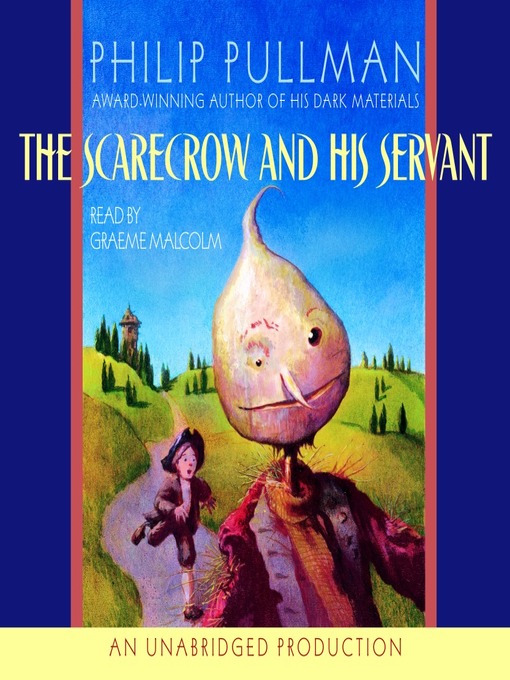 The scarecrow and his servant
Format:

OverDrive MP3 Audiobook

2005

2005

OverDrive Listen

Availability:

Available from OverDrive

1 of 1 copy
Summary
"A tattered scarecrow stands in the middle of a muddy field, taking no notice of the violent thunderstorm around him. But when a bolt of lightning strikes him, fizzing its way through his turnip head and down his broomstick, the Scarecrow blinks with surprise--and comes to life." So begins the story of the Scarecrow, a courteous but pea-brained fellow with grand ideas. He meets a boy, Jack, who becomes his faithful servant. Leaving behind his bird-scaring duties, the Scarecrow sets out for Spring Valley, with Jack at his side. As the valiant Scarecrow plunges them into terrifying dangers--battles, brigands, broken hearts, and treasure islands, he never realizes he's being followed by the one family who desperately wishes he'd never sprung to life. Will the Scarecrow discover the secret to his past before the crooked Buffalonis close in on him?

Published Reviews
Booklist Review:
"Gr. 4-6. Pullman seems equally at home whether creating high fantasy, Victorian mysteries, or old-fashioned stories in the fairy-tale fashion. Here he excels in the latter mode, creating unique characters to charm young readers. When Scarecrow (reminiscent of his relative in the Wizard of Oz0 ) meets orphan Jack, both the boy and straw man see the wisdom of Jack's attending to the scarecrow as a servant. Together the pair contends with "danger . . . followed by glory . . . leading to sorrow"\b \b0 as promised by a fortune-teller. It's Jack who keeps Scarecrow's head on (literally at times) as his master blithely takes a turn on the boards, becomes an officer in the army, and finds treasure on an island, even as he keeps his inner conviction rolled up on a scroll stuffed in his shirt. The umbrella story about Scarecrow's raison d'etre (to rescue his polluted valley from an evil ruling family) is purposive, but its sharp point is cushioned by the flimflam and fancy pervading the tale. Best of all, however, is the charm exuded by Scarecrow and the boy, two memorable fellows who may seem familiar, but are utterly their own. --Ilene Cooper Copyright 2005 Booklist"
From Booklist, Copyright (c) American Library Association. Used with permission.
Publisher's Weekly Review:
""This tale creates a charming and compelling world, and ends with a whopper of a cliffhanger sure to bring readers back," wrote PW about this novel/graphic novel hybrid, the first installment of the Fog Mound series. Ages 8-12. (May) (c) Copyright PWxyz, LLC. All rights reserved"
(c) Copyright PWxyz, LLC. All rights reserved
Additional Information