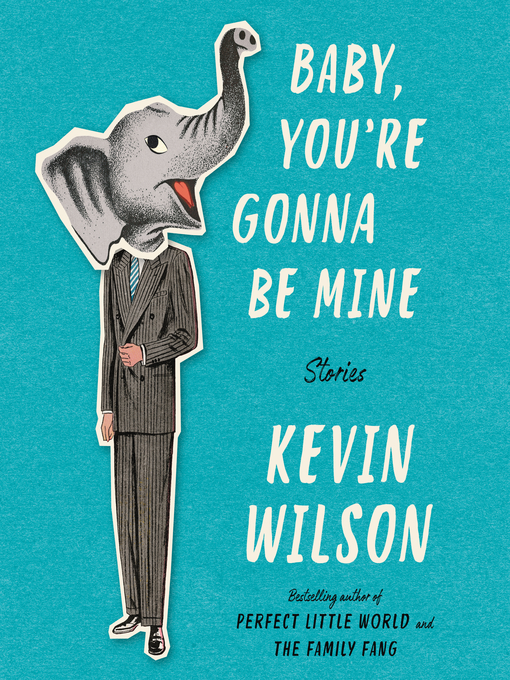 Baby, You're gonna be mine Stories
Format:

OverDrive MP3 Audiobook

2018

2018

OverDrive Listen

Availability:

Available from OverDrive

1 of 2 copies
Summary
In Baby, You're Gonna Be Mine, Kevin Wilson's first story collection in nearly a decade, Wilson combines his signature quirkiness with his keen eye for emotional complexity to explore the fraught relationship between parents and children."Wildfire Johnny" is the story of a man who discovers a magic razor that allows him to travel back in time. "Scroll Through the Weapons" is about a couple taking care of their underfed and almost feral nieces and nephews. "Signal to the Faithful" follows a boy as he takes a tense road trip with his priest. And "Baby, You're Gonna Be Mine," the title story, is about a narcissistic rock star who moves back home during a rough patch. These stories all build on each other in strange and remarkable ways, showcasing Wilson's crackling wit and big heart.Filled with imagination and humor, Baby, You're Gonna Be Mine is an exuberant collection of captivating and charmingly bizarre stories that promise to burrow their way into your heart and soul.

Published Reviews
Booklist Review:
"*Starred Review* After two dazzling realistic satires, The Family Fang (2011) and Perfect Little World (2016), Wilson proffers his second story collection. Saying it's as good as Tunneling to the Center of the Earth (2009) doesn't do it justice. Wilson specializes in possible weirdness; only one story here, Wildfire Johnny, depends on anything fantastic, and then it's to tell a tale of saving not the world but only the protagonist's love life. Typically, Wilson presents the aftermath of an outlandish but not impossible event. A woman stabs her husband at a cookout, and her sister and her boyfriend, who tell us about it, must take care of the dysfunctional couple's virtually feral children (Scroll Through the Weapons). Aged parents have to help broken adult children in both Housewarming and the title story, while in A Visit, a broken daughter flies to help her injured mother. Third-grader Greg wants to be his older brother for Halloween; his stressed mother, Marta, is appalled, for their first son's death drove her and Naton to divorce (Sanders for a Night). In the heart-wrenching The Lost Baby, an infant just vanishes, and that keeps his estranging parents tenuously together. Wilson never moralizes, much less sensationalizes, any predicament he sketches; rather, he makes us feel and wonder at the slings and arrows of outrageous fortune.--Ray Olson Copyright 2018 Booklist"
From Booklist, Copyright (c) American Library Association. Used with permission.
Publisher's Weekly Review:
"In the world of Wilson's darkly funny short stories, children and deer die, and unhappy, helpless people drink and do irresponsible things. Wilson (Perfect Little World) shows people managing as best they can: trying to survive video game zombies when the rest of their life is too horrible to fix ("Scroll Through the Weapons"), helping selfish grown children because no one else would love them enough to do so ("Housewarming" and the title story), and coping with the horror of adolescence by making horror movies ("The Horror We Made"). "No Joke, This Is Going to Be Painful" involves pariahs ice fighting, but its title would work for virtually every story in the collection. The exception is the one weak link, "The Lost Baby," which taps into a pain so deep that neither humor nor the human ability to occasionally not be awful can redeem anything. The rest stick with the reader and show a terrible world made less so, sometimes, by human contact, even though humans were usually the problem in the first place. (Aug.) © Copyright PWxyz, LLC. All rights reserved."
(c) Copyright PWxyz, LLC. All rights reserved
Additional Information
Subjects
Short stories
Literature
Short Stories
Fiction
Audiobooks.

Publisher

[Place of publication not identified] :HarperAudio2018




2018



Contributors
OverDrive, Inc.

Participants/Performers

Kirby Heyborne.



Language

English



System Details

Mode of access: World Wide Web.




Format: OverDrive Listen




Format: OverDrive MP3 Audiobook




Requires OverDrive app 3.0 (Windows) / 1.0 (Mac) / 1.0 (Windows Mobile)



Description

1 audio file : digital



ISBN
9780062847874
9780062847874

Other
Classic View