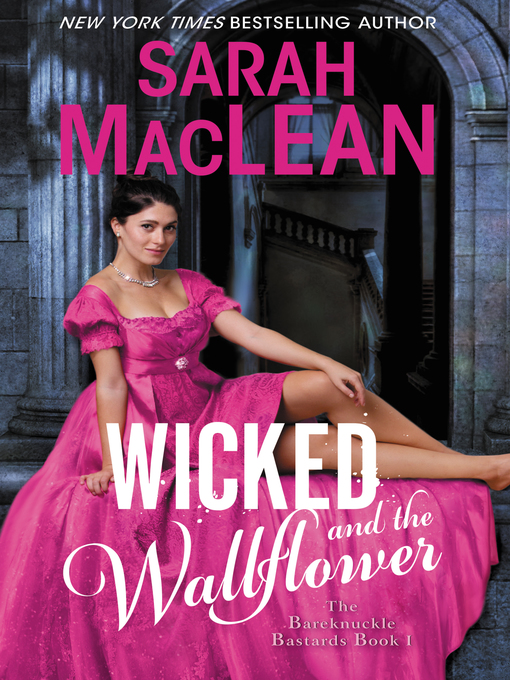 Wicked and the wallflower Bareknuckle Bastards Book 1
Format:

OverDrive Read

2018.

Adobe EPUB ebook

Kindle Book

Availability:

Unavailable

0 of 3 copies
3 people on waitlist
Summary
When Wicked Comes Calling . . .
When a mysterious stranger finds his way into her bedchamber and offers his help in landing a duke, Lady Felicity Faircloth agrees--on one condition. She's seen enough of the world to believe in passion, and won't accept a marriage without it.
The Wallflower Makes a Dangerous Bargain . . .
Bastard son of a duke and king of London's dark streets, Devil has spent a lifetime wielding power and seizing opportunity, and the spinster wallflower is everything he needs to exact a revenge years in the making. All he must do is turn the plain little mouse into an irresistible temptress, set his trap, and destroy his enemy.
For the Promise of Passion . . .
But there's nothing plain about Felicity Faircloth, who quickly decides she'd rather have Devil than another. Soon, Devil's carefully laid plans are in chaos and he must choose between everything he's ever wanted . . . and the only thing he's ever desired.
Published Reviews
Booklist Review:
"*Starred Review* Why on earth would Felicity Faircloth say that she is going to marry the Duke of Marwick? Sick to death of the social snubs and slights, both subtle and patently obvious, delivered by a vindictive cadre of her former so-called former friends, Felicity attempts to put them in their places by lying and saying she has landed the season's most sought-after matrimonial catch. Of course, since Felicity has never even met the Duke of Marwick, everyone will soon have one more reason to gossip about her. Until a mysterious man named Devil, whom Felicity first met in the duke's gardens that night, turns up later in her bedchamber and promises Felicity that he can help her land her duke but only if she is willing to pay his price. Resplendent writing, shot through with an addictively acerbic sense of wit; unforgettable characters imbued with mesmerizing complexity; and a smartly conceived plot composed equally of delicious desire and dark intrigue all come together brilliantly in the first in best-selling and RITA Award-winning MacLean's new Bareknuckle Bastards series--Charles, John Copyright 2010 Booklist"
From Booklist, Copyright (c) American Library Association. Used with permission.
Publisher's Weekly Review:
"The devil is in the delightful details for MacLean's first Bareknuckle Bastards Regency romance. Felicity Faircloth was once one of the crown jewels of society. Now she's consigned to spinster wallflower status by gossiping matrons and fickle friends, but her family's social and financial survival depends on her marrying well. During her escape from the harsh world of the ballroom, her singular skill with lock picks-a response to all the doors that patriarchal society closes in women's faces-lands her directly in the path of one of Covent Garden's most notorious criminals, a man known as Devil. He's obsessed with the complete and utter ruination of the newly surfaced Duke of Marwick and thinks that Felicity's desperate need for a husband might make her the perfect pawn for his game. He offers to help set her up with the duke, but doesn't count on falling in love with her himself. MacLean (The Day of the Duchess) intersperses hints of mystery and intrigue with plentiful humor, crafting a touching story filled with charming characters readers will be eager to meet again. Agent: Steven Axelrod, Axelrod Agency. (June) © Copyright PWxyz, LLC. All rights reserved."
Additional Information