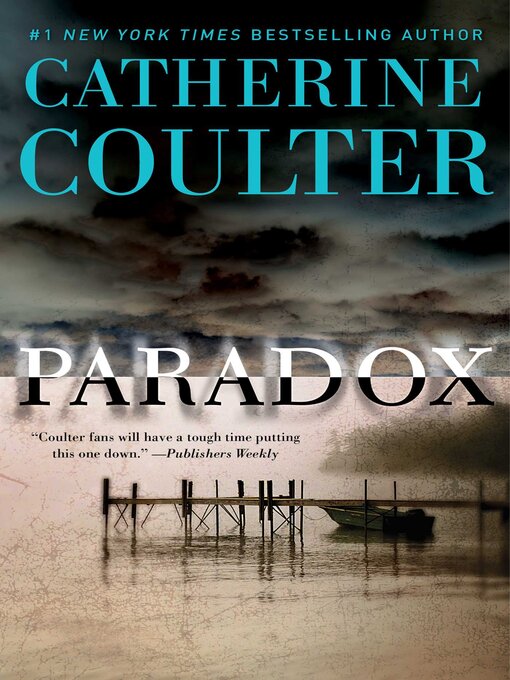 Paradox
Format:

OverDrive Read

2018.

Adobe EPUB ebook

Kindle Book

Availability:

Available from OverDrive

2 of 22 copies
Summary
With unparalleled suspense and her trademark explosive twists, #1 New York Times bestselling author Catherine Coulter delves into the terrifying mind of an escaped mental patient obsessed with revenge in this next installment of her riveting FBI series. When he fails to kidnap five-year-old Sean Savich, agents Sherlock and Savich know they're in his crosshairs and must find him before he continues with his 'kill' list.

Chief Ty Christie of Willicott, Maryland, witnesses a murder at dawn from the deck of her cottage on Lake Massey. When dragging the lake, not only do the divers find the murder victim, they also discover dozens of bones. Even more shocking is the identification of a unique belt buckle found among the bones. Working together with Chief Christie, Savich and Sherlock soon discover a frightening connection between the bones and the escaped psychopath.

Paradox is a chilling mix of Dr. Jekyll and Mr. Hyde, old secrets that refuse to stay buried, and ruthless greed that keep Savich and Sherlock and Chief Ty Christie working at high speed to uncover the truth before their own bones end up at the bottom on the lake.

Don't miss Paradox , the twenty-second FBI thriller.
Published Reviews
Booklist Review:
"In the middle of the night, a man invades the Georgetown home of FBI Special Agents Lacey Sherlock and Dillon Savich, targeting their five-year-old son, Sean, and escaping after a potentially deadly confrontation. Two days later a man in a rowboat on a Maryland lake strikes his passenger with an oar and dumps the body overboard, a murder witnessed by Police Chief Ty Christie from her lakeside house. The perpetrator in both cases turns out to be Victor Nesser, recently escaped from a mental institution. The cases become intertwined when the rowboat is discovered to have been rented by a FBI agent on a holiday; after nearly killing the agent, Nesser stole the boat. Then, as the lake is dragged, skulls and bones turn up, signaling either the work of a serial killer or gross violations by the local crematorium, with the only clue a gold belt buckle bearing a Star of David. Action is nonstop in this latest entry in Coulter's FBI Thriller series (after Enigma, 2017). Perfect reading for the beach and beyond.--Michele Leber Copyright 2018 Booklist"
From Booklist, Copyright (c) American Library Association. Used with permission.
Publisher's Weekly Review:
"At the start of bestseller Coulter's pulse-pounding 22nd FBI thriller (after 2017's Enigma), a beeping security monitor wakes up married FBI agents Lacey Sherlock and Dillon Savich late one night in their Washington, D.C., home. Sherlock grabs a gun and goes to check on their young son, Sean. In the boy's bedroom, she confronts an armed intruder, who jumps out a window and flees after a tense standoff. Savich and Sherlock fear that the intruder will be back to try to do Sean harm. Two days later, in Willicott, Md., police chief Ty Christie observes two figures in a rowboat on Lake Massey as one of them hits the other over the head with an oar. The attacker tosses the body overboard. Since the victim, later identified as Octavia Ryan, was a federal prosecutor, the FBI take over the investigation. Expert sleuths Savich and Sherlock, with help from their computer MAX, find strong evidence that Octavia's killer and Sean's potential assailant are the same person. Coulter fans will have a tough time putting this one down. Agent: Robert Gottlieb, Trident Media Group. (July) © Copyright PWxyz, LLC. All rights reserved."
(c) Copyright PWxyz, LLC. All rights reserved
Additional Information