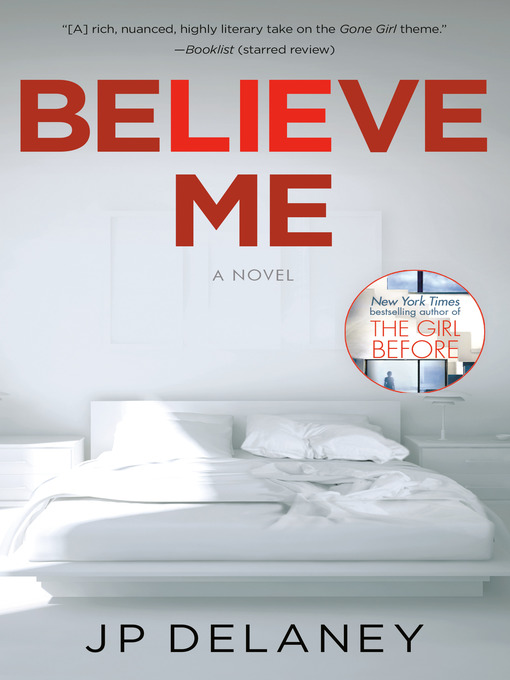 Believe me a novel
Format:

OverDrive Read

2018.

Adobe EPUB ebook

Kindle Book

Availability:

Available from OverDrive

2 of 6 copies
1 person on waitlist
Summary
In this twisty psychological thriller from the New York Times bestselling author of The Girl Before, an actress plays both sides of a murder investigation.

"[A] rich, nuanced, highly literary take on the Gone Girl theme."-- Booklist (starred review)

Claire Wright is desperate. A British drama student in New York without a green card, she takes the only job she can get: working for a firm of divorce lawyers, posing as an easy pickup in hotel bars to entrap straying husbands. But then the game changes.

When one of her targets becomes the suspect in a murder investigation, the police ask Claire to use her acting chops to lure him into a confession. From the start, she questions the part she's being asked to play: Is Patrick Fogler a killer? Or is there more to this setup than she's being told?

Claire will soon realize she is playing the deadliest role of her life.

Praise for Believe Me

"For readers who enjoyed the paranoia factor in A. J. Finn's The Woman in the Window or the unreliable narrator of Paula Hawkins's The Girl on the Train ." -- Library Journal

"Produces a bobsled run's worth of twists." -- Publishers Weekly

"An intense, stylish psychological thriller." -- Good Housekeeping

"A dark and haunting thriller . . . A superb evocation of conflicted emotions, this never lets you guess what's coming next." -- Daily Mail

"I so enjoyed it--what a twisty, exciting read." --Sabine Durrant, author of Lie With Me
Published Reviews
Booklist Review:
"*Starred Review* This second psychological thriller (following The Girl Before, 2017) from the pseudonymous Delaney (aka Tony Strong) is likely to follow its predecessor's path straight to the international best-seller lists. Despite a slightly far-fetched plot, it is a compelling read. Claire Wright is a struggling British actor in New York City without a green card, desperate enough for work and money to become a decoy for a law firm, seducing errant husbands and delivering tapes of their encounters. When the wife of one of her targets is butchered in her hotel room, the police investigators, suspecting the woman's husband of this and other sadistic crimes, are convinced that Claire will be able to elicit his confession. The poet Baudelaire, who believed that the unique and supreme pleasure of sex lies in the possibility of doing evil, is Claire's way into her undercover role. Her target, literature professor Patrick Fogler, is a Baudelaire devotee. Claire is carrying a lot of personal baggage, and, as she gets into her role, she vacillates, in her relationship with Patrick, between Baudelaire's dichotomized view of women: Vénus Blanche (the idolized one) and Vénus Noire (the dark lady of fantasy). In the process, she redefines the concept of an unreliable narrator when it becomes clear that she can't even trust herself. Whether what Claire thinks and says are real or not ceases to matter to the reader, desperate to get to the conclusion, which is at once expected and unexpected. This rich, nuanced, highly literary take on the Gone Girl theme adds dimension and complexity to a trend that was in danger of wearing out its welcome.--Murphy, Jane Copyright 2018 Booklist"
From Booklist, Copyright (c) American Library Association. Used with permission.
Publisher's Weekly Review:
"Delaney-a pseudonym for British adman Tony Strong-follows his debut, 2017's bestselling The Girl Before, with a thriller undercut by a preposterous premise, cardboard characters, and arbitrary major plot reversals. For starters, readers are asked to buy the NYPD's exploiting British actress Claire Wright's lack of a green card to strong-arm her into a lengthy undercover operation designed to trap Patrick Fogler, a Columbia University English professor specializing in Baudelaire, who's suspected of sadistically murdering several women, including his wealthy wife, Stella, according to scenarios inspired by poems from Baudelaire's Les Fleurs du mal. Once Claire and Patrick embark on their dangerous danse macabre-all the while with Det. Frank Durban and profiler Kathryn Latham listening in-the kinky mind games begin in earnest. Could Claire herself, who briefly met Stella the night she was killed, actually be the investigation's target? For those willing to completely suspend disbelief, the author produces a bobsled run's worth of twists. Agent: Caradoc King, United Artists (U.K.). (July) © Copyright PWxyz, LLC. All rights reserved."
(c) Copyright PWxyz, LLC. All rights reserved
Additional Information
Subjects
Electronic books.
Suspense fiction.

Publisher

[Place of publication not identified] :Random House Publishing Group2018.



Contributors
OverDrive, Inc.

Language

English



System Details

Mode of access: World Wide Web.




Format: Adobe EPUB eBook




Requires Adobe Digital Editions



Description

1 online resource



ISBN
9781101966327
1101966327

Other
Classic View