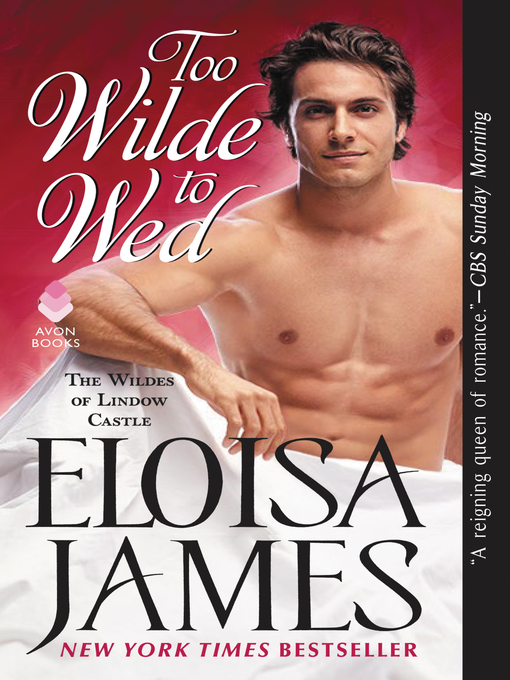 Too Wilde to wed
Format:

OverDrive Read

2018.

Adobe EPUB ebook

Kindle Book

Availability:

Unavailable

0 of 7 copies
Summary
No one is more surprised than Lord North when he returns from war to find his ex-fiancee in his ancestral home...working as a governess in a sexy, fiery new Wildes of Lindow Castle romance by New York Times bestselling author Eloisa James...
The handsome, rakish heir to a dukedom, Lord Roland Northbridge Wilde--known to his friends as North--left England two years ago, after being jilted by Miss Diana Belgrave. He returns from war to find that he's notorious: polite society has ruled him "too wild to wed."
Diana never meant to tarnish North's reputation, or his heart, but in her rush to save a helpless child, there was no time to consider the consequences of working as a governess in Lindow Castle. Now everyone has drawn the worst conclusions about the child's father, and Diana is left with bittersweet regret.
When North makes it clear that he still wants her for his own, scandal or no, Diana has to fight to keep from losing her heart to the man whom she still has no intention of marrying.
Yet North is returning a hardened warrior--and this is one battle he's determined to win.
He wants Diana, and he'll risk everything to call her his own.
Published Reviews
Booklist Review:
"*Starred Review* Two years after Miss Diana Belgrave unexpectedly jilted him, Lord Roland North Northbridge Wilde returns home from war in the American colonies and discovers that his former fiancée is now working as a governess at Lindow Castle, his family's home in Cheshire. As if this weren't startling enough, Diana has also brought along her young son, Godfrey, whose father every gossip in England is convinced is North. Despite the fact that she not only rejected him once before but has now also unfairly tarnished his reputation beyond repair, North would still desperately like nothing more than to claim Diana as his wife. The only obstacle is Diana, who seems equally determined to reject any offer, be it of marriage or anything else, that North might propose. With the second in her Georgian-set Wildes of Lindow Castle series, following Wilde in Love (2017), RITA Award-winner James again elevates historical romance to sublime new heights through the lithe elegance of her writing, her exceptional gift for creating richly nuanced characters, and her ability to flawlessly marry potent sensuality with a deliciously dry sense of humor.--Charles, John Copyright 2018 Booklist"
From Booklist, Copyright (c) American Library Association. Used with permission.
Publisher's Weekly Review:
"James's third Wildes of Lindow Castle Regency (after Wilde in Love) is a charming, if uneven, tale of second chances. Diana Belgrave fled her own engagement party, jilting Lord Roland Northbridge "North" Wilde. Two years later, North returns home, tortured by his memories of service in the American Revolution, to find Diana working as a governess to his sister and a boy whom everyone believes to be North and Diana's son. Without their fine clothing and courting rituals, North and Diana confront each other honestly and realize the spark between them is very real. But Diana is determined to live on her own terms, and she refuses to break North's heart twice. The open dialogue between these protagonists is refreshing and frequently leads to touching revelations, but that doesn't make up for the lack of insight into their individual emotional development. The sprightly humor and quirky supporting cast are entertaining, but the romance itself remains superficial to the end. Agent: Kimberly Witherspoon, InkWell Management. (May) © Copyright PWxyz, LLC. All rights reserved."
Additional Information