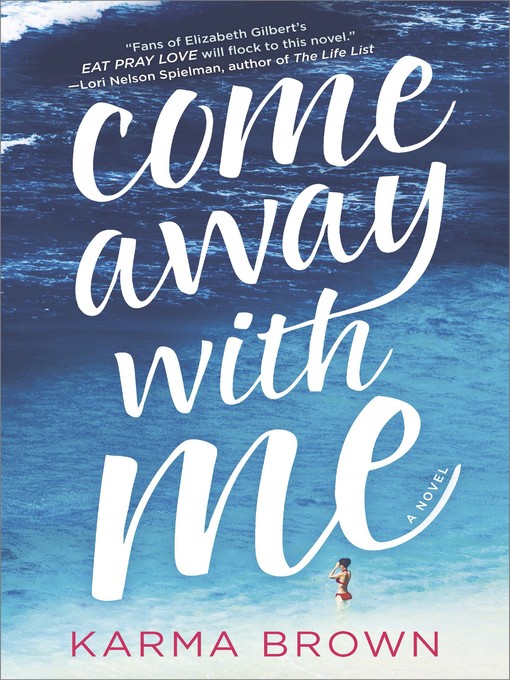 Come away with me a novel
Format:

Adobe EPUB ebook

2015

2015

OverDrive Read

Availability:

Available from OverDrive

1 of 1 copy
Summary
"One minute, 26-year-old Tegan Lawson has everything she could hope for, including an adoring husband, Gabe, and a baby on the way. The next, a patch of black ice causes a devastating accident and Tegan's life is as shattered as the car they had to cut her out of. With the loss of her baby and her unbearable anger towards Gabe, who was driving that night, Tegan is drowning in grief. After a handful of sleeping pills land her in the hospital, lucky to be alive, her family's fear and Gabe's commitment to fix things prompts Tegan to make a change. At Gabe's suggestion, she agrees to travel to three destinations from their 'life experiences' wish list. From culture-rich Thailand, to the flavors of Italy, to the ocean waves in Hawaii, Tegan and Gabe embark on a journey to escape the tragedy and to search for forgiveness. But Tegan soon learns grief follows you no matter how far away you go, and that acceptance comes when you least expect it. When things take a shocking turn in Hawaii, Tegan is forced to face the truth -- and she must decide if the life she has is the one she wants"-- from author's web site.

Published Reviews
Booklist Review:
"On Christmas Eve, Gabe and Tegan Lawson are running late for dinner at his parents' house. Gabe, taking one hand off the steering wheel to caress his six-months' pregnant wife, skids on black ice into a terrible accident. With internal injuries, Tegan loses the baby and needs a hysterectomy, leaving her deeply depressed and hating Gabe as much as she loves him. After Tegan overdoses on morphine and sleeping pills on what would have been her due date, Gabe suggests their jar of spontaneity, a wish list of experiences they want to share, and Tegan picks three: to buy a painting of an elephant in Thailand, to take an authentic cooking class in Italy, and to hang 10 in Maui. The six-week journey is alternately healing, restoring her to feeling like her old self, and painful beyond words, with a jarring climax that is not totally unexpected. A warmly compelling love story, with flashbacks that start with the couple's meeting as freshmen at Northwestern eight years earlier, this becomes a wrenching account of dealing with unbearable loss. Have tissues at hand for Brown's deeply moving debut.--Leber, Michele Copyright 2015 Booklist"
From Booklist, Copyright (c) American Library Association. Used with permission.
Publisher's Weekly Review:
"Brown's debut knocks it out of the park with a double-barreled travelogue: one scaling the depths of depression and grief, and the other trekking through lush vacation spots in Thailand, Italy, and Hawaii. Twenty-six-year-old kindergarten teacher Tegan Lawson and her law-school graduate husband, Gabe, expecting their first child, have everything to look forward to. Then an accident ends the pregnancy and shatters those dreams. Three months after the tragedy, "Tegan & Gabe's Jar of Spontaneity" provides three getaway ideas that the young lovers had once stashed for when "life feels like it's dragging us down": getting a painting by an elephant in Bangkok; taking a cooking class in Ravello, Italy, the hometown of Gabe's mother; and learning to surf in Maui. Though the tragedy literally hangs from Tegan's neck in a small urn-like pendant, she slowly begins to forgive herself and Gabe for the deadly accident, the subsequent depression that leads to an attempted suicide, and her nagging fear that somehow she will forget she was ever so in love. Brown wraps up an impressive study of loss, reconciliation, and brave choices with a stunning, three-hanky ending. A strong ensemble of supporting characters fills out this impressive story that carries away the reader's heart and imagination. (Aug.) © Copyright PWxyz, LLC. All rights reserved."
Additional Information