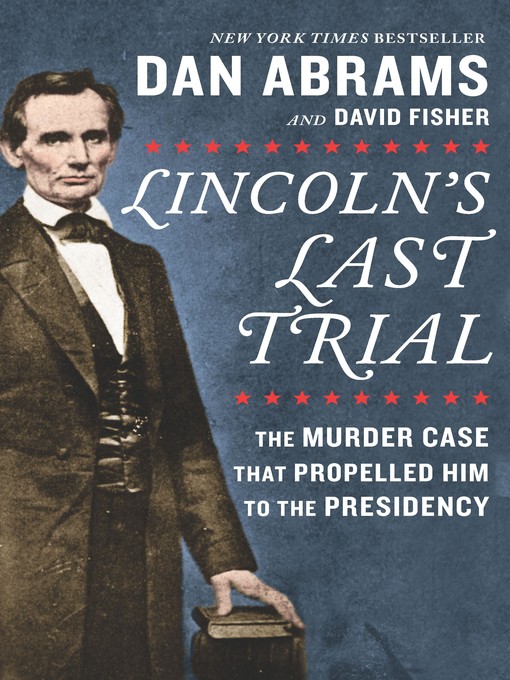 Lincoln's last trial the murder case that propelled him to the presidency
Format:

OverDrive Read

2018.

Adobe EPUB ebook

Kindle Book

Availability:

Available from OverDrive

4 of 6 copies
Summary
Instant New York Times bestseller!
A Washington Independent Review of Books Favorite Book of 2018
A Suspense Magazine Best Book of 2018
A Mental Floss Best Book of 2018
A USA Today Top 10 Hot Book for Summer

"Makes you feel as if you are watching a live camera riveted on a courtroom more than 150 years ago." --Diane Sawyer

The true story of Abraham Lincoln's last murder trial, a case in which he had a deep personal involvement--and which played out in the nation's newspapers as he began his presidential campaign

At the end of the summer of 1859, twenty-two-year-old Peachy Quinn Harrison went on trial for murder in Springfield, Illinois. Abraham Lincoln, who had been involved in more than three thousand cases--including more than twenty-five murder trials--during his two-decades-long career, was hired to defend him. This was to be his last great case as a lawyer.

What normally would have been a local case took on momentous meaning. Lincoln's debates with Senator Stephen Douglas the previous fall had gained him a national following, transforming the little-known, self-taught lawyer into a respected politician. He was being urged to make a dark-horse run for the presidency in 1860. Taking this case involved great risk. His reputation was untarnished, but should he lose this trial, should Harrison be convicted of murder, the spotlight now focused so brightly on him might be dimmed. He had won his most recent murder trial with a daring and dramatic maneuver that had become a local legend, but another had ended with his client dangling from the end of a rope.

The case posed painful personal challenges for Lincoln. The murder victim had trained for the law in his office, and Lincoln had been his friend and his mentor. His accused killer, the young man Lincoln would defend, was the son of a close friend and loyal supporter. And to win this trial he would have to form an unholy allegiance with a longtime enemy, a revivalist preacher he had twice run against for political office--and who had bitterly slandered Lincoln as an "infidel...too lacking in faith" to be elected.

Lincoln's Last Trial captures the presidential hopeful's dramatic courtroom confrontations in vivid detail as he fights for his client--but also for his own blossoming political future. It is a moment in history that shines a light on our legal system, as in this case Lincoln fought a legal battle that remains incredibly relevant today.
Published Reviews
Booklist Review:
"Legal affairs journalist Abrams and coauthor Fisher illuminate a key marker on Abraham Lincoln's path to the White House. By the summer of 1859, some of Lincoln's staunchest supporters urged him to seek the Republican presidential nomination, and Lincoln, a highly successful and prominent Illinois attorney who had attracted national attention in the Lincoln-Douglas debates, was definitely interested. So his agreement to act as defense attorney in a murder trial in Springfield carried considerable political risks. After several earlier altercations, Quinn Harrison fatally stabbed Greek Crafton. Harrison's father was a prominent Republican and friend of Lincoln. Lincoln and cocounsel Stephen Logan based their strategy on self-defense, though Illinois standards of self-defense were particularly restrictive, and the presiding judge, possibly a political enemy of Lincoln, excluded critical testimony. Still, Lincoln and Logan soldiered on, and Lincoln was particularly effective, mixing a folksy demeanor and a sense of outrage at the injustice of the proceedings. The transcripts reveal Lincoln at his best, fighting for a cause he believed in with brilliance and passion qualities that would serve him so well as president.--Freeman, Jay Copyright 2018 Booklist"
From Booklist, Copyright (c) American Library Association. Used with permission.
Publisher's Weekly Review:
"Abrams, chief of legal affairs for ABC News and a contributor to the New York Times and the Wall Street Journal, is joined by Fisher, who has coauthored books with such celebrities as Bill O'Reilly and William Shatner, to recreate Abraham Lincoln's last significant trial before the 1860 presidential election. Drawing from a transcript of The State of Illinois v. "Peachy" Quinn Harrison discovered in 1989 in a garage once belonging to the defendant's great-grandson, the authors give readers a moment-by-moment account of the murder trial, which featured a well-liked young victim, a claim of self-defense, a deathbed admission, and Abraham Lincoln for the defense. At key moments, Abrams and Fisher imagine the thoughts, conversations, and strategies of Lincoln, the prosecutors, the court reporter, and the presiding judge. While these forays occasionally strain credibility (and mix somewhat oddly with the factual elements), they also add immediacy to the tale. A deeper understanding of the courtroom drama is aided by clear and enlightening explanations of the historic development of American jurisprudence, including the right to trial by jury and the legal concept of self-defense. Lincoln enthusiasts will find the illumination of his preternatural legal skills a worthy subject; casual readers will find the centerpiece murder trial an engrossing legal thriller. (June) © Copyright PWxyz, LLC. All rights reserved."
(c) Copyright PWxyz, LLC. All rights reserved
Additional Information