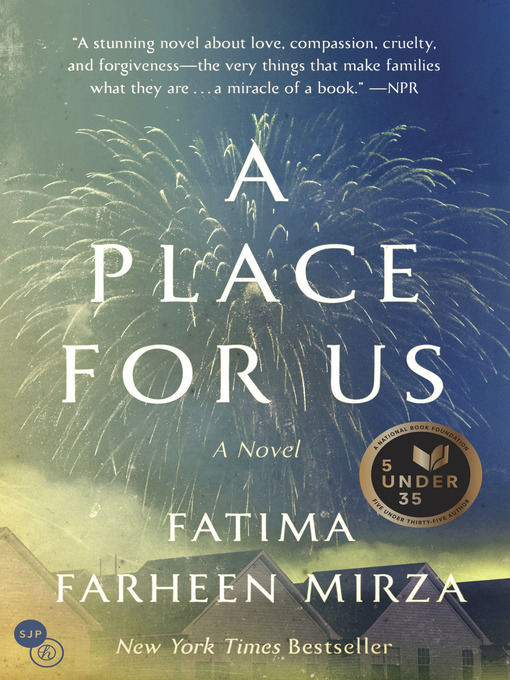 A place for us a novel
Format:

OverDrive Read

2018.

Adobe EPUB ebook

Kindle Book

Availability:

Unavailable

0 of 13 copies
50 people on waitlist
Summary
INSTANT NEW YORK TIMES BESTSELLER

Named One of the Best Books of 2018 by: Washington Post * NPR * People * Refinery29 * Parade * Buzzfeed * Real Simple

"Mirza writes with a mercy that encompasses all things." -- RON CHARLES, Washington Post

" A Place for Us is a book for our times." -- CHRISTIANE AMANPOUR

The first novel from Sarah Jessica Parker's new imprint, SJP for Hogarth, A Place for Us is a deeply moving and resonant story of love, identity, and belonging



As an Indian wedding gathers a family back together, parents Rafiq and Layla must reckon with the choices their children have made. There is Hadia: their headstrong, eldest daughter, whose marriage is a match of love and not tradition. Huda, the middle child, determined to follow in her sister's footsteps. And lastly, their estranged son, Amar, who returns to the family fold for the first time in three years to take his place as brother of the bride. What secrets and betrayals have caused this close-knit family to fracture? Can Amar find his way back to the people who know and love him best?

A Place for Us takes us back to the beginning of this family's life: from the bonds that bring them together, to the differences that pull them apart. All the joy and struggle of family life is here, from Rafiq and Layla's own arrival in America from India, to the years in which their children--each in their own way--tread between two cultures, seeking to find their place in the world, as well as a path home.

A Place for Us is a book for our times: an astonishingly tender-hearted novel of identity and belonging, and a resonant portrait of what it means to be an American family today. It announces Fatima Farheen Mirza as a major new literary talent.
Published Reviews
Booklist Review:
"Mirza's debut novel, extraordinary in its depth and diligence, is also the first title in the new SJP for Hogarth imprint, under the editorial direction of actor, producer, designer, and ALA Book Club Central's honorary chair, Sarah Jessica Parker. Mirza's slow-brewing, affecting, California-set tale portrays a splintered Muslim Indian family in which immigrant parents Layla and Rafiq try to maintain Islamic traditions. Their daughters are intent on pleasing their strict, religious father; Hadia becomes a doctor, Huda a teacher. But their son, Amar, is born rebellious. Hungry for life, poetic, wily, and charming, he breaks taboos, takes risks, and is ultimately betrayed by those closest to him. As Hadia's wedding triggers extended flashbacks while driving the story forward, Mirza adeptly revisits painful dilemmas from each narrator's perspective, revealing jolting secrets. Each complex, surprising character struggles with faith, responsibility, racism, fear, longing, and jealousy, while Mirza conveys with graceful specificity the rhythms of Muslim life, from prayer to wearing hijab, gender etiquette, food, holidays, and values, all of which illuminate universal quandaries about family, self, culture, beliefs, and generational change.--Seaman, Donna Copyright 2018 Booklist"
From Booklist, Copyright (c) American Library Association. Used with permission.
Publisher's Weekly Review:
"Bonds of faith and family strengthen and strangle in this promising but flawed debut, set in a close-knit Indian Muslim community in California. The story opens with the wedding of Hadia, golden child of Layla and Rafiq and older sister to Huda and Amar, skillfully setting up the central tension: why has Amar, the troubled youngest, been absent from the family, and can he be drawn back? The plot then shuffles backward and forward, revisiting plot points with few signposts to let the reader know when exactly key events-an untimely death, the snuffing out of a forbidden relationship, a family-rupturing fight-take place. Perspective alights on various characters, revealing more about some than others; middle child Huda remains nearly opaque, and early references to Rafiq's violent temper are all but dropped. For the final 80 pages, Rafiq narrates, and the story at last coheres. He delivers a heartrending reflection on his role in his son's partly self-imposed banishment: "It is in these moments that the fabric of my life reveals itself to be an illusion: thinking that I am fine, we all are, that we could grow around your loss like a tree that bends around a barrier or wound." Mirza displays a particular talent for rendering her characters' innermost emotional lives, signaling a writer to watch. (June) © Copyright PWxyz, LLC. All rights reserved."
(c) Copyright PWxyz, LLC. All rights reserved
Additional Information