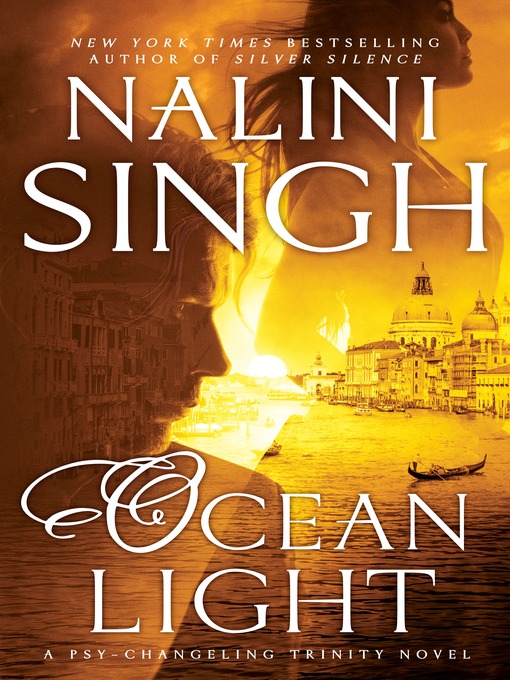 Ocean light Psy-Changeling Series, Book 17.
Format:

OverDrive Read

2018.

Adobe EPUB ebook

Kindle Book

Availability:

Available from OverDrive

4 of 5 copies
Summary
New York Times bestselling author Nalini Singh dives beneath the surface of her Psy-Changeling world into a story of passionate devotion and selfless love...

Security specialist Bowen Knight has come back from the dead. But there's a ticking time bomb in his head: a chip implanted to block telepathic interference that could fail at any moment--taking his brain along with it. With no time to waste, he should be back on land helping the Human Alliance. Instead, he's at the bottom of the ocean, consumed with an enigmatic changeling.

Kaia Luna may have traded in science for being a chef, but she won't hide the facts of Bo's condition from him or herself. She's suffered too much loss in her life to fall prey to the dangerous charm of a human who is a dead man walking. And she carries a devastating secret Bo could never imagine.

But when Kaia is taken by those who mean her deadly harm, all bets are off. Bo will do anything to get her back--even if it means striking a devil's bargain and giving up his mind to the enemy...
Published Reviews
Publisher's Weekly Review:
"The strong second book (after Silver Silence) in Singh's second Psy-Changeling series delves deeper into the sophisticated web of intricately complex relationships found in the elaborately detailed universe where changelings, psychically gifted psy, and humans must live in harmony. Kaia is a changeling and cook who is fiercely loyal to BlackSea, the organization of water-based changelings. Her caregiving instincts are roused by the sole patient in her home base's clinic: Bowen Knight, the security chief for the Human Alliance. Bowen is recovering from a near-fatal bullet wound and also suffering from the malfunctioning of a prototype psy-blocking chip implanted in his brain, which will kill him if it's not fixed or removed. His only chance of recovery lies with BlackSea, where he plans to help the changelings find their missing clanmates and puzzle out the Alliance's involvement in the disappearances. Intrigue and the tangled knots of politics are the author's hallmarks, once again beautifully illustrated alongside a heartfelt romance between two flawed souls. Agent: Nephele Tempest, Knight Agency. (June) © Copyright PWxyz, LLC. All rights reserved."
Additional Information
Series
Psy-Changeling.
Subjects
Psychic ability -- Fiction.
Electronic books.

Publisher

[Place of publication not identified] :Penguin Publishing Group2018.



Contributors
OverDrive, Inc.

Language

English



System Details

Mode of access: World Wide Web.




Format: Adobe EPUB eBook




Format: Kindle Book




Format: OverDrive Read




Requires Adobe Digital Editions or Amazon Kindle



Description

1 online resource



ISBN
9781101987841
9781101987841

Other
Classic View