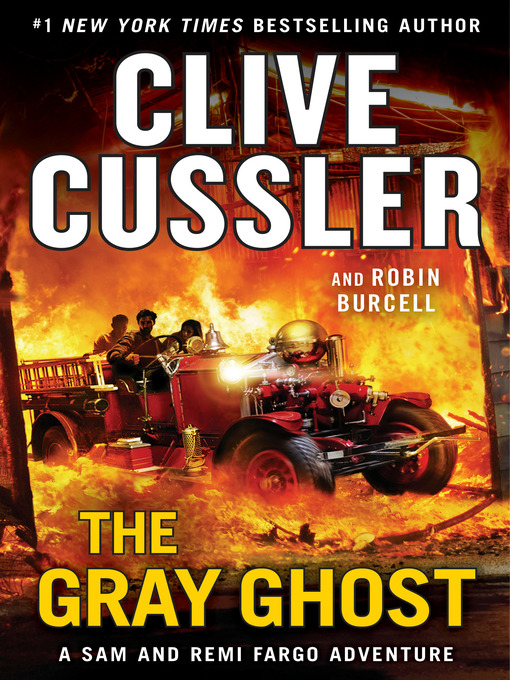 The gray ghost
Format:

OverDrive Read

2018.

Adobe EPUB ebook

Kindle Book

Availability:

Available from OverDrive

2 of 5 copies
Summary
The search for a legendary automobile threatens the careers and lives of husband-and-wife team Sam and Remi Fargo in this thrilling new adventure in Clive Cussler's bestselling series.

In 1906, a groundbreaking Rolls-Royce prototype known as the Gray Ghost vanishes from the streets of Manchester, England, and it is only the lucky intervention of an American detective named Isaac Bell that prevents it from being lost forever. Not even he can save the good name of Jonathan Payton, however, the man wrongly blamed for the theft, and more than a hundred years later, it is his grandson who turns to Sam and Remi Fargo to help prove his grandfather's innocence.

But there is even more at stake than any of them know. For the car has vanished again, and in it is an object so rare that it has the capacity to change lives. Men with everything to gain and a great deal to lose have a desperate plan to find it--and if anybody gets in their way? They have a plan for that, too.
Published Reviews
Booklist Review:
"Isaac Bell, Cussler's early-twentieth-century investigator, makes a guest appearance via flashback in the latest novel featuring globetrotting adventurers Sam and Remi Fargo. In 1906, a prototype automobile is stolen; Isaac Bell, of the Van Dorn Agency, recovers the vehicle but is unable to prove that the alleged thief has been unfairly accused. In the present day, the accused man's grandson asks the Fargos to prove, once and for all, that his grandfather was innocent. But here's the thing: the car is missing (again), and even more troubling the vehicle contains something so powerful and dangerous that millions of lives could be at stake. As the Fargos soon discover, there is yet another wrinkle: there are people who want the object for themselves and will stop at nothing to get it. Yes, the Fargo novels follow a fairly strict formula, but they also deliver the goods for readers seeking action, adventure, and larger-than-life characters.--Pitt, David Copyright 2010 Booklist"
From Booklist, Copyright (c) American Library Association. Used with permission.
Publisher's Weekly Review:
"Bestsellers Cussler and Burcell's refreshing 10th Sam and Remi Fargo adventure (after 2017's The Romanov Ransom) benefits from a clever flashback device. In 1906, Isaac Bell, the hero of the Cussler series featuring the men and women of the Van Dorn Detective Agency, apprehends a group of thieves who have stolen $1 million and a prototype Rolls Royce known as the Gray Ghost. In the present day, the same car is again stolen, and treasure hunters Sam and Remi agree to search for the immensely valuable car for two reasons: this sort of offbeat case is catnip to the Fargos, and the owner, Albert Payton, the seventh Viscount Wellswick, happens to be a distant relative of Sam's. Many of the clues to the Fargo investigation are found in a close reading of a journal kept by Albert's grandfather, the fifth viscount, detailing Bell's exciting 1906 case. This imaginative mix pumps new energy into a series that has shown signs of tiring in recent entries. Agent: Peter Lampack, Peter Lampack Agency. (May) © Copyright PWxyz, LLC. All rights reserved."
Additional Information