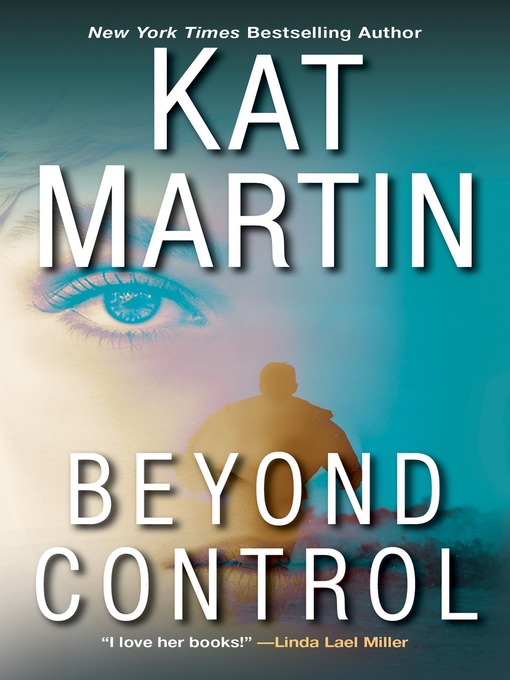 Beyond control
Format:

OverDrive Read

2018.

Adobe EPUB ebook

Kindle Book

Availability:

Available from OverDrive

5 of 6 copies
Summary
"I love her books!"--Linda Lael Miller

Present Danger

When Victoria Bradford got engaged, she told herself to give love a chance. Six months later, she's on the run from her angry, abusive ex-fiancé with her four-year-old daughter and nowhere to go.

Seventy miles north of Dallas, the Iron River Ranch is pretty much nowhere. That's what its new owner, Josh Cain, wanted when he came back from Afghanistan. Big skies, quiet nights, no trouble.

One look tells Josh the pretty redhead with the adorable little girl will give him trouble of the most personal kind. But he's seen trouble before, and he doesn't scare easy. Not when "accidents" start happening around the ranch. Not when Tory's best friend back in Phoenix is abducted and brutalized. Not even when it looks like their current problems are only the tip of the iceberg.

But if he gets too close to fierce, determined Tory, Josh knows his nights are going to be anything but quiet. And that's one possibility no amount of training can prepare him for . . .
Published Reviews
Publisher's Weekly Review:
"Bestseller Martin brings her Texas Trilogy contemporary romantic suspense series (Beyond Danger, Beyond Reason) to a hair-raising finish with the gripping tale of a single mother on the run and the Marine veteran who offers her a second chance at happily-ever-after. With her four-year-old daughter, Ivy, in tow, Victoria "Tory" Bradford is trying to stay one step ahead of her abusive ex-fiancé, Damon Bridger. She bounces around the Southwest before landing at Iron River Ranch in Iron Springs, Tex. After returning stateside from tours in Afghanistan and Iraq, retired sniper Joshua Cain bought Iron River and planned for a more placid lifestyle. But when Tory shows up on his doorstep, desperate for a job that will allow her to support her daughter and stay off her rich ex's radar, he's plunged right back into danger. The dynamics of abusive relationships and obsession ring true throughout, as does the redemptive power of love. Martin has a consummate skill for developing the most lovable and the most despicable characters; readers will cheer when sadistic Damon meets his well-deserved end. Martin's finely described Texas is a delight. Agent: Alexandra Machinist, ICM. (June) © Copyright PWxyz, LLC. All rights reserved."
(c) Copyright PWxyz, LLC. All rights reserved
Additional Information