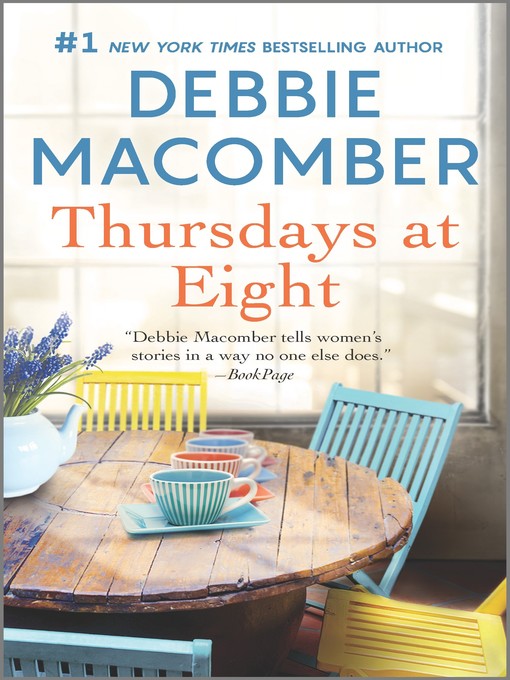 Thursdays at eight A Romance Novel
Format:

OverDrive Read

2017.

Adobe EPUB ebook

Kindle Book

Availability:

Unavailable

0 of 5 copies
Summary
A time to think about lives lived, choices made.

A time for friends...

Every week, four women have an unmissable appointment in their calendars: they meet for breakfast.

Clare has just been through a devastating divorce. She's driven by anger and revenge--until she learns something that forces her to question her own actions and to look deep inside for the person she used to be.

Elizabeth is a successful professional. A widow, she's determined not to waste another second of her life. And maybe that includes romantic possibilities...

Karen is in her twenties, and she believes these should be the years for taking risks. She's working on her dream of being an actor, despite her mother's severe disapproval.

Julia is turning forty this year. Her husband's career is established, her kids are finally teenagers and she's just started her own business. Everything's going according to plan--until she discovers she's pregnant.

Over a meal and coffee, the friends talk, tell their stories, and offer each other encouragement and unfailing support. They share the truths they've discovered about their lives.
Published Reviews
Booklist Review:
"Macomber, known for her romances, will now broaden her appeal. After meeting in a journal writing class, four women decide to continue their friendship by meeting every Thursday at 8:00 a.m. for breakfast, even though on the surface they seem to have little in common. Claire is trying very hard to get past her bitter divorce and to be emotionally supportive of her two teenage sons. Elizabeth, a 57-year-old widow with a high-powered career as a hospital administrator, is, for the first time, truly on her own after her daughter and grandchildren move to another state. Julia, 40, seems to have it all--great teenage kids and a newly opened knitting store--until she finds out that she's expecting another child. And Karen, the youngest, is pursuing an acting career in spite of her mother's disappointment. Macomber's women serve as bedrock for one another in this sometimes tearful, always uplifting tale that will make readers wish they could join this charming breakfast club. --Patty Engelmann"
From Booklist, Copyright (c) American Library Association. Used with permission.
Publisher's Weekly Review:
"Set in the suburban town of Willow Grove, Calif., Macomber's latest (after Always Dakota) follows the friendship of four women who meet at the Mocha Moments cafe every Thursday morning. For the new year, Clare Craig, Liz Kenyon, Julia Murchison and Karen Curtis decide to choose a word that will help them realize their New Year's resolutions. Having recently divorced her cheating husband of 23 years, Clare chooses the word "faithful," and not surprisingly, her faith is put to the test when she learns that her ex has cancer. Liz, a 57-year-old hospital administrator who would rather be alone with fond memories of her late husband than fending off the advances of debonair Dr. Jamison, focuses on the word "time" to symbolize her need to regain control of her life. Julia has everything her heart desires a loving husband, two teenagers and her own yarn shop. Naturally, she chooses the word "gratitude," but she feels less than grateful when she discovers that she's pregnant again. And then there's Karen, a 20-something substitute teacher whose desire to become an actor frustrates her domineering mother. Karen chooses the word "acceptance" as a reminder that she must be herself, not who her mother thinks she should be. The novel shifts between the women's journal entries and action, a setup affording an intimate glimpse of each character but also contributing to the story's sluggish pacing. As always, Macomber draws rich, engaging characters, but her flat narrative voice and sugary sentimentality do little to keep the reader turning pages. (June) Forecast: Macomber has built a respectable following for herself with her Heart of Texas series and her Dakota Trilogy. Despite this book's flaws, it will climb the bestseller lists, boosted by print advertising in national publications (New York Times Book Review, USA Today and Library Journal), book signing events and a satellite television tour. (c) Copyright PWxyz, LLC. All rights reserved"
(c) Copyright PWxyz, LLC. All rights reserved
Additional Information