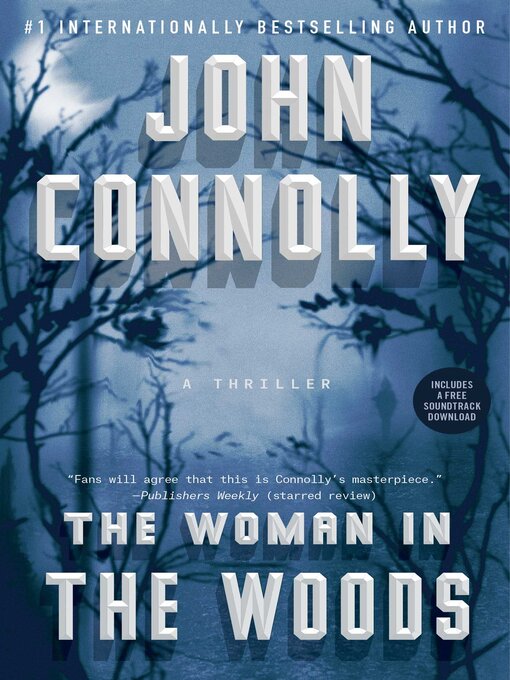 The woman in the woods
Format:

OverDrive Read

2018.

Adobe EPUB ebook

Kindle Book

Availability:

Unavailable

0 of 12 copies
Summary
"Fans will agree that this is Connolly's masterpiece." --Publishers Weekly (starred and boxed review)

*Includes a free soundtrack download*

From internationally bestselling author and "creative genius who has few equals in either horror fiction or the mystery genre" ( New York Journal of Books ) comes a gripping thriller starring Private Investigator Charlie Parker. When the body of a woman--who apparently died in childbirth--is discovered, Parker is hired to track down both her identity and her missing child.

In the beautiful Maine woods, a partly preserved body is discovered. Investigators realize that the dead young woman gave birth shortly before her death. But there is no sign of a baby.

Private detective Charlie Parker is hired by a lawyer to shadow the police investigation and find the infant but Parker is not the only searcher. Someone else is following the trail left by the woman, someone with an interest in much more than a missing child...someone prepared to leave bodies in his wake.

And in a house by the woods, a toy telephone begins to ring and a young boy is about to receive a call from a dead woman.
Published Reviews
Booklist Review:
"In the latest Charlie Parker mystery, the Maine PI is hired by a lawyer acquaintance to keep an eye on the police, who are digging into the disappearance of a baby who was apparently born shortly before its mother died (her body was found in the woods). Charlie soon figures out that someone else is tracking the investigation, too, but for different, darker reasons someone who, it seems, is willing to commit murder. Charlie has a lot of questions to answer: Was the dead woman murdered? If so, by whom? And why? Why is someone else apparently looking for the missing baby? Connolly's writing is as impeccable as ever, and, typical of the series, he layers on supernatural elements (here, a dead woman is evidently making telephone calls) without compromising the real-world feel of the story. No shortcuts for Connolly, no easy outs explained away by vague, otherworldly elements: he brings the same rigorous demand for believability, even a kind of realism, to the unreal components of the story as he does for the more straightforward bits. Another winner in a consistently high-quality series.--Pitt, David Copyright 2018 Booklist"
From Booklist, Copyright (c) American Library Association. Used with permission.
Publisher's Weekly Review:
"Connolly's 16th thriller featuring PI Charlie Parker (after 2017's A Game of Ghosts) perfectly blends the natural and the supernatural. After a woman's corpse is found in the woods near Parker's Maine home, attorney Moxie Castin asks him to trace the child to whom the woman gave birth shortly before her death. Castin is moved to do so by a Star of David etched into a nearby tree, which suggests to him that the dead woman was a fellow Jew. A terrifying pair-an English lawyer known only as Quayle and a remorseless assassin, Pallida Mors-are also interested in finding the infant. In addition, they have been killing members of an informal underground group protecting refugees from domestic violence, who may have helped a woman named Karis Lamb elude an abusive man. Quayle's quest involves enabling the "return of the Not-Gods, thus bringing about the end of days." Several of the victims, all of whom are fully developed characters, choose death rather than betrayal, and the end result is both unnerving and moving. Fans will agree that this is Connelly's masterpiece. Agent: Darley Anderson, Darley Anderson Literary (U.K.). (June) © Copyright PWxyz, LLC. All rights reserved."
(c) Copyright PWxyz, LLC. All rights reserved
Additional Information