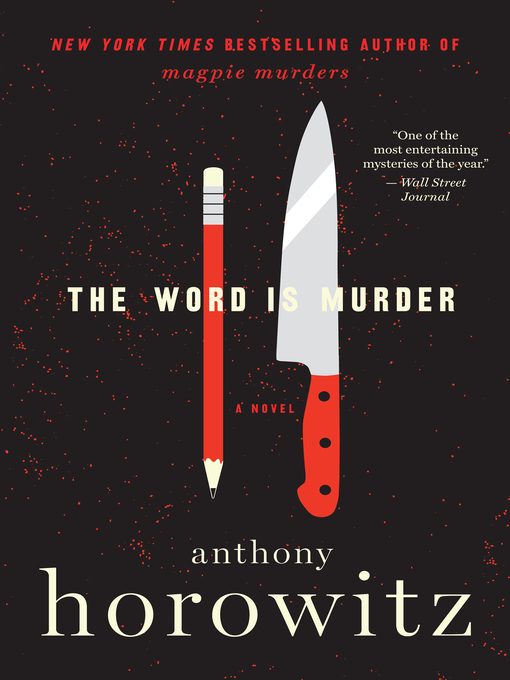 The word is murder
Format:

OverDrive Read

2018.

Adobe EPUB ebook

Kindle Book

Availability:

Unavailable

0 of 17 copies
52 people on waitlist
Summary
SHE PLANNED HER OWN FUNERAL. BUT DID SHE ARRANGE HER OWN MURDER?
New York Times bestselling author of Magpie Murders and Moriarty, Anthony Horowitz has yet again brilliantly reinvented the classic crime novel, this time writing a fictional version of himself as the Watson to a modern-day Holmes.
One bright spring morning in London, Diana Cowper - the wealthy mother of a famous actor - enters a funeral parlor. She is there to plan her own service.
Six hours later she is found dead, strangled with a curtain cord in her own home.
Enter disgraced police detective Daniel Hawthorne, a brilliant, eccentric investigator who's as quick with an insult as he is to crack a case. Hawthorne needs a ghost writer to document his life; a Watson to his Holmes. He chooses Anthony Horowitz.
Drawn in against his will, Horowitz soon finds himself a the center of a story he cannot control. Hawthorne is brusque, temperamental and annoying but even so his latest case with its many twists and turns proves irresistible. The writer and the detective form an unusual partnership. At the same time, it soon becomes clear that Hawthorne is hiding some dark secrets of his own.
A masterful and tricky mystery that springs many surprises, The Word is Murder is Anthony Horowitz at his very best.
Published Reviews
Booklist Review:
"*Starred Review* Actually, the word is not murder, it's ingenious. Horowitz, who out-Christied Christie in Magpie Murders (2017), now out-Doyles Doyle by inserting himself (his actual self) into the story as the Watson-like narrator of a murder investigation he is drawn into by a brilliant and eccentric detective, Daniel Hawthorne. No one arranges her own funeral at 11 a.m. on a beautiful spring day and then gets herself murdered a mere six hours later in her own home, right? Well, Diane Cowper manages to do just that. No CCTV footage, fingerprints, or DNA traces, and no sign of a break-in, so the only clue to go on is that the victim must have opened the door to her assailant. Hawthorne has been called in as a consultant by the police and invites Horowitz to tag along because he wants the author to write a book about him. Horowitz, who started out as a television screenwriter, creating both the acclaimed Midsomer Murders and Foyle's War, finds real crime unlike anything he ever experienced while holding a cleverly devised script on a carefully designed set. Not to mention a dangerous one. A masterful meta-mystery. HIGH-DEMAND BACKSTORY: The mega-popular Horowitz has been granted the rights to continue both the Arthur Conan Doyle legacy and Ian Fleming's James Bond saga and is known to younger fans as the writer of the Alex Rider series. His star will only shine more brightly.--Murphy, Jane Copyright 2018 Booklist"
From Booklist, Copyright (c) American Library Association. Used with permission.
Publisher's Weekly Review:
"This spectacular series launch from bestseller Horowitz (Magpie Murders), a scrupulously fair whodunit, features a fictionalized version of himself. The author's doppelgänger-who, like his creator, has written a Sherlock Holmes pastiche, The House of Silk, and a Tintin movie script for Steven Spielberg-is approached by Daniel Hawthorne, a former detective inspector who once consulted on one of his TV series. Hawthorne wants Horowitz to turn his "real-life" cases into books, and eventually gets him to agree. Their first joint investigative venture concerns the strangulation of Diana Cowper in her London home, mere hours after she visited a funeral parlor and made detailed arrangements for her own funeral. (In one amusing metafictional scene, Hawthorne criticizes Horowitz for inaccuracies in chapter one, an omniscient third-person account of the funeral home visit.) An interrupted text Diana sent to her son shortly before her death leads the duo to look into a long-ago hit-and-run tragedy that claimed one twin child's life and seriously injured the other. Deduction and wit are well-balanced, and fans of Peter Lovesey and other modern channelers of the spirit of the golden age of detection will clamor for more. Agent: Jonathan Lloyd, Curtis Brown (U.K.). (June) © Copyright PWxyz, LLC. All rights reserved."
(c) Copyright PWxyz, LLC. All rights reserved
Additional Information