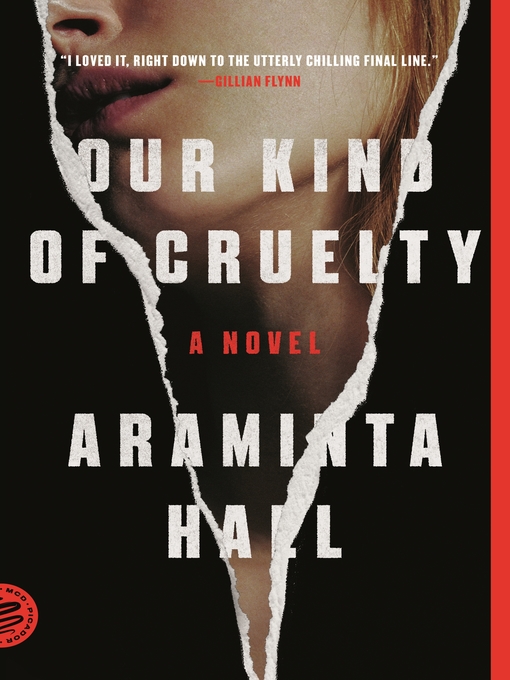 Our kind of cruelty a novel
Format:

OverDrive Read

2018.

Adobe EPUB ebook

Kindle Book

Availability:

Available from OverDrive

9 of 9 copies
Summary
"A searing, chilling sliver of perfection . . . May well turn out to be the year's best thriller." --Charles Finch, The New York Times Book Review
" This is simply one of the nastiest and most disturbing thrillers I ' ve read in years. I loved it, right down to the utterly chilling final line. " --Gillian Flynn

"A perfect nightmare of a novel--as merciless a thriller as I've ever read. Astonishingly dark and sensationally accomplished." --A. J. Finn, author of The Woman in the Window

A spellbinding, darkly twisted novel about desire and obsession, and the complicated lines between truth and perception, Our Kind of Cruelty introduces Araminta Hall, a chilling new voice in psychological suspense.
This is a love story. Mike's love story.
Mike Hayes fought his way out of a brutal childhood and into a quiet, if lonely, life before he met Verity Metcalf. V taught him about love, and in return, Mike has dedicated his life to making her happy. He's found the perfect home, the perfect job; he's sculpted himself into the physical ideal V has always wanted. He knows they'll be blissfully happy together.
It doesn't matter that she hasn't been returning his e-mails or phone calls.
It doesn't matter that she says she's marrying Angus.
It's all just part of the secret game they used to play. If Mike watches V closely, he'll see the signs. If he keeps track of her every move, he'll know just when to come to her rescue . . .
Published Reviews
Booklist Review:
"This toxic tale of obsession marks the author's American debut. Although badly damaged by a brutal childhood, Mike Hayes has managed to make a success of himself. What holds him together is Verity Metcalf. He remakes his body to her specifications, and he creates a magnificent home that conforms to her ideals. He has every expectation that they will spend the rest of their lives together in exclusionary bliss, for what and who else would they need? When Verity abruptly marries an even wealthier older man, Mike believes it's all just part of a twisted game they used to play and bides his time until he can reclaim her. Hall brings the unreliable narrator to new heights in this disturbing narrative while subtly planting the seed in the reader's mind that Verity, damaged by her own childhood issues, may be feeding Mike's mania to suit her own ends. For fans of Nabokov's Lolita, Highsmith's Ripley tales, or Christine Mangan's recently published first novel, Tangerine (2018).--Murphy, Jane Copyright 2018 Booklist"
From Booklist, Copyright (c) American Library Association. Used with permission.
Publisher's Weekly Review:
"In Hall's dark, disturbing thriller, reader Hendrix presents a chilling portrayal of narrator Mike Hayes, a London banker convinced that the love of his life is toying with him by marrying an ultra-wealthy, socially prominent ad man. For years, Verity "V" Wilton has been Mike's muse and his partner in a creepy game of seduction they call the Crave. Prior to her wedding, V stopped communicating with Mike, but, as convincingly interpreted by Hendrix, he remains too infatuated with her to accept her rejection as anything but an invitation to play the game. Reader Matsuura's V sounds initially polite when confronted by Mike, then bemused and finally troubled. Hendrix has a bit of fun with Angus Metcalf, V's groom, making him sound fatuous and elitist, while Matsuura gives voice to several other women, including V's icy upper-class mother and a needy business associate of Mike's who tries to push herself into his life. But it's Hendrix's relentless, intensely focused Mike that turns Hall's novel into something more than just another exercise in psychological suspense. A MCD hardcover. (May) © Copyright PWxyz, LLC. All rights reserved."
(c) Copyright PWxyz, LLC. All rights reserved
Additional Information